Press Release
Congressman Cuellar Sworn Into 115th Congress
Cuellar Pledges to be Local Community Voice in Washington
Today, Congressman Henry Cuellar (D-TX28) was sworn into his seventh term in the United States House of Representatives

by Speaker Paul Ryan.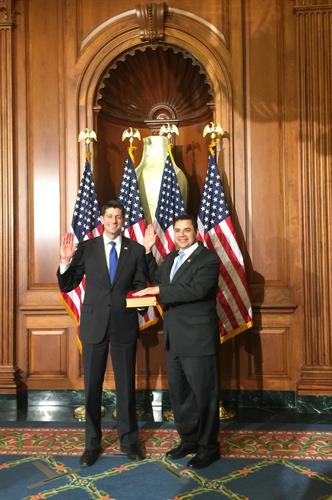 Congressman Cuellar stands by House Speaker Paul Ryan as he takes the official oath of office as the 115th Congress formally convened on Tuesday in Washington, D.C.
The Speaker of the House led today's traditional swearing-in ceremony on the floor of the U.S. House of Representatives. Congressman Cuellar recited the oath that every Member of Congress has sworn since 1884: "I do solemnly swear that I will support and defend the Constitution of the United States against all enemies, foreign and domestic; that I will bear true faith and allegiance to the same; that I take this obligation freely, without any mental reservation or purpose of evasion; and that I will well and faithfully discharge the duties of the office on which I am about to enter: So help me God."
"We have a lot to accomplish during this next Congress," Congressman Cuellar said. "As the representative for South Texas and the border, I will make sure to work with both Democrats and Republicans in Congress to continue our work to provide affordable and quality health care, higher education opportunities, expand trade, improve government efficiency, and bring more well-paying jobs to Texas."
Congressman Cuellar was first elected to the U.S. House of Representatives in 2004 and is currently a member of the House Appropriations Committee, the most senior Congressman on the Texas border, Chairman of the Texas Democratic Delegation as well Senior Whip and Chairman of Communication of the Blue Dog Coalition.
He previously served as Texas Secretary of State and for 14 years represented Laredo in the Texas House of Representatives.
Congressman Cuellar has a well-deserved reputation for being a strong and independent voice for Texans. Often reaching across party lines to come up with bipartisan solutions for pressing issues facing both Texas and the country, in the 114th Congress, Congressman Cuellar:
Secured language in the fiscal year 2016 omnibus appropriations bill that encourages federal agencies to support institutions and outreach programs that benefit minority students and communities, including Hispanic-Serving Institutions (HSIs), Historically Black Colleges and Universities (HBCUs), and other minority serving institutions
Secured nearly $948 million in the fiscal year 2016 appropriations omnibus package for federal courthouse projects, including $135 million in federal funding for the construction of a new federal courthouse for the United States District Court for the Western District of Texas in San Antonio, Texas
Introduced and passed language in the Fiscal Year 2017 Military Construction, Veterans Affairs, and Related Agencies bill to encourage the U.S. Department of Housing and Urban Development (HUD) to find ways to reduce veteran homelessness in rural and small communities including those on the U.S.- Mexico border
Introduced the Cross-Border Trade Enhancement Act in the House, which later passed the Senate and was signed into law by President Obama. The bill promotes public-private partnerships to boost staffing and make infrastructure improvements at U.S. ports of entry without adding to the national deficit
Successfully introduced and passed legislation to give the Starr-Camargo Bridge permanent operating authority
Successfully advocated for and included language in the fiscal year 2016 omnibus appropriations bill to lift the outdated 1975 prohibition on the export of U.S. crude oil
Included language in the fiscal year 2016 omnibus appropriations bill to secure $5.5 million to help address the damaging effects of citrus greening disease in the United States, including the Rio Grande Valley
Included language in fiscal year 2016 omnibus appropriations bill to bring improved government accessibility to constituents by encouraging the government to improve its customer service and report back to Congress
Secured many grants throughout the district for local community projects