Press Release
Rep. Cuellar, CBP Announce PRIDE Initiative
New initiative at Laredo Port of Entry to improve government professionalism
Congressman Henry Cuellar (D-TX28) and Customs and Border Protection (CBP) announced a new initiative today aimed at re-invigorating professionalism, respect, integrity, diversity and excellence (PRIDE) throughout the CBP workforce at South Texas ports of entry.

The new PRIDE initiative with CBP is one of several efforts Congressman Cuellar has introduced in order to improve customer service within the federal government. Professionalism Service Managers, who will receive and address both positive and negative comments from the public who interact with CBP at the Laredo Port of Entry, were also named on Wednesday.


"Thousands of people cross our international bridges on a daily basis and we should make sure they are treated in the most professional and respectful manner," Congressman Cuellar said. "I will continue to advocate for the respectful treatment of those legally crossing our borders and I look forward to my ongoing partnership with Customs and Border Protection and the City of Laredo."
"CBP is the premiere border-based federal law enforcement agency in the U.S. and in order to better embody that ideal, we realized the critical importance of re-instilling and strengthening a culture of professionalism throughout our ranks," said Director, Field Operations David P. Higgerson, Laredo Field Office. "Today's rollout of the PRIDE Initiative and naming of professionalism service managers together with our stakeholders reflects the Laredo Field Office's ongoing commitment not only to better serve the communities in which we live and work but also for CBP to foster a greater sense of pride both for and from the community."
Congressman Cuellar recently added language to the Fiscal Year 2015 Homeland Security Appropriations Bill that requires the Commissioner of the Customs and Border Protection to review training manuals and coursework as well as incident reporting practices within the agency. The focus of this language is to make sure that customs and border patrol officers are trained to interact respectfully with those crossing the border. Furthermore, the addition to the bill asks that CBP report to the Committee on their findings of their review within 60 days. This bill is still awaiting passage and approval.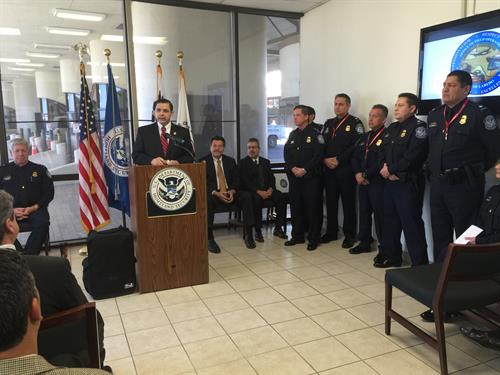 Congressman Henry Cuellar and Customs and Border Protection announced the new PRIDE initiative Wednesday in Laredo that is designed to help improve customer service and professionalism between the public and CBP officers at the South Texas Ports of Entry.