Press Release
HOUSING AND URBAN DEVELOPMENT (HUD) GRANTS TO ASSIST LAREDOANS WITH HOME OWNERSHIP, BETTER LIVING CONDITIONS, AND HOMELESS SHELTER IMPROVEMENTS
Federal funds totaling more than $5.1 million announced by Congressman Henry Cuellar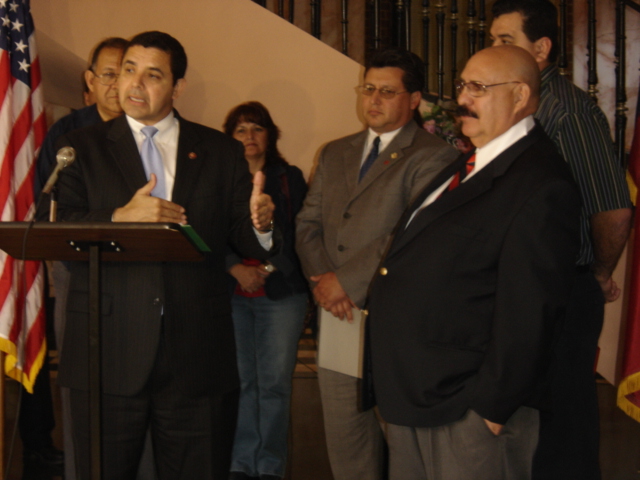 Today Congressman Henry Cuellar, together with the City of Laredo Mayor Raul Salinas, announced the awarding of four federal grants totaling more than $5.1 million to fund four separate programs in Laredo.
U.S. Housing and Urban Development awarded $12,841.00 to the American Dream Down-Payment Initiative (ADDI); $3,711,664.00 to the Community Development Block Grant (CDBG); $160,079.00 to the Emergency Shelter Grant program; and $1,290,876.00 to the HOME program.

The American Dream Down-Payment Initiative (ADDI) ($12,841.00) promotes homeownership opportunities by providing necessary resources for down-payment and closing cost assistance to low-income and minority households. ADDI helps low-income, first-time homebuyers with the biggest hurdle to homeownership: down-payment and closing costs.
The Community Development Block Grants ($3,711.664.00) provide funds to local governments to ensure that residents have decent affordable housing and to provide services to the most vulnerable in our communities.
The Emergency Shelter Grant ($160,079.00) program provides annual funds to local and private entities to improve the quality and number of local emergency homeless shelters.
The HOME program ($1,290,876.00) helps to expand the supply of decent, affordable housing to low—and very low—income families by providing grants to local governments to fund housing programs that meet local needs and priorities.
Congressman Cuellar says this unprecedented award will go a long way in providing families with a roof over their heads.
"Owning a home is the American Dream and a goal most people work hard to achieve," said Congressman Cuellar. "These funds will give families the opportunity to live in a safe and healthy environment."

Mayor Raul G. Salinas said these entitlement funds from HUD are vital to the community, so that the City of Laredo Community Development Department can continue to provide funding for the various programs that impact the city's poorest neighborhoods.

"Congressman Cuellar understands this and is in Washington fighting to protect these dollars so that Laredoans can have a chance of achieving the American dream," Salinas added.
For more information on grants, please contact the Office of Congressman Henry Cuellar at (202) 225-1640.
###