Press Release
Rep. Cuellar Leads U.S.-Mexico Interparliamentary Group Meeting to Discuss Threat of Tariffs on Mexico
Washington | Charlotte Laracy, DC Press Secretary (202-226-1583); Leslie Martinez, District Press Secretary (956-286-6007), June 5, 2019
Rep. Cuellar Leads U.S.-Mexico Interparliamentary Group Meeting to Discuss Threat of Tariffs on Mexico
Washington, D.C.—As the Chair of the U.S.-Mexico Interparliamentary Group (IPG), Congressman Henry Cuellar (TX-28) led a conversation with the congressional members of IPG and a delegation of Mexican lawmakers to discuss the Administration's decision to impose a 5% tariff on Mexico and ways to improve relations with our southern neighbor. Congressman Cuellar released the following statement:
"A tariff on Mexican imports would pose a threat to our economic interests. Mexico is our number one trading partner, composing 15% of our country's total trade. A tariff on our largest trading partner will have significant consequences to our economy. The suggested 5% tariff would result in more than 117,000 job losses in Texas alone. Regardless of the President's threat, we will continue to support our economic partnership with Mexico. As border representatives, we need to work with Congress and the Administration to increase our cooperation with Mexico and pass the USMCA for American workers and consumers.
"I want to thank the Mexican delegation, including Deputy Majority Whip of Mexico House of Representatives Mario Delgado Carrillo and Senator Hector Vasconcelos, Chairman of Foreign Affairs Committee, and the rest of the U.S.-Mexico IPG for working together to enhance our joint economic and security interests."
The congressional members of the IPG included Representatives Lou Correa (CA-46), Sheila Jackson Lee (TX-18), Veronica Escobar (TX-16), and Salud Carbajal (CA-24).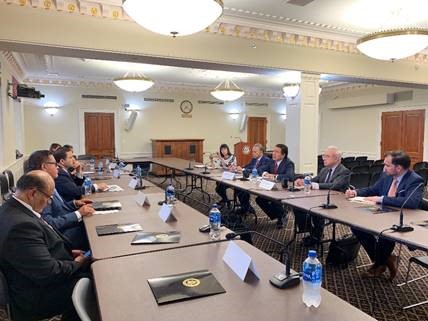 Congressman Cuellar discusses USMCA with Mexican Delegation and congressional members of U.S.-Mexico Interparliamentary Group.