Press Release
Congressman Cuellar Presented with Spirit of Enterprise Award from Greater Mission Chamber of Commerce
Congressman Cuellar has received the award from the U.S. Chamber of Commerce for a 10th time
MISSION, Texas, September 18, 2017
|
Abhi Rahman
((202) 340-9148)
Today, Congressman Henry Cuellar (D-TX-28) was presented with the U.S. Chamber of Commerce's annual Spirit of Enterprise Award, given in recognition of his support for pro-job, pro-growth policies in the U.S. House of Representatives. The award ceremony took place at the Greater Mission Chamber of Commerce. This past year, Congressman Cuellar was given a 93 percent rating by the U.S. Chamber of Commerce.
"I thank the Chamber for granting me this award,"
Congressman Cuellar said.
"I will continue to support pro-business, pro-growth policies at the federal level because I know that support for business means greater economic prosperity for our country. My district is home to major international trade ports and agricultural businesses, as well as thousands of local small businesses that provide jobs and support to our economy through free enterprise."
The Chamber's prestigious Spirit of Enterprise Award is given annually to members of Congress based on their votes on critical business legislation as outlined in the Chamber publication How They Voted. Members who supported the Chamber's position on at least 70 percent of those votes qualify to receive the award.
During the second session of the 114th Congress, the Chamber scored members on 8 Senate votes and 14 House votes, related to access to capital for small businesses, ensuring our workforce has the skills necessary for the jobs of tomorrow and helping American manufacturers compete in a global economy.
The U.S. Chamber of Commerce is the world's largest business federation representing the interests of more than 3 million businesses of all sizes, sectors, and regions, as well as state and local chambers and industry associations.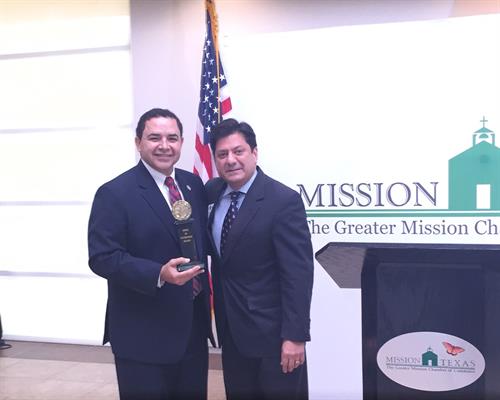 Congressman Henry Cuellar poses with Spirit of Enterprise Award with John Gonzalez, U.S. Chamber of Commerce Director for Congressional and Public Affairs, Southwest/South Central Region.