Press Release
Rep. Cuellar Speaks Out Against Border Wall
Cuellar Opposes $1.6 Billion in Taxpayer Funding for Ineffective Border Wall
Congressman Henry Cuellar (TX-28) today spoke on the House floor to voice his opposition to H.R. 3219 that would add nearly $1.6 billion in federal taxpayer funds to begin construction of a wall on the U.S.-Mexico border.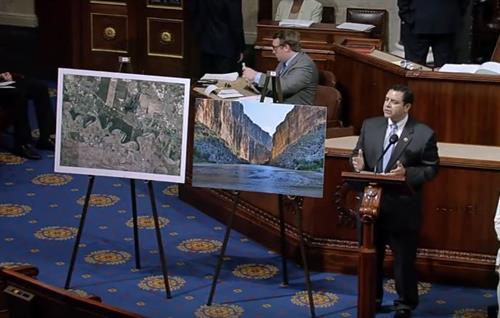 Congressman Cuellar speaks on the House floor Wednesday against a costly and ineffective border wall.
"President Trump promised the American people that Mexico would pay for a wall, but he's footing the bill to American taxpayers," said Congressman Cuellar. "A wall would be ineffective and funding it, fiscally irresponsible. The Administration is attempting to provide a 14th Century solution to a 21st Century challenge.
"I was born and raised on the border. A massively expensive wall would violate the rights of landowners, many of whom have had their land for generations, since before the United States was a country. The wall also presents significant problems when it comes to river access for livestock and wildlife.
"Mexico is one of our closest allies and we should be working with them to combat issues like immigration. Mexico works with our government to stop threats before they even reach our borders and we must focus on further advancing that relationship. We can secure the border in a much more effective way and at a fraction of the cost by utilizing advanced technology, getting rid of Carrizo Cane, increasing the agents and properly equipping them on the border, and working with Mexico and Central America."
Click here
to view the video of Rep. Cuellar speaking on the floor today.