Press Release
Congressman Cuellar Hosts Information Meeting with Zapata Ranchers and Farmers, USDA Texas Farm Service Agency & Texas A&M AgriLife Extension Service
Meeting provided opportunity to ask questions about farm and ranch programs and funding
Congressman Henry Cuellar (D-TX-28) hosted a meeting today in Zapata with area ranchers and farmers, and the U.S. Department of Agriculture (USDA) Texas Farm Service Agency (FSA) and the Texas A&M AgriLife Extension Service to discuss programs and funding for farm and ranching operations.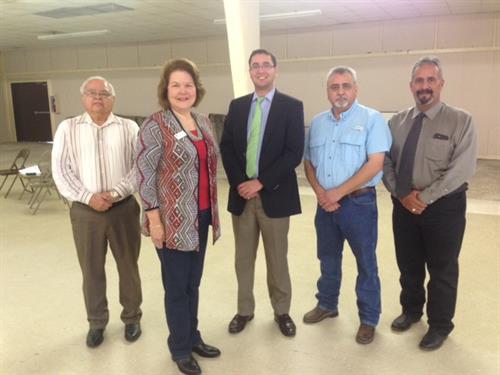 The Office of Congressman Henry Cuellar (D-TX-28) hosts an informational with Zapata framers and ranchers, and representatives from the USDA Texas Farm Service Agency and Texas A&M AgriLife Extension Service on Tuesday at the Zapata County Pavilion. Pictured from left to right are Arnulfo Lerma, USDA Farm Loan Manager; Judith Canales, USDA State Executive Director; Outreach Coordinator Francis Atwell; Rene Reyna, USDA Farm Service Agency Regional Director for Zapata and Starr County; and Benancio Cano Jr., USDA District Director.
"I decided to organize this meeting as a result of meetings between my Washington, D.C., legislative staff and officials and constituents in Zapata County last month," said Congressman Cuellar. "My office met with county leaders, and one topic of concern was the lack of an FSA office in Zapata. I am glad that this meeting helped answer a lot of the questions that ranchers and farmers may have. I thank Judith Canales, FSA State Executive Director, and representatives from USDA FSA, Texas A&M AgriLife Extension Service and Zapata County for helping to make this meeting possible."
Meeting topics included acreage reporting; agriculture risk coverage (ARC) and price loss coverage (PLC); Emergency Assistance for Livestock, Honeybees, and Farm-raised Fish (ELAP); farm records changes and updates; Livestock Forage Disaster Program (LFP); and Noninsured Crop Disaster Assistance Program (NAP).
In attendance were Francis Atwell, Outreach Coordinator for the Office of Congressman Henry Cuellar; Judith A. Canales, FSA State Executive Director; Benny Cano Jr., FSA District Director; Arnulfo Lerma, FSA Farm Loan Manager; Rene Reyna, FSA County Executive Director – Starr and Zapata Counties; and Zaragosa Rodriguez IV, Texas A&M AgriLife County Extension Agent