Press Release
Congressman Cuellar Announces Multi-Million Dollar Renovation Project for Lincoln-Juarez International Bridge
$62 million construction project set to begin next month
Today, Congressman Henry Cuellar (D-TX-28), announced long-awaited renovations to the Lincoln-Juarez International Bridge, also known as Bridge II, which will begin next month thanks to funds he was able to secure during the House Appropriations Committee Fiscal Year 2014 Budget.
Brasfield & Gorrie, LLC of Birmingham, Alabama, has been awarded a $62 million contract from the General Services Administration (GSA) and will oversee the project for the Vehicle Processing Facility at the Juarez-Lincoln Bridge. The renovations include a new bus inspection and passenger processing area to include individual bus stalls, pedestrian inspection lanes, waiting area, restrooms, and a canopy for loading and unloading buses.

Construction is projected to start in September and the project is scheduled to be completed by Spring 2018.
Congressman Cuellar is currently working with GSA to also secure additional funding for renovations to Gateway to the Americas International Bridge, also known as Bridge I, in the near future. These planned renovations will include changes to the exterior of the historic administration building, as well as the interior spaces that will help improve pedestrian flow in a more efficient manner.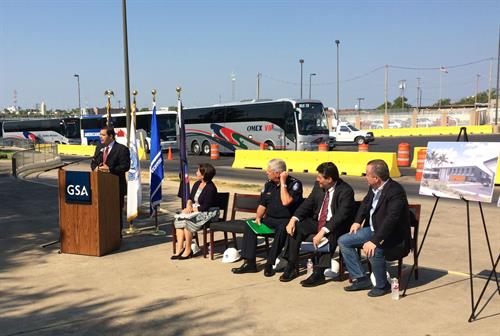 Congressman Henry Cuellar (D-TX-28) on Thursday announced a $62 million renovation project for the Lincoln-Juarez International Bridge in Laredo, Texas. L-R: Rep. Henry Cuellar, GSA Regional Administrator Sylvia Hernandez, CBP Director of Field Operations David Higgerson, Laredo Mayor Pete Saenz and Nuevo Laredo Mayor Carlos Canturosas.
"This is an enormous federal investment in our community. Our international bridges serve several great purposes: they secure Laredo's position as a North American leader in trade, they increase tourism in our communities and they're also an important medium for connecting families across the border," Congressman Cuellar said. "Today's historic announcement means that these overdue renovations to Bridge II will greatly reduce travel time for international shoppers and travelers who contribute millions of dollars annually to our economy
"I thank Sylvia Hernandez, GSA Regional Administrator, and David Higgerson, CBP Director of Field Operations for the Laredo Field Office, for their immeasurable work in obtaining a better blueprint on the format of the construction to allow for an improved flow of pedestrians and noncommercial vehicles. In addition, we will work with the City of Laredo, the City of Nuevo Laredo, CBP, Mexican Customs and the private sector to minimize disruption to the flow of traffic and surrounding businesses during construction."
GSA Regional Administrator Sylvia Hernandez said, "Laredo is a top priority for GSA and represents our vision to make smart, strategic decisions with our agency partners and stakeholders while spurring economic development to local communities. This project will ease the traffic for those who use the crossing and also help CBP in performing their mission to safeguard America's borders."
"We are extremely excited and pleased to see these much needed updates to our bus processing facility at Lincoln-Juarez Bridge and the improvements to pedestrian processing at Gateway to the Americas Bridge come to fruition," said Director, Field Operations David P. Higgerson, Laredo Field Office. "The ever-growing traffic volumes have far exceeded the limits of the present facilities and we will work hand in glove with our stakeholder partners at the federal, state and local levels to help facilitate traffic flow during the construction. We look forward to seeing and utilizing the finished facilities."
International Bridge II ranked the second busiest crossing for buses in Fiscal Year 2012 with an average of 106 buses a day. In 2012 and 2013, International Bridge I was the fourth busiest bridge for privately owned vehicle crossings with 3,364,645 and 3,519,680, respectively.
###