Press Release
CONGRESSMAN HENRY CUELLAR ANNOUNCES $10,397 GRANT FOR GUADALUPE COUNTY AND $10,247 GRANT FOR CITY OF SEGUIN TO HELP FIGHT CRIME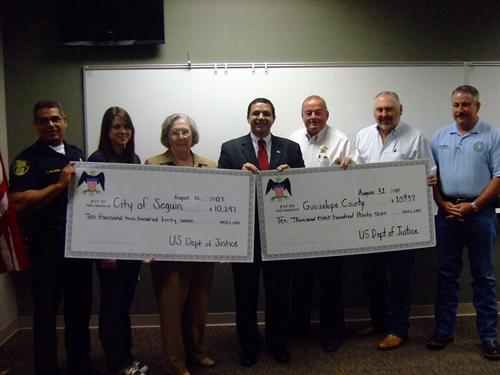 Rep. Henry Cuellar announced today that both the Seguin Police Department as well as the Guadalupe County Sheriff's Department have received funding through the Edward Byrne Memorial Justice Assistance Grant Program made possible by the Department of Justice. The City of Seguin will receive $10,247 to distribute to the Police Department and Guadalupe County will receive $10,397 to distribute to the Sheriff's Department.
"These funds will help provide equipment that will be beneficial to the daily operations of both law enforcement departments," said Congressman Cuellar. "As Chairman of the Homeland Security Subcommittee on Emergency Communications, Preparedness, and Response, I am well aware of the importance of technology when it comes to fighting crime. I will continue working hard to ensure that our first responders are well protected."
The Seguin Police Department will use awarded funds to enhance interoperability by purchasing laptop computers for their patrol units. These computers will allow officers to access critical information from the department's dispatch center such as vehicle registration and driver's license information. This new technology will also allow officers to write incident reports directly from their vehicles.
"Seguin is very pleased to be the recipient of this grant and we are very grateful to Congressman Cuellar for making this possible. This grant will enhance the efficiency of our police department," said Seguin Mayor Betty Ann Matthies.
The Guadalupe County Sheriff's Department will use the awarded funds to purchase four similar laptop computers.
"I welcome the availability of these grant funds, as they will play an instrumental role in the health, welfare and safety of our citizens," said Guadalupe County Judge Mike Wiggins. "We thank Congressman Cuellar for his leadership and interest in the well being of our citizens."
Funding for both agencies is part of the Edward Byrne Memorial Justice Assistance Grant Program (JAG) which allows states, tribes and local governments to support a broad range of activities to prevent and control crime.
Congressman Henry Cuellar is a member of the House Homeland Security, Small Business, and Agriculture Committees in the 110th Congress; accessibility to constituents, education, health care, economic development and national security are his priorities. Congressman Cuellar is also a Senior Whip.
# # # #