Press Release
Rep. Cuellar Fights Border Wall Funding
Offers amendment redirecting border wall funding for Border Patrol and CBP personnel, technology, equipment, as well as protecting landowner property rights
Yesterday, Congressman Henry Cuellar (TX-28) offered an amendment to the fiscal year 2019 Homeland Security Appropriations bill during full committee markup to fight the border wall. The amendment would:
Remove the nearly $5 billion in funding for the border wall and instead redirect these funds to more effective border security items, such as increased personnel, technology, and equipment;
Protect the property rights of private landowners;
Provide funding to help private property landowners have legal representation;
Prohibit any border barrier from being built in the Bentsen-Rio Grande Valley State Park and National Butterfly Center.
This amendment was voted down by Republicans during committee markup, but Congressman Cuellar will continue to fight against the border wall.
Transferring Money for Border Personnel, Technology, and Equipment
Congressman Cuellar has been a vocal critic of President Trump's proposal to build a wall or fence along the border. As a member of the Appropriations Subcommittee on Homeland Security, he has fought for more efficient and effective methods of border security, including technology and border personnel.
Specifically, Congressman Cuellar's amendment would re-distribute the $5 billion dollars intended for a border wall to other high-priority border security items, including:
DHS facilities, including new U.S. Border Patrol stations;
Modernization of land ports of entry;
Infrastructure security and resilience projects;
Acquisition of advanced inspection technology for ports of entry and U.S. Border Patrol checkpoints;
U.S. Border Patrol vehicles and equipment;
Carrizo cane control along the Rio Grande River;
And to increase U.S. Border Patrol agent salaries to reduce attrition.
No Wall, Unless Mexico Provides Funding
The amendment would also make sure the Trump Administration makes good on its promise to make Mexico pay for the wall. The amendment dictates that only funding given by Mexico may be used to build a wall.
Funding for Private Property Landowners
Often times, the government takes physical possession of a land it has condemned before the landowner has been compensated, and years can pass between the time the landowner lost his or her land to a condemnation and the time they are finally compensated for it.
Congressman Cuellar's provision would ensure that the Secretary of Homeland Security establishes mechanisms for private property landowners whose land is condemned for the construction of any border wall. This amendment would alleviate unnecessary burdens on low-income families who live on the border, by providing legal representation in the case the government decides to build a wall.
Prohibiting Division of U.S. Water Resources and Property
The Congressman's district includes 294 miles of U.S.-Mexico border. The construction of a border wall that would leave U.S. water or land on the other side of the wall would effectively cede land and water resources to the Mexican government. This amendment ensures that no funds shall be made available for the construction of a border wall that would leave water, land resources, or private property on the Mexico-facing side of the wall.
Protecting Bentsen-Rio Grande Valley State Park and National Butterfly Center
Finally, the amendment prohibits the use of funds for its construction in Bentsen-Rio Grande Valley State Park and National Butterfly Center, protected areas that have been set aside to conserve America's fish, wildlife, and plant resources in the Congressman's district that attract tourists from around the world. The National Butterfly Center is home to a 100-acre wildlife center and botanical garden that borders the Rio Grande River and is part of the U.S. Fish and Wildlife Service's Lower Rio Grande Valley Wildlife Corridor. According to the North American Butterfly Association (NABA), the Lower Rio Grande Valley of Texas has the most diverse butterfly and bird fauna of any area of the United States. In last year's appropriations bill, Congressman Cuellar worked to include language prohibiting the use of funding to construct a border wall in the Santa Ana National Wildlife Refuge.
"I have been outspoken against President Trump's wall because, unlike those who have championed for a giant wall between the United States and Mexico, I represent the border and actually live there. I speak with constituents, landowners, and law enforcement professionals regularly and we all know that a massively expensive wall is nothing more than a 14th Century solution to a 21st Century challenge."
"Border Patrol operations and technology already provide adequate deterrence for immigrants in most areas." Congressman Cuellar continued, "A wall will also require substantial land grabs by the federal government and violate current landownership rights, ranching operations, and protected areas including Bentsen-Rio Grande Valley State Park and National Butterfly Center. I offered this amendment because I know we can secure the border in a much more effective way, and at a fraction of the cost, by utilizing advanced technology and increasing the agents and properly equipping them on the border."
Read Congressman Cuellar's Amendment Language here.
Watch Congressman Cuellar speak during full committee markup here and here.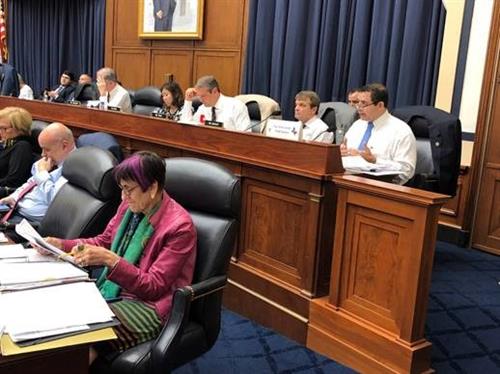 Congressman Henry Cuellar (TX-28) speaks at the Homeland Security Appropriations Committee Markup for fiscal year 2019 in Washington on Wednesday.