Press Release
Rep. Cuellar Issues Statement on House Tax Bill
Congressman Henry Cuellar (TX-28) has released the following statement explaining his vote against the House $1.5 trillion tax bill, H.R. 1 – the Tax Cuts and Jobs Act, today in Washington, D.C.:
"I genuinely wanted to support this legislation, but after analyzing the details, it fails to accomplish certain goals that true tax reform should strive to achieve. This bill increases the deficit, trigger cuts to Medicare and health care (about 30,000 people in my district will lose access to health coverage), disproportionately benefit the wealthy, and does not do enough to help middle-class and low-income families. Even 12 Republicans voted against the measure because this bill does not do enough for constituents in their districts.
Although I have consistently supported corporate tax cuts, any attempt at tax reform must also do enough to help the average middle-class American. This bill creates temporary individual tax cuts, while making the corporate cut permanent. Instead, we should be treating businesses and individuals equitably. Additionally, this bill cuts numerous deductions that would amount to a de facto tax increase for tens of millions of working families. Data show that the wealthy receive the lion's share of the tax cuts, according to the chart from the Institute on Taxation and Economic Policy (Table 1). In my district, more than 41 percent of the population makes less than $35,000 (Table 2). These numbers reveal the need to make sure that benefits are shared by everyone, including the middle-class.


Table 1
Source: Institute on Taxation and Economic Policy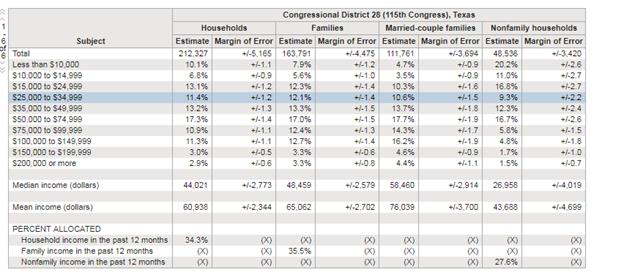 Table 2
Source: US Census American Community Survey
I have consistently advocated for fiscal restraint and responsible spending. This proposal adds at least 1.5 trillion dollars to our national debt, triggering Statutory PAYGO's automatic spending cuts to mandatory programs next month, including a $25 billion cut to Medicare, affecting the over 3.5 million beneficiaries in Texas. It is our duty as lawmakers to balance large tax cuts with responsible spending reductions without cutting essential programs that help middle-class families, and this bill fails to do that.
As a member of the Texas House, I co-authored the largest tax cut in Texas history, and in Congress I've repeatedly crossed the aisle to support legislation that cut taxes and burdensome regulations. While this proposal fails to accomplish the true tax reform goals that our constituents want and need, I will continue to advocate for tax cuts at all levels."