Press Release
Congressman Cuellar Hosts Meeting on Mission Reach Reimbursement with Bexar County Judge
Congressman Cuellar and Judge Wolf discussed securing additional reimbursement funds for Bexar County in order to reinvest in additional community development projects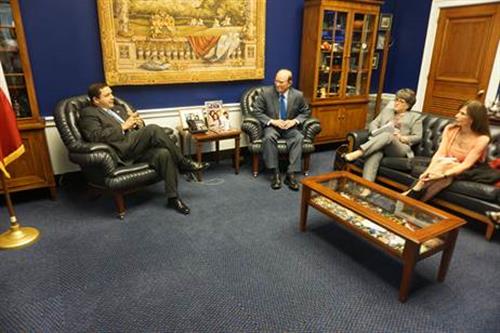 From Left to Right: United States Representative Henry Cuellar, Bexar County Judge Nelson Wolf, Bexar County Director of Government Affairs Melissa Shannon, and Estell Group Counsel Penelope Farthing.
Today, Congressman Henry Cuellar (D-TX-28) hosted a meeting with Bexar County Judge, Nelson Wolf, and Appropriations Committee staff to discuss the reimbursement for the Mission Reach Project. The Mission Reach Project was a United States Army Corps of Engineers (USACE) project to prevent San Antonio River flooding and restore natural plant and animal habitats in 2013. Bexar County loaned USACE $61.3 million to complete the project. The federal government has slowly been paying back the funds to Bexar County since that time.
On Friday, U.S. House of Representatives is set to approve language providing another $10 million in reimbursement, on top of the $16.2 mission previously provided, for the Mission Reach project in the Fiscal Year 2018 Omnibus Appropriations bill. Congressman Cuellar secured this provision through his role on the Appropriations Committee.
"I would like to thank Senator Cornyn and my fellow Representatives from San Antonio – Rep. Castro, Rep. Hurd, Rep. Doggett and Rep. Smith – and Senator Cruz for their help in securing this repayment of Bexar County funds," said Congressman Cuellar. "The Mission Reach project has had undeniable benefits to the community and it is
time
the Corps repays the loan so Bexar County can put these funds to work continuing to improve our community."
The meeting today was to discuss continuing and increasing this reimbursement so Bexar County and San Antonio can reinvest it into the San Pedro Creeks project. This project would transform San Pedro Creek into a world-class park and natural creek habitat. It will improve flood control and revitalize habitat and water quality.
"I thank Rep. Cuellar for his ongoing effort to leverage his position on the Appropriations Committee to ensure that Bexar County is reimbursed for its investment in Mission
Reach
" said County Judge Nelson Wolf.
"This funding is a game changer because the reimbursement will allow us to invest in additional projects. I am grateful for the hard work of Representative Cuellar and Judge Wolf to get this done" added State Representative Roland Gutierrez.
"I also want to thank Appropriations Chairman Rodney Frelinghuysen and Ranking Member Nita Lowey, as well as Energy and Water Appropriations Subcommittee Chairman Mike Simpson and Ranking Member Marcy Kaptur for working with me on including the reimbursement language in the bill," Congressman Cuellar continued.
According to the
San Antonio River Authority
, "The Mission Reach Ecosystem Restoration and Recreation Project has transformed an eight mile stretch of the San Antonio River into a quality riparian woodland ecosystem. This unique project restores riverine features and riparian woodlands, reintroduces native plants, enhances aquatic habitat, and reconnects cultural and historical features."