Press Release
Rep. Cuellar Meets Congressional Art Competition Winner from Roma at Nation's Capitol
Congressman Henry Cuellar (TX-28) recently announced that Roma High School sophomore Melissa Garcia was chosen as this year's Congressional Art Competition winner for District 28. Today, Congressman Cuellar met with Melissa and her family during a reception in Washington, D.C., where her artwork is currently on display at the U.S. Capitol Building.
Travel for Melissa and her family to Washington was provided by Southwest Airlines and other accommodations by the Upper Valley Art League and Bill Canales of Rio Motors Co. in Rio Grande City.
Melissa's winning entry is a color pencil drawing on poster board entitled "Acceptance Within," which depicts two cultures coming together and signifies the acceptance of herself as a young Mexican-American woman on the Texas-Mexico border.
"Melissa has a great deal of talent. Her artwork is not only beautiful and deeply inspiring, but it reflects the diversity of the communities on the border." said Congressman Cuellar. "My district is blessed to have many exceptional and talented students. I congratulate Melissa on winning this year's congressional art competition for my district and I thank this year's sponsors, Billy Canales of Rio Motors Company and Southwest Airlines, for providing travel and accommodations for Melissa and her family as they traveled to Washington, D.C. I also thank the Upper Valley Art League for judging this year's submissions, and our parents and educators for investing in our future and our communities."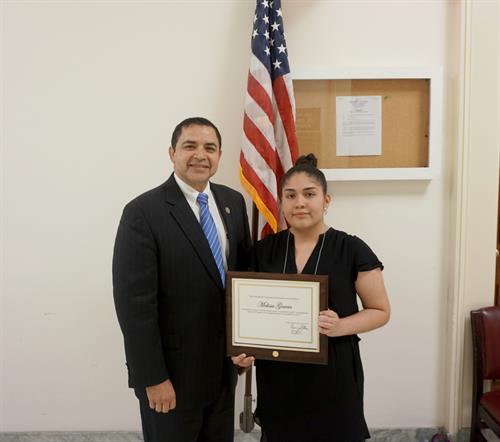 Congressman Cuellar presents Melissa Garcia, winner of the Congressional Art Competition for District 28, with a Congressional Certificate of Recognition at his office in Washington, D.C., Thursday.
First launched in 1982, this year marks the 35th anniversary of the Congressional Art Competition. Since its inauguration, thousands of contests have been held around the country. Throughout the history of the competition, close to 700,000 high school students have participated in the program.