Press Release
Congressman Henry Cuellar Announces Winner of 2017 Congressional Art Competition
Today, Congressman Henry Cuellar (D-TX-28) announced Melissa Garcia, a sophomore at Roma High School in Roma, Texas, as the winner of the 2017 Congressional Art Competition for Texas' 28th District.
"I congratulate Melissa on her colorful and elaborate artwork," said Congressman Cuellar. "The American spirit resonates through her interpretation of the unity and friendship between our two countries. This year we had many great entries and hers stood out the most. Again, I congratulate Melissa on her talented piece, as well as her parents and educators and Roma High School."
The Congressional Art Competition gives the nation's young artists the opportunity to compete for the chance to have their work displayed in the United States Capitol Building. Each member of Congress has the opportunity to host a local competition amongst high school students in his/her district and select the winning entry.
This year, a total of 58 art pieces were submitted from across the 28th District of Texas.
Melissa's winning entry is a color pencil drawing on poster board entitled "Acceptance Within," which depicts two cultures coming together and signifies the acceptance of herself as a young Mexican-American woman on the Texas-Mexico border.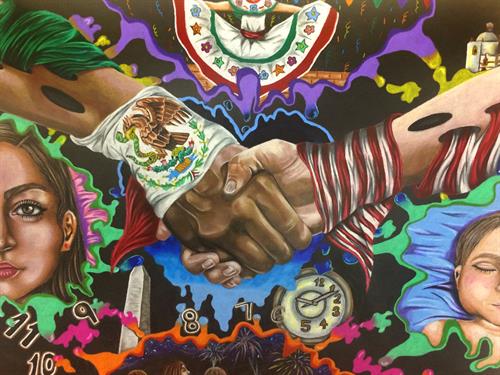 The winning art piece, entitled "Acceptance Within," by Melissa Garcia of Roma High School.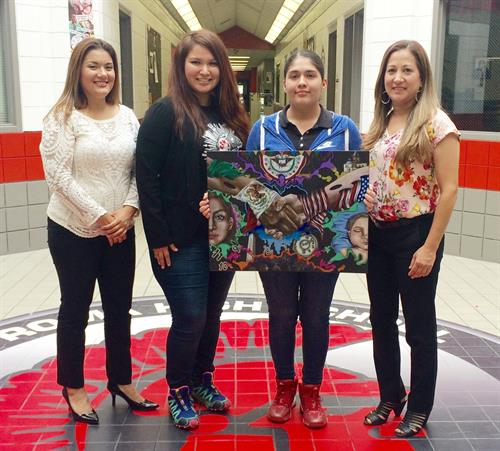 Congressman Cuellar has announced that Roma High School sophomore, Melissa Garcia, third from left, has won the Congressional Art Competition for the 28th Congressional District of Texas. Her piece, entitled "Acceptance Within" depicts two cultures coming together and signifies the acceptance of herself as a young Mexican-American woman on the Texas-Mexico border. Pictured from left to right are Outreach Coordinator for the Office of Congressman Cuellar, Nichole Hernandez; Roma High School Art Teacher Gabriela Gonzalez; Roma High School Sophomore Melissa Garcia; and Roma High School Principal Marissa Belmonte.
"The drawing represents acceptance within oneself," Melissa said. "Since I'm Mexican-American, I chose to incorporate elements of the United States and Mexico to represent that I accept who I am.
Melissa says that the piece displays a handshake from two people of different races, with both the Mexican and American flags representing the fabric of who they are. Towards the top of the drawing is a woman dancing ballet folkórico, or traditional cultural dances of Mexico, while there's a family celebrating the 4th of July with fireworks towards the bottom. To the right is a baby girl, and at the center of the drawing is a clock that signifies the movement of time that is followed by a grown woman on the left. "Time goes by as you grow up and you accept yourself," Melissa added.
There are also architectural elements in the piece, such as the Washington Monument and a Spanish colonial church.
As the winner of the art competition, Melissa is invited to fly to Washington, D.C., next month, courtesy of Southwest Airlines, where she will attend a reception and ribbon-cutting ceremony with her family and Congressman Cuellar on Thursday, June 29, where her artwork will be displayed in the U.S. Capitol.
She also will have the opportunity to meet students from other parts of the country and spend time with Congressman Cuellar and tour the nation's capital.
"Melissa is exceptionally talented and it is clear she has a very bright future in front of her," said Roma ISD Superintendent Carlos Guzman. "We congratulate her on this milestone and look forward to seeing her continue to grow in her skills as a student and artist here at Roma High; and we will continue to support her artistic endeavors as we continue to shine the light on our awesome RHS Art Program. We also thank Congressman Cuellar and his staff for supporting young artists and encouraging them to pursue their dreams. Melissa will always look back on this experience as a defining moment and perhaps this opportunity will afford her exposure and networking that will lead to even greater prospects. This is indeed a very proud day for us in the Gladiator Nation!"
First launched in 1982, this year marks the 35th anniversary of the Congressional Art Competition. Since its inauguration, thousands of contests have been held around the country. Throughout the history of the competition, close to 700,000 high school students have participated in the program.