Press Release
Rep. Cuellar Announces $834m. for Cops; Honors Slain Local Detective Marconi
Today, as part of National Police Week 2017, Congressman Henry Cuellar announced more than $834 million in support for our law enforcement professionals, including for programs to reduce violence against police and help them survive dangerous encounters with suspects. He also honored slain police detective Benjamin Marconi, whose family was in Washington yesterday to see his name added to a memorial for fallen officers.
National Police Week, which runs May 14 through May 20 this year, is an annual event recognizing the service of police officers. Tens of thousands of officers come to Washington for ceremonies. This year, Congressman Cuellar's staff honored Detective Benjamin Marconi of the San Antonio Police Department, a Floresville resident who was killed in the line of duty last year. This week, his name was added to the National Law Enforcement Officers Memorial. While in town for the ceremony, his family joined Congressman Cuellar's staff for a tour of the U.S. Capitol.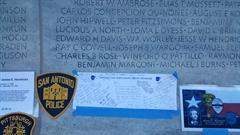 Detective Marconi's name on the wall of the National Law Enforcement Officers Memorial.
"National Police Week is an opportunity to honor the service of the law enforcement professionals who keep our communities safe every day, and to remember the sacrifice of heroes like Detective Benjamin Marconi," said Congressman Cuellar. "I helped secure these provisions, including more than eight hundred million dollars in funding, to support our police and improve security for everyone. I am especially proud to support funding for the VALOR Initiative, which helps prevent violence against law enforcement officers through research, resources, and training. They protect us, so I will do whatever I can to protect them."
Among his provisions, Congressman Cuellar backed $7.5 million for the VALOR Initiative, which helps prevent violence against law enforcement officers and ensure officer resilience and survivability following violent encounters during the course of their duties. It consists of research into the scenarios that lead to law enforcement injury or fatalities; and training, technical assistance, and resources to help officers survive those scenarios, including Active-Shooter training.
Other pro-law enforcement measures support by Congressman Cuellar include:
$210,000,000 for the State Criminal Alien Assistance Program, which reimburses state and local law enforcement for the cost of holding undocumented persons convicted of crimes prior to their transfer to federal custody;
$403,000,000 for Byrne Justice Assistance Grants (JAG), which provide states, tribes, and local governments with critical funding necessary to support a range of program areas including law enforcement, prosecution, indigent defense, courts, crime prevention and education, corrections and community corrections, drug treatment and enforcement, planning, evaluation, technology improvement, and crime victim and witness initiatives;
$221,500,000 for Community Oriented Policing Services (a $9.5 million increase from the 2016 fiscal year funding), which helps build trust between law enforcement and the communities they serve to improve security for everyone;
Language to improve cost effectiveness and conditions in our prison systems, by reducing crowding in medium- and high-security institutions; and
Language instructing the Department of Homeland Security to avoid over-burdening state police crime labs with federal matters, by providing assistance including federal funding when appropriate.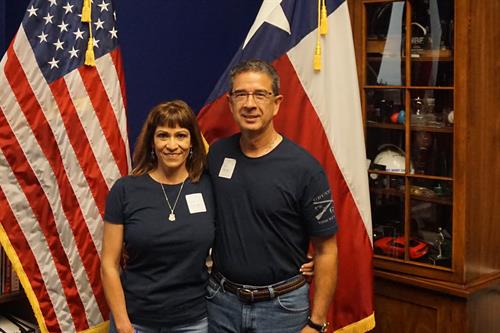 Diana and Tom Marconi, sister-in-law and brother of slain officer Benjamin Marconi, visit Congressman Cuellar's Washington office.
The funding and language are part of the Omnibus Appropriations Bill, which funds the federal government for the rest of the 2017 fiscal year and which passed earlier this month.