Press Release
Rep. Cuellar, TAMIU host 2017 STEM Alliance for Area Students
Congressman Henry Cuellar (D-TX-28) and Texas A&M International University (TAMIU) hosted the 2017 STEM Alliance for middle and high school students in Laredo and Zapata on February 20, 23 & 24 at TAMIU. The annual event is designed to encourage local students to consider careers in science, technology, engineering and mathematics (STEM) fields; as Hispanics and women are currently underrepresented in those areas.
The 2017 STEM Alliance also included a career fair with presentations from companies, universities and government agencies and two keynote speakers: Dr. Jesus Segovia, post-doctoral fellow at the University of Texas Health Science Center at San Antonio (UTHSCSA), and National Aeronautics and Space Administration (NASA) Astronaut and Engineer Donald Roy Pettit.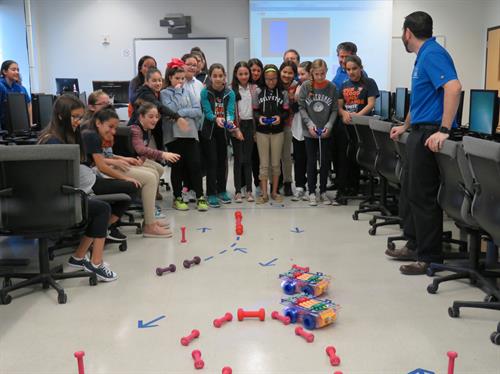 Sixth-grade students build Mars rover replica robots with engineers from Lackland Air Force Base in San Antonio during the 2017 STEM Alliance at TAMIU Friday.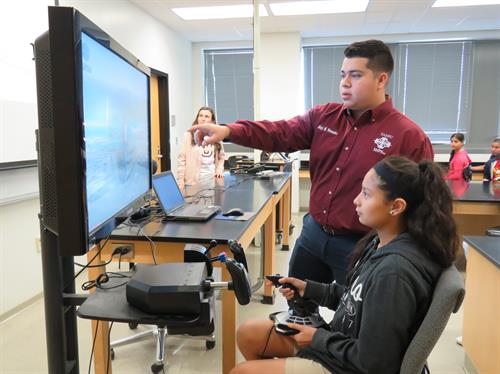 A local middle school student learns flight simulation and mechanics from an engineering student at TAMIU during the 2017 STEM Alliance Friday.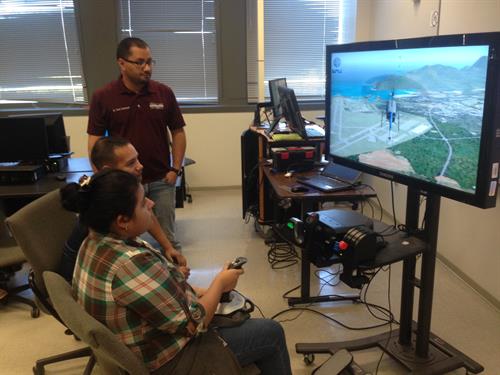 A local high school student learns flight simulation and mechanics from an engineering student and professor at TAMIU during the 2017 STEM Alliance Thursday.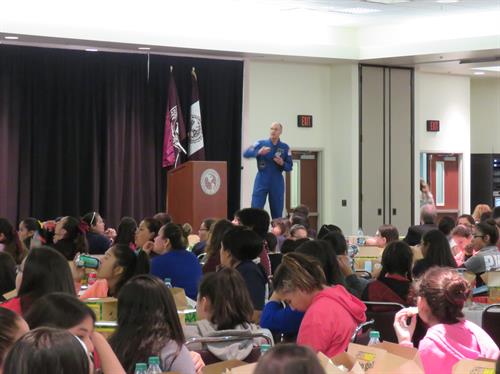 NASA Astronaut and engineer, Dr. Don Pettit, speaks to 300 middle school students from Laredo and Zapata about his work at NASA and time in space during the 2017 STEM Alliance Friday.

About NASA Astronaut and Engineer, Dr. Donald Pettit
Donald R. Pettit was selected by NASA in 1996. The Silverton, Oregon native holds a Bachelor of Science in Chemical Engineering from Oregon State University and a Doctorate in Chemical Engineering from the University of Arizona. Prior to becoming an astronaut, he worked as a staff scientist at the Los Alamos National Laboratory, New Mexico. A veteran of three spaceflights, Pettit served as NASA Science Officer for Expedition 6 in 2003, operated the robotic arm for STS-126 in 2008 and served as a Flight Engineer for Expedition 30/31 in 2012, where he lived aboard the International Space Station for more than 6 months.
Download Astronaut Pettit's full NASA biography and photo here: https://www.nasa.gov/astronauts/biographies/donald-r-pettit
Organizations that participated in the 2017 STEM Alliance include: TAMIU, The University of Texas at San Antonio Health Science Center-Regional, UTSA Department of Biology, Area Health Education Center, National Weather Service, Texas Commission on Environmental Quality, NASA, U.S. Marines, NASA Community College Aerospace Scholars, U.S. Army Corps of Engineers, Lackland Air Force Base, Wells Fargo, Texas Academy of International and STEM Studies, Texas Department of Public Safety Crime Laboratory, Robotics Engineering Machine Shop, IBC Bank and others.