Press Release
Rep. Cuellar Announces Two Federal Grants Totaling Over $1 Million to TAMIU
Funds will be used to assist underrepresented students complete degrees in STEM; help underserved population with free tax preparation
Congressman Henry Cuellar (D-TX-28) announced today the awarding of two federal grants totaling over $1 million to Texas A&M International University (TAMIU) from the National Science Foundation and the U.S. Department of the Treasury's Volunteer Income Tax Assistance (VITA) Matching Grant Program.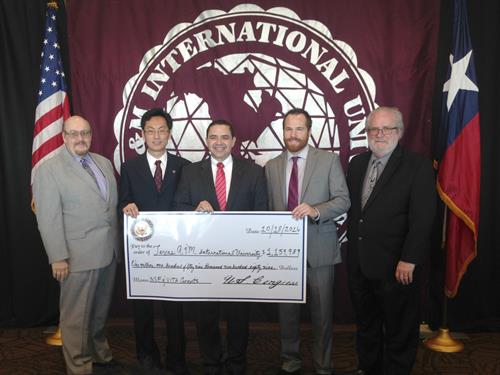 Congressman Henry Cuellar presents a check for a two grants totaling over $1 million to TAMIU on Tuesday. Pictured from left to right are Dr. Pablo Arenaz, Interim President of TAMIU; Dr. Runchang Lin, Co-Principal Investigator and Assistant Professor of Mathematics; Congressman Henry Cuellar; Dr. Jack Byham, VITA Program Coordinator and Assistant Professor of Political Science; and Dr. Thomas R. Mitchell, Interim Provost and Vice President for Academic Affairs.
The first grant is from the National Science Foundation (NSF) for $999,989 to be distributed over a period of five years and will be used to fund TAMIU's College of Arts & Sciences-Aid (CASC-Aid) Project, which will provide 18 academically-talented undergraduate students with scholarships of up to $6,800 per academic year for the next five years to assist them in completing degrees in the areas of science, technology, engineering and mathematics (STEM). The NSF grant will also be used for materials and supplies, fringe benefits, the hiring of a consultant for an external evaluation of the project, and the hiring of two graduate students to assist with the implementation of activities and data collection and conduct research. The project includes professor-led community tutoring, success workshops, advising, field trips and career guidance designed to help prepare students for a successful academic future.
According to the U.S. News and World Report, TAMIU was ranked number 1 in the United States for highest percentage of Hispanic degree-seeking undergraduates in fall 2014.
The second grant awarded to TAMIU in the amount of $160,000, which will be distributed at $80,000 per year for two years, is funded through the U.S. Department of the Treasury's Volunteer Income Tax Assistance (VITA) Matching Grant Program and will enable TAMIU and its partners to expand the local VITA program that provides free tax preparation services for underserved populations in hardest-to-reach areas. The funds will increase TAMIU-VITA's capacity to file tax returns electronically, enhance the training of volunteers and significantly improve the accuracy rate of returns prepared at VITA sites.
"Nationwide, only 14.4 percent of Hispanics have a bachelor's degree or higher, compared with 35.6 percent of non-Hispanic whites; and in Laredo that number is only 12.8 percent," said Congressman Henry Cuellar. "The U.S. Department of Education estimates that between 2010 and 2020, the overall employment in STEM occupations is projected to increase by 17 percent. Yet, Hispanics currently only make up 6.5 percent of the STEM workforce. One of my priorities in Congress is to bring more opportunities to underrepresented populations in my district, which is why I recently included $30 million in funding in the Fiscal Year 2017 Commerce, Justice, Science and Related Agencies Appropriations Bill for the NSF to work and partner specifically with Hispanic-Serving Institutions (HSIs), such as TAMIU, on STEM and cybersecurity research.
"Similarly, TAMIU's VITA program has helped many families get back more money during their federal tax returns, which not only helps those individuals have more money for necessities, but also reinvests that money into our local economy. Increasing the number of STEM degrees in our community and helping more families keep more of their federal taxes is a great investment in our future. I thank President Pablo Arenaz and the staff at TAMIU for their dedication to Laredo's future."
Dr. Pablo Arenaz, Interim President of TAMIU:
"We are humbled by the generous partnership and support made possible by Cong. Cuellar with our receipt of the NSF grant and IRS-expanded funding of TAMIU-VITA. Both of these awards are sharply focused on the University's role in bettering and changing futures. This NSF grant provides financial assistance to academically talented students in our STEM disciplines, and will encourage their entry into these highly desirable fields. The expanded funding of the TAMIU-Vita program helps our students build on important learning connections to our community, while performing a crucial service that has helped Laredoans receive more than $12 million in tax refunds, and to save more than $1 million in tax preparation fees. Together, these programs help our students make a difference here and go beyond."