Press Release
Rep. Cuellar Announces $1.1 Million Department of Education Grant to Laredo Community College
Grant will help increase academic success of LCC students who are low-income, are first-generation or who have disabilities
Today Congressman Henry Cuellar (D-TX-28) and Laredo Community College (LCC) President Juan L. Maldonado announced a $1.1 million federal grant from the U.S. Department of Education to LCC Student Support Services (SSS). The grant will be distributed over five years ($220,000 per year) and will help continue to increase the academic success of students at LCC who are low-income, first-generation or those who have learning disabilities. Joining Congressman Cuellar and President Maldonado was Manuel L. Garcia, student support services director at LCC.
The grant, which has just been renewed for the third time since Congressman Cuellar started in office in 2005, could help many of the students at Laredo Community College, where in the fall of 2013, enrollment averaged 8,726 students. Sixty-two percent of these students were low-income, 89 percent were first-generation and 2.7 percent had a disclosed disability.
The grant proposes to serve 300 eligible students per year and aims to improve student outcomes and four-year graduation rates through tutorial interventions, semester grade checks, supplemental instruction, financial aid counseling, academic advising and other individualized counseling services.
"As a graduate of LCC myself, I know the successes this institution can prepare students for," Congressman Cuellar said. "Higher education is the pathway to success in life, and I believe that it's an opportunity that should be made available to everyone in our community. The system can be difficult for students with unique backgrounds and abilities, and by making these new grant funds available for students' success, LCC will further prepare students to do great things both here at home in Laredo and beyond."
"We are extremely grateful to Congressman Cuellar and the Department of Education for their continued support for Laredo Community College. This $1.1 million grant for our Student Support Services program will go a long way towards providing our students with the academic support they need to succeed at LCC and beyond. We look forward to continuing to help our students in our community," LCC President Dr. Juan L. Maldonado said.
Researchers at Northwestern University and Stanford University have previously found that intervention projects like SSS have proved particularly successful with first-generation students.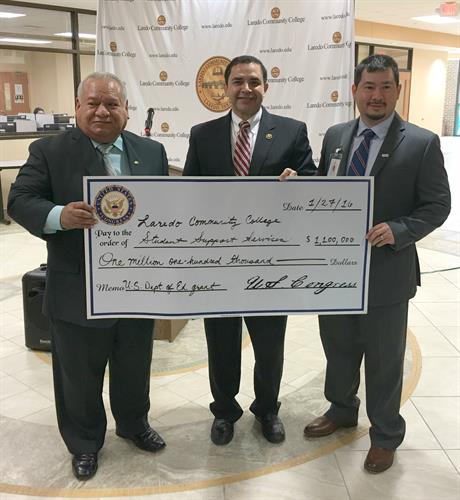 From left to right: Dr. Juan Maldonado, president of Laredo Community College, Congressman Henry Cuellar, and Manuel L. Garcia, Student Support Services Director at Laredo Community College announce a $1.1 million Student Support Services Grant from the U.S. Department of Education to Laredo Community College on Wednesday.