Press Release
Rep. Henry Cuellar Announces Acceptance of Laredo Student to West Point
Isidro Alaniz, Jr., from United High School was accepted to the Service Academy
Congressman Henry Cuellar (D-TX28) announced today the acceptance of United High School student Isidro Alaniz Jr., son of Isidro "Chilo" and Elia Alaniz, into the United States Military Academy at West Point.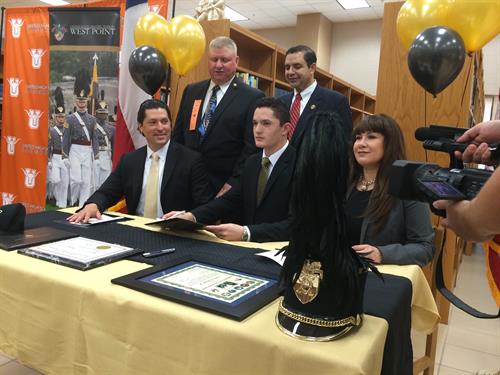 Isidro Alaniz, Jr. (center) signs an Oath of Allegiance on Friday at United High School. Alaniz was accepted into the U.S. Military Academy at West Point. (From left to right are Isidro Alaniz, District Attorney for Webb and Zapata Counties; Capt. C. J. Burgin, State Coordinator for the U.S. Army West Point Academy; Isidro Alaniz Jr., Congressman Henry Cuellar (D-TX28); and Elia P. Alaniz.

"Nominating students from the 28th District of Texas to military service academies is a responsibility I take very seriously," Congressman Cuellar said. "Isidro's exemplary test scores and his outstanding nomination application made him an ideal candidate, and one I trust will make Laredo proud as he serves our nation. I'm grateful for Isidro's commitment to our country and look forward to following his career."
"The entire Alaniz Family is tremendously proud of Isidro's decision to serve his Country. We are very grateful to Congressman Cuellar for his nomination of Isidro and helping make his dream a reality," said Isidro "Chilo" Alaniz, District Attorney for Webb and Zapata Counties and father of Isidro, Jr.
In addition to his outstanding grades and test scores, Isidro has an impressive resume of extracurricular activities that include selection into the National Honor Society, the Future Farmers of America (FFA), varsity football, varsity track, St. Patrick's Catholic Church Confirmation Ministry and volunteering for many non-profit organizations.
Each year, Congressman Cuellar provides service academy nominations as one step in the military academies' application process. Nominees must participate in a lengthy review process that evaluates their academic history, leadership skills, extracurricular activities, and personal essays. Final acceptance decisions are made by the service academy.