Congressional Art Competition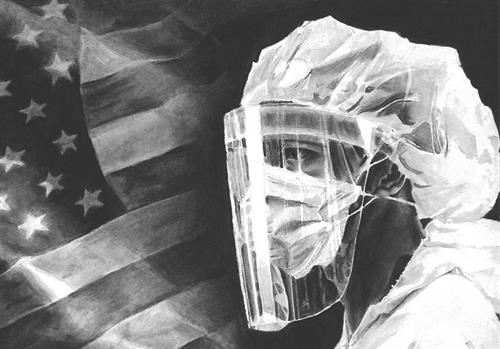 Abigail Kirkpatrick of Marion High School - Winner of 2021 Congressional Art Competition
"Patriotism In a Pandemic"
Each spring, a nationwide high school arts competition is sponsored by the Members of the U.S. House of Representatives. The Congressional Art Competition is an opportunity to recognize and encourage the artistic talent in the nation, as well as in our congressional district. I am honored to be a part of this art competition, which provides the opportunity to showcase the talents of creative high school students in the 28th District of Texas.
I encourage all high school students from my district to participate in the local competition and am excited to share the artwork of South Texas in our Capitol.
For entry guidelines, please click here. Student information and the release form can be found here.
We recognize that many students may not be able to have their teacher sign the student release form due to school closures. For instance, when submitting the form, the student may attach an e-mail from an art teacher certifying the artwork's originality.
All entries must meet the following criteria:
Be two dimensional
Be no larger than 26 inches wide by 26 inches tall by 4 inches thick
A framed piece should not weigh more than 15 pounds
Be original in concept, design, and execution (may not violate any U.S. copyright laws).
Click here to view Art Competition Check List.
The artwork is due no later than Monday, April 25, 2022 at 5:00 P.M. CST, and can be sent digitally to Alexis Gallegos
by e-mailing: alexis.gallegos@mail.house.gov
Should you have any questions or concerns, please feel free to call (956) 424-3942 for further details.

Background
Initiated by Members of the U.S. House of Representatives in 1982, the event is a nationwide annual art competition that allows high school students from all fifty states, the District of Columbia, and U.S. territories to showcase their artistic ability. Winners are recognized both in their district and at an annual Awards Reception in Washington, DC. Since the competition's inception in 1982, more than 650,000 high school students have participated. As a result, the winning work from each Congressional district is displayed in an eleven month exhibit in the Cannon tunnel that leads into the U.S. Capitol.