Press Release
Congressman Cuellar Welcomes Local Perspective at "Undergraduate Research Posters on the Hill" Event
Seguin local selected to present research on Rio Grande River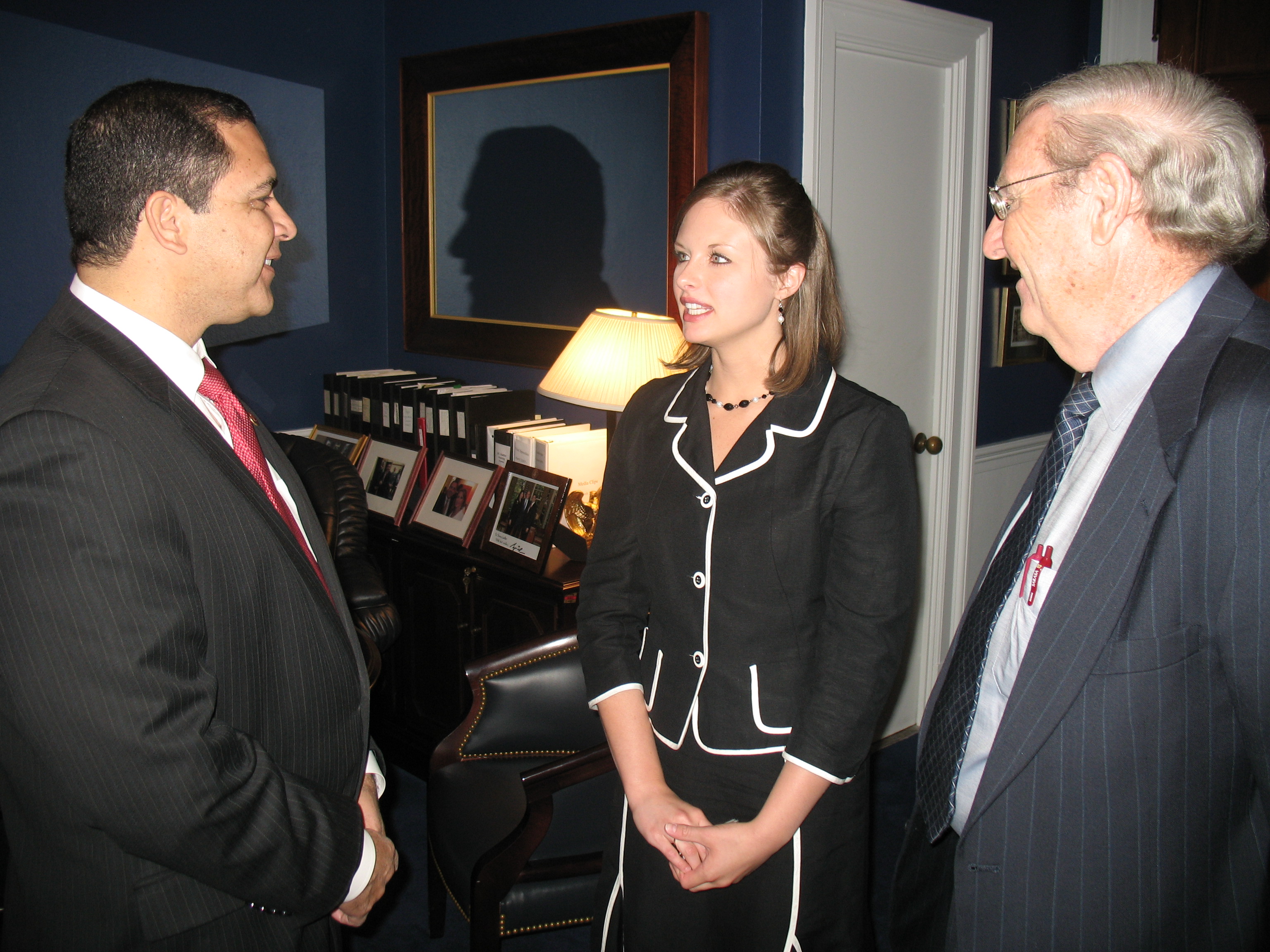 Congressman Cuellar meets with Shauna Yow and Professor Lacewell to discuss Yow's research.
Today, Congressman Henry Cuellar welcomed Shauna Yow, who presented her undergraduate research as a finalist of the Council on Undergraduate Research "Undergraduate Research Posters on the Hill" event. Yow's research, "Unintended Consequences of Legislation on the Adoption of Water Treatment Technology," examined the potential effects of potable water technologies along the Rio Grande Valley.
The annual event is sponsored by the Council on Undergraduate Research (CUR), a not-for-profit organization that supports and promotes high-quality undergraduate-faculty collaborative research and scholarship. Comprised of 492 colleges and universities and nearly 3,000 members, CUR selects sixty student posters to display at the United States Capitol as a means of informing Congress of critical issues researched by students. Students meet with Representatives to explain their work and the importance of federally-funded research endeavors.
"I am proud of the hard work and dedication that Shauna has displayed here today," said Cuellar. "The scientific research conducted by university students is an invaluable contribution to Congress and society. In particular, Shauna's research on technologies for water treatment offered me tremendous insight that applies to the district I represent, where clean drinking water is of great concern to many."
As an Agricultural Economics major with a specialization in Policy at Texas A&M University, Yow began her project in the Fall semester of 2007 and is ongoing. The project seeks to identify and analyze the economic and social implications of the Texas Senate Bill 3 on the Rio Grande Valley water market, any unintended consequences of legislation, and the resulting adoption of alternative technologies for producing potable water.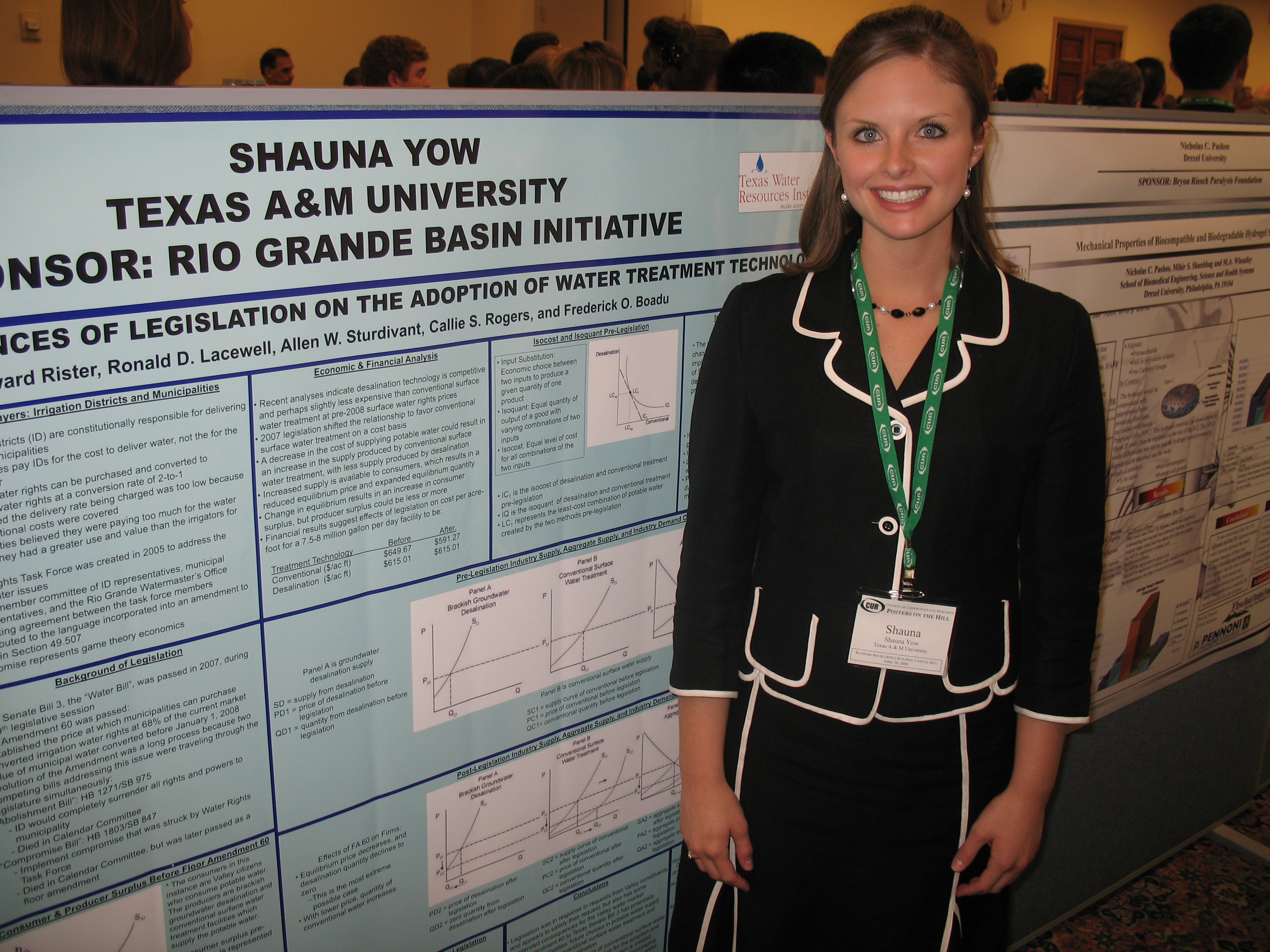 "Because I intend to pursue a career in law, this project gave me the opportunity to better understand the complex laws governing Texas water," said Yow. "My goal in researching was to determine how Texas Senate Bill 3, which established the price at which irrigation water converts to municipal water at 68 percent of the prevailing market price, could affect the adoption of water treatment technology between brackish groundwater desalination and conventional surface water treatment methods."
"I am pleased to have been given the opportunity to present my findings to Congressman Cuellar, whose district contains communities along the Rio Grande River," said Yow. "I am also especially grateful for the support and guidance of Dr. Edward Rister and Dr. Ronald Lacewell through my investigation."
If you or someone you know is interested in participating in CUR's annual undergraduate research poster session on Capitol Hill, visit www.cur.org. If you have questions regarding federal grants, scholarships, or financial aid, please contact my office at (830) 401-0457.   
###
Congressman Henry Cuellar is a member of the House Homeland Security, Small Business, and Agriculture Committees in the 110th Congress.  Accessibility to constituents, education, health care and economic development are his priorities.