Press Release
CONGRESSMAN HENRY CUELLAR HONORED AS 2008 DISTINGUISHED COMMUNITY HEALTH SUPERHERO
Cuellar promises continued efforts to strengthen community health centers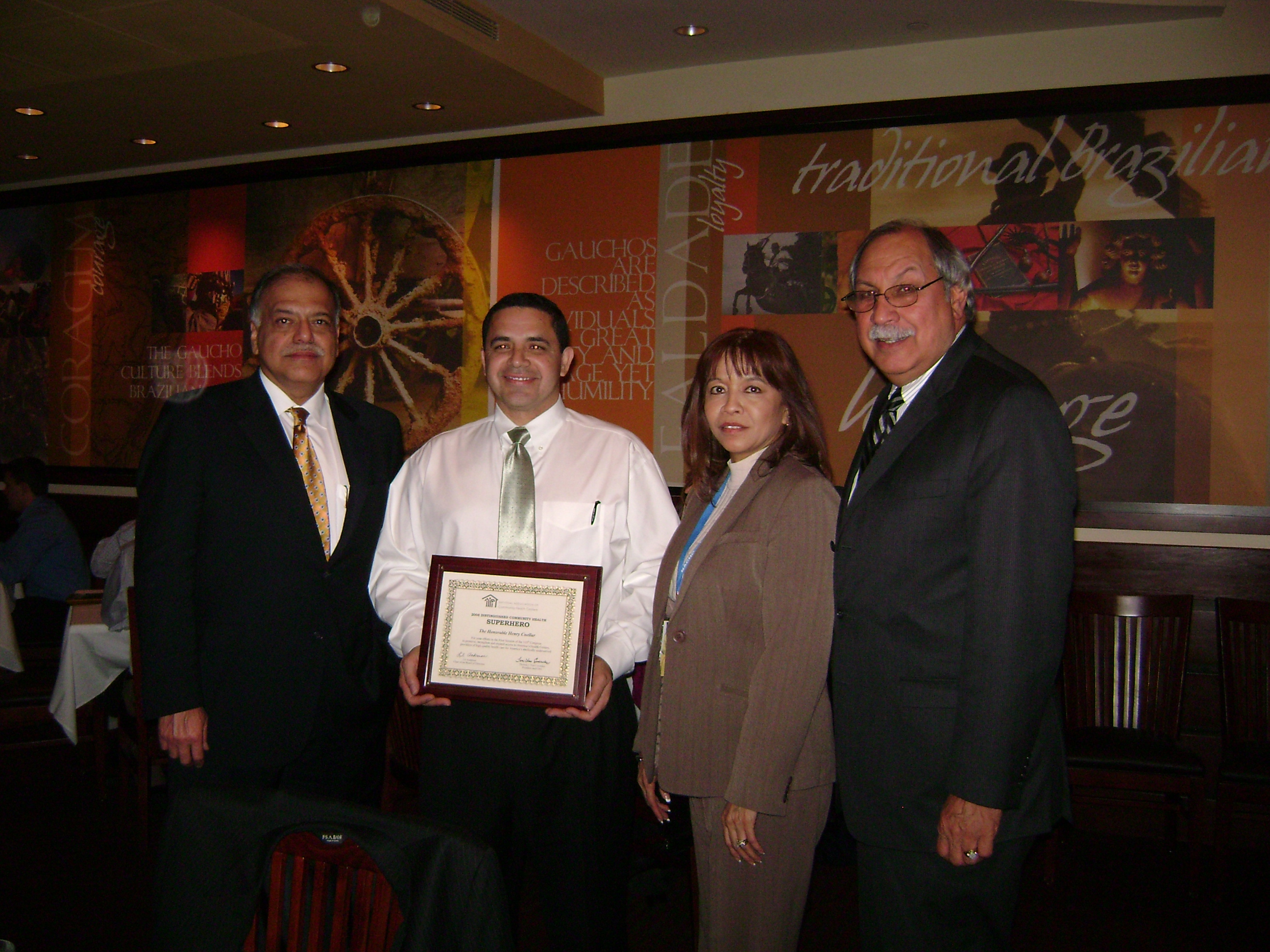 Last night, Congressman Henry Cuellar was named as the 2008 Distinguished Community Health Superhero by the National Association of Community Health Centers (NACHC). The award is presented to deserving individuals who demonstrate extraordinary efforts to preserve, strengthen and expand access to America's Health Centers, providers of high-quality health care for America's medically underserved.
The award was presented by Mr. Mike Treviño Jr., Chief Executive Officer of the Gateway Community Health Center and Mr. Jose Camancho, Executive Director of Texas Association of Community Health Centers and was signed by Lil Anderson, Chair of the Board of Directors and Thomas J. Van Coverden, President and CEO.
"It is an honor to receive this award," said Cuellar. "The unique health care challenges the 28th District faces is of increasing concern to me. Diabetes, obesity, tuberculosis, hypertension and cancer are prevalent issues in our region. Community health centers are, therefore, a blessing to the large number of children and parents who are either uninsured or underinsured and to those who live in medically underserved minority and rural communities."
"We are happy to recognize Congressman Cuellar for his continued support of our community's health service movement," said Mr. Treviño.  "He has played an important role in helping us execute our plans to bring quality health care to the underserved individuals throughout the district. We congratulate him and thank him for advocating our cause."
"This recognition carries a significant meaning to me because, together, we are making a difference in so many lives," said Cuellar. "We have five community health centers in the 28th District of Texas, and there is more to be done. Bringing federal grant money to health care organizations like community health centers to expand and provide convenient accessibility to constituents will continue to be one of my top priorities," said Cuellar.
###
Congressman Henry Cuellar is a member of the House Homeland Security, Small Business, and Agriculture Committees in the 110th Congress; accessibility to constituents, education, health care, economic development and national security are his priorities. Congressman Cuellar is also a Senior Whip.