Press Release
CONGRESSMAN HENRY CUELLAR ANNOUNCES $195,000 FOR MERCY MINISTRIES OF LAREDO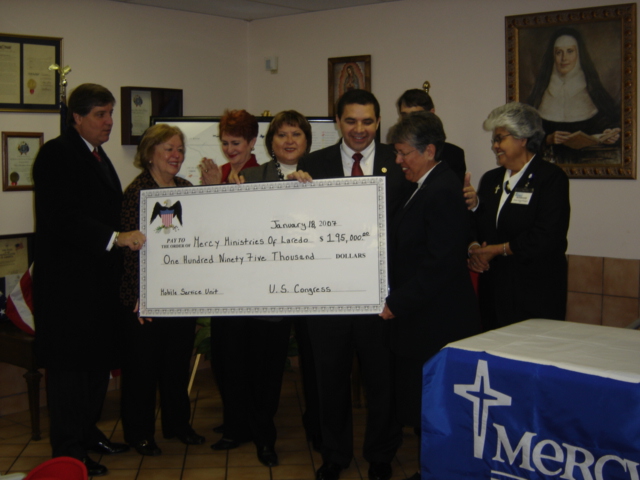 Today, U.S. Congressman Henry Cuellar announced $195,000 for Mercy Ministries of Laredo that will assist the non-profit organization in purchasing a medical mobile van. The mobile unit will provide health care services to the underserved population in Webb County and surrounding communities.
Some of the primary health care services that are included as part of Mercy Ministries' outreach efforts in the mobile unit include: Breast and cervical cancer screening, annual physical exams for adults, blood pressure, blood sugar and cholesterol checks, sports physicals for students, and general medical consultations. In addition, social workers also offer nutritional and social-needs counseling. In 2007, a total 1,689 residents sought services offered in the medical mobile van.
"The Texas-Mexico border historically has been underserved with medical professionals, and this new unit will help alleviate that problem," said Congressman Cuellar. "I applaud the efforts of Mercy Ministries in taking the lead and providing services to our citizens who need access to health care."
Sister Maria Luisa Vera, Mercy Ministries of Laredo Chief Executive Officer, said that with the money awarded today, they are on the right path in continuing to offer these much-needed services.
"We are very hopeful that 2008 will be the year Mercy Ministries of Laredo has a new medical mobile van to continue its mission and commitment of providing services to members of our Webb County community that are unfunded, under funded and underserved," the sister added.
Sister Rosemary Welch, Mercy Ministries of Laredo Director of Outreach, had similar remarks: "Thank you, Congressman Henry Cuellar; thank you, Webb County; and thank you to all of you who believe and support the mission of Mercy Ministries of Laredo."
For information on federal funding, contact Congressman Cuellar's Office at 202-225-1640. To learn more about Congressman Cuellar, log on to /
Congressman Henry Cuellar is a member of the House Homeland Security, Small
 Business, and Agriculture Committees in the 110th Congress; accessibility to constituents, education, health care, economic development and national security are his priorities. Congressman Cuellar is also a Senior Whip.
###