In The News
Constituents 'Frustrated': Texas Dem Rep. Cuellar Says Biden 'Needs to Address' Border Crisis
Democratic Rep. Henry Cuellar of Texas on Monday said his constituents along the border are "frustrated" by the surge in crossings and urged the Biden administration to address the crisis.
Cuellar, who represents border communities, made the remarks while discussing Vice President Kamala Harris' three-day diplomatic trip to Guatemala and Mexico on CNN's Newsroom.
In April, U.S. Customs and Border Protection reported it encountered 178,000 migrants along the U.S.-Mexico border, an increase of about 5,000 from the previous month. Of those, 44 percent were from Central America. So far this year, the agency has reported 749,600 encounters at the border. In 2020, it reported a total of 458, 088 encounters.
"We need to address this as soon as possible," the Democrat said. "They have to show that they can stop some of the flow coming in, because if we look at the root problems, corruption, crime and all that, that's going to take years. But we have to show a way that we can slow down the number of people coming in from Central America."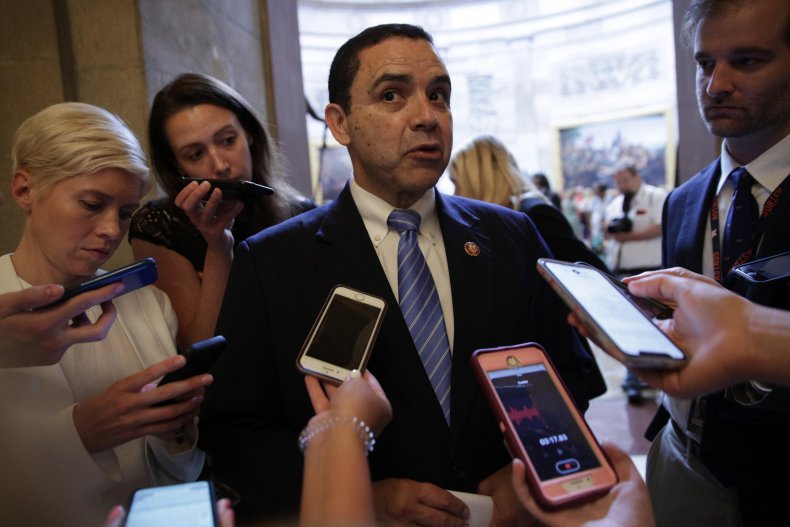 Cuellar added: "If we don't do this... I can tell you that the areas that I represent, the border communities, they're frustrated. I'm telling you, they are frustrated."
Harris began her first official overseas trip as vice president in Guatemala City, where she met with President Alejandro Giammattei to discuss stemming the surge of migrant arrivals. "The United States will continue to enforce our laws and secure our borders," Harris said during a joint news conference. "If you come to our border you will be turned back."
Harris also announced an agreement to fight human trafficking, drug smuggling and corruption in the Central American country.
"The President and I agreed to continue our work to manage migration at Guatemala's northern and southern borders," she said. "We also discussed illicit drugs that are being smuggled and humans who are being trafficked across these borders undermining the security of both Guatemala and the people of the United States."
The Biden administration has pledged to invest $4 billion in the region to develop systems that will tackle the "root cause" of border crossings, as well as $310 million in humanitarian aid. Migrants arriving from Central America are often fleeing corruption, poverty and crime.
Harris will travel to Mexico next to meet with President Andrés Manuel López Obrador to discuss cooperation in strengthening border crossing mitigation efforts.
Newsweek reached out to the White House for comment. This story will be updated with any response.
For a link to the article, click here