Press Release
Rep. Cuellar Announces $622,400 for Atascosa Health Center, Inc.
Funding for hurricane response & recovery and primary health care services
Yesterday, Congressman Henry Cuellar (TX-28) announced $622,400 in federal funding for Atascosa Health Center, Inc. (AHC). This award consists of two separate grants from Health and Human Services' (HHS). Specifically, the Atascosa Health Center will receive $285,000 through the HHS Health Center Cluster Program and $337,400 through the HHS Capital Assistance for Hurricane Response and Recovery Efforts (CARE) Program. These programs will continue to provide funding assisting health centers impacted by Hurricanes Harvey, Irma, and Maria and to support the delivery of comprehensive, affordable, quality primary health care services to communities and vulnerable populations in the 28th district.
The Atascosa Health Center, Inc. is a Federally Qualified Health Center (FQCH) that offers a broad range of health services to more than 12,000 patients annually across Atascosa, Karnes, Wilson, Live Oak, and McMullen counties. AHC has a network of six rural clinics which provide services regardless of a patient's ability to pay. The center is committed to serving all patients without regard to race, sex, age, color, religion, national origin, disability or ability to pay for services.
"Increasing access to medical care is a top priority for me," said Congressman Cuellar. "McMullen and Atascosa counties suffer from a lack of necessary medical facilities and health care providers, so any way we can close this gap is another step closer to a healthier, happier and more productive citizenry. This award will continue to ensure that underserved rural communities in Atascosa County receive critical healthcare."
Congressman Cuellar added, " I would like to thank Monty Small, CEO of the Atascosa Health Center, and his staff for working to make these facilities a reality. I also want to thank the City of Pleasanton and the City of Karnes for engaging in this critical mission."
AHC CEO Monty Small said, "The Atascosa Health Center, Inc. covers five counties, including approximately 5,000 square miles in south central Texas through our six delivery sites. In 2017, AHC served more than 15,000 patients with more than 52,000 visits. If we saw a 70% reduction in funding, we would be forced to downsize our medical, dental, and behavioral health staff drastically, which means many of our patients would lose access to primary health care and end up in our Hospital Emergency Rooms. Congressman Cuellar has always been a champion for Community Health Centers and has always done what is best for Community Health Centers. We are thankful for his efforts in serving our community and helping us secure this funding to continue serving our communities."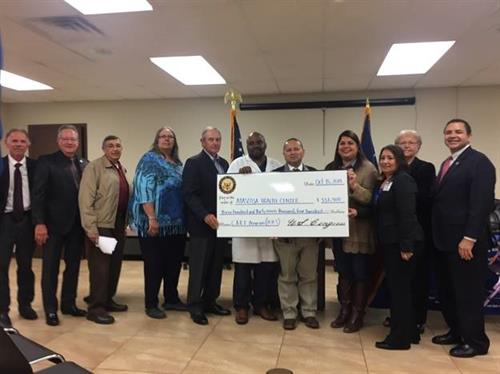 Congressman Henry Cuellar (TX-28) announces $622,400 for Atascosa Health Center, Inc. in Pleasanton on Monday. Pictured from left to right: Atascosa Health Center, Inc. CEO Monty Small, Mayor of Pleasanton Travis Hall, Director of Behavior Health LCSW Dr. Noel Laurel, Board Member Virginia Herring, Mayor of Karnes City Leroy Skloss Medical Director Dr. Rayford Mitchell, Board Member Dwayne Villanueva, Board Member Lillian Cashmer, CFO Maria Garcia, Board Member Luana Newman-Leus, and Congressman Henry Cuellar