Press Release
Congressman Cuellar Attends Grand Opening of Behavioral Health Clinic at the McMullen Community Health Center
Yesterday, Congressman Henry Cuellar (TX-28), McMullen County officials and Atascosa Health Center representatives participated in the grand opening of an additional building for behavioral health services at the McMullen Community Health Center, in partnership with Atascosa Health Center, Camino Real Community Services, and McMullen County Judge James Teal. The McMullen Community Health Center is a satellite clinic of the Atascosa Health Center, Inc. and is conveniently located to serve the residents of McMullen County. This is the first behavioral health services facility in the area and will greatly improve access to affordable behavioral health to the county's residents, making the community a healthier and safer place to live.
Across Texas, the majority of Community Health Center patients are uninsured and live in underrepresented and underserved areas.
In the 28th District alone, community health centers served over 140,000 patients and generated upwards of 1,500 jobs in 2016. To help support community health, Congressman Cuellar worked on the Appropriations Committee to help secure $1.625 billion for Community Health Centers in the FY19 Labor, Health and Human Services, and Education Appropriations bill.
Providing Behavioral Health Services to McMullen Community
McMullen County has a population of 804 individuals, with 5% of the population identified as mentally ill, and is designated as a Healthcare Professional Shortage Area. Over 18% of the population in McMullen lacks health insurance coverage, which creates barriers to accessing appropriate mental health treatment. Due to the fact that there is no public transportation system in the county, access to services is a significant barrier. Low population density also impacts the delivery of services, as behavioral healthcare providers must travel greater distances to provide much-needed services.
McMullen Behavioral Health Clinic Objectives
In 2017, Atascosa Health Center served over 15,000 patients with over 52,000 visits. This new building will provide necessary behavioral health services to help benefit the people of McMullen County. In partnership with Camino Real Community Services (CRCS), the center will provide outpatient mental health services to adults with severe and persistent mental illness. Specifically, objectives of the new center include:
Integrated Care Staff will hold 1 community engagement activity related to wellness per month;
Enroll a minimum of 3 individuals into the Integrated Primary and Behavioral Health Care Project monthly;
Behavioral Health Consultant will provide counseling services to identified individuals seeking mental health assistance; and
Integrated Care Staff will provide health care navigation and case management services to individuals referred by self, school, FQHC, law enforcement, and judge to ensure that mental health/substance use assessments are completed and proper referrals are made.
To achieve these goals, staff will work on program activities, such as:
Promoting health literacy, adherence to medication and other treatments, recovery in the community; and continuity of care;
Improving access to medical and dental care;
Individual and group counseling to improve medical, behavioral, and social compliance; and
Case management/rehab services to include education on mental illness; self-monitoring and medication administration; and community linkage to support services.
Increasing access to medical care is a top priority for me, so I know the opening of the behavioral health clinic will only strengthen this area," Congressman Cuellar said. "McMullen and Atascosa counties suffer from a lack of necessary medical facilities and health care providers, so any way we can close this gap is another step closer to a healthier, happier and more productive citizenry. I would like to thank Monty Small, CEO of the Atascosa Health Center, Camino Real Community Services and Judge Teal for working so hard to make these facilities a reality."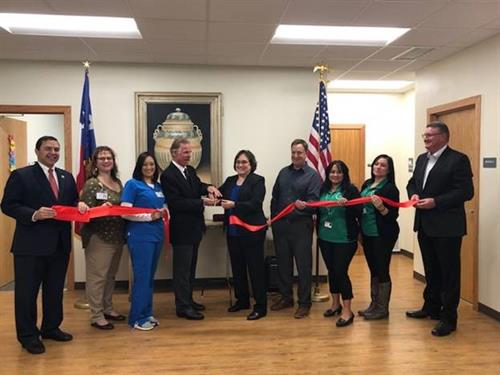 Congressman Henry Cuellar (TX-28) attends grand opening of the Behavioral Health Clinic at the McMullen Community Health Center in Tilden on Monday. Pictured from left to right: Congressman Henry Cuellar, PA-C Angela R. Karsky, McMullen Community Health Center Practice Manager Brenda Salazar, Atascosa Health Center, Inc. CEO Monty Small, Camino Real Community Services Executive Director Emma Garcia, Camino Real Integrated Health Program Manager John Koenig, Camino Real LPC Mary Rivera, Camino Real QMHP-CS Nancy Moreno, and McMullen County Judge James Teal.