Press Release
Rep. Cuellar Announces Over $100 Million Plan for Technology and Other Infrastructure to Modernize World Trade Bridge into a World Class Cargo Processing Facility
Transformation into World Trade Bridge 2.0
LAREDO, Texas – Today at the World Trade Bridge, Congressman Henry Cuellar (TX-28) joined U.S. Customs and Border Protection (CBP) officials, the Office of U.S. Sen. John Cornyn (R-TX), the City of Laredo, the State of Texas, and representatives of the international trade community to announce a $100 million plan to increase technology and modernize Laredo's World Trade Bridge and make it a world-class cargo facility. This will transform the port into the World Trade Bridge 2.0.
"The World Trade Bridge is already the busiest land port in the western hemisphere with over $300 billion in trade generated and over 2 million trucks crossing annually," said Congressman Cuellar. "Laredo is a powerhouse when it comes to trade, and we want to make sure we remain number one. This collaborative effort to increase technology and expand our facilities on the bridge will increase the port's efficiency significantly over the next few years. With more efficient processing, increased cargo capacity and reduced wait times, we will save millions of dollars in lost economic output and create jobs while securing our strategic location as a world trade hub. I thank CBP Acting Commissioner Kevin McAleenan for his leadership, as well as CBP Executive Assistant Commissioner Todd C. Owen, CBP Office of Field Operations Deputy Executive Assistant Commissioner John Wagner, CBP Director Field Operations David P. Higgerson, CBP Assistant Director for Field Operations Brad Skinner, CBP Port Director for the Laredo Port of Entry Greg Alvarez, CBP Deputy Port Director Alberto Flores, Senator Cornyn, Mayor Pete Saenz and the City of Laredo and our stakeholders for working together to invest in Laredo's future."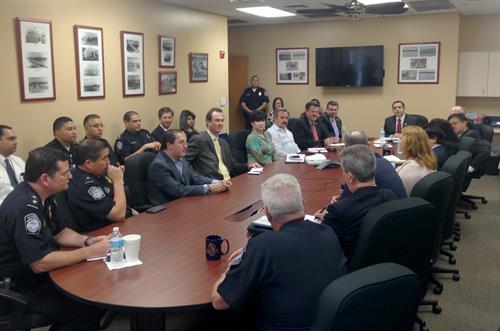 Congressman Cuellar hosts a meeting with local, state, federal and international stakeholders at the World Trade Bridge conference room Wednesday to discuss the new $100 million master plan for World Trade Bridge.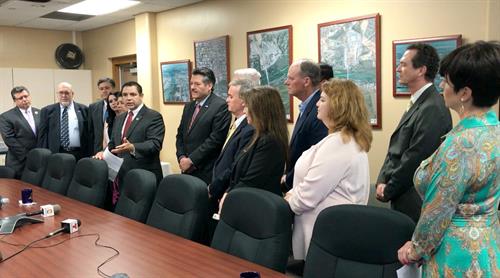 Congressman Cuellar and stakeholders address the media during a press conference Wednesday to discuss the new $100 million master plan for World Trade Bridge.
World Trade Bridge 2.0 - Blueprint for Modernizing the Federal Inspection Station into a World Class Cargo Facility
Plans for the World Trade Bridge include transforming the Federal Inspection Station in the next few years to increase cargo efficiency by:
· Allowing for automated pre-screening and inspection data collection of U.S.-bound cargo earlier in the supply chain


· Automating certain functions allowing CBP Officers to focus inspection skills on high-risk enforcement, security and compliance shipments


· Integrate technologies such as robust WIFI capability, Radio Frequency Identification Devices (RFID), drive through multi-energy truck portal X-ray systems and other CBP Cargo Processing systems into a common software package, and include state of the art modern traffic control queueing systems


· Build out a cargo traffic control tower with an operations center, X-Ray Image analysis stations, and cameras to monitor actives through the compound in real time and provide managers with container status at any point and the tools to monitor efficiency


· Include State of the Art Inspection and Technology Training Center and Agricultural Laboratory


· Maximize join inspections with other U.S. Federal, State and Mexico Customs partners to the greatest extent possible


· Flexible and scalable inspection areas to meet future needs including bypass lanes


This future investment is expected to exceed $100 million, which includes $10.3 million from the City of Laredo for the Free and Secure Trade (FAST) Lanes Relocation Project which will expedite trade from trusted partners.
559 Program (Donation Acceptance Program)
The City of Laredo will be working with CBP and GSA to construct a dedicated lane on the bridge for the sole use of participants in the trusted shipper program. The project will create a dedicated lane on the bridge, allowing FAST trucks a more direct route from the bridge, into the new inspection facility, and on to their final destinations.
The new 599 Program will include:
· a new roadway connecting to four new primary inspection booth
· a non-intrusive inspection (NII) area
· two exit control booths
· and access to the current secondary inspection facility and Hazmat area
This project is expected to reduce choke points and increase the bridge's capacity by 47 percent while reducing trusted shippers traffic delay times from 30 minutes to five minutes. It is anticipated to require three years of design, procurement, and construction.
Expansion of World Trade Bridge
The City of Laredo is working on an application to amend its Presidential Permit to expand the World Trade Bridge from eight lanes to 16 lanes.
FASTLANE Grant
In addition to this investment in the port, the City of Laredo, Webb County, and the Regional Mobility Authority (RMA), in partnership with the Texas Department of Transportation (TxDOT), have submitted a competitive $96 million Fostering Advancements in Shipping and Transportation for the Long-term Achievement of National Efficiencies (FASTLANE) Grants program application to the U.S. Department of Transportation to create additional lanes on Bob Bullock Loop (U.S. Interstate 69W) from the Port of Entry to U.S. Interstate 35 (I-35) and five direct connectors on the I-35/I-69 Interchange. If awarded, the construction of this project will significantly reduce freight traffic congestion, help minimize accidents, improve shipping time, and increase trade and job growth.
As part of his ongoing advocacy for these programs, Congressman Cuellar has invited Randi Fredholm-Hutchinson, Chief Counsel for the U.S. Department of Transportation's Federal Motor Carrier Safety Administration, for a meeting about transportation and trade with stakeholders in Laredo on July 10. The group will also discuss DOT's Infrastructure for Rebuilding America (INFRA) discretionary grant program to help rebuild and develop our nation's infrastructure.