Press Release
Rep. Henry Cuellar Dedicates Zapata Veterans Post Office
Congressman Henry Cuellar (D-TX-28) today dedicated the Zapata Veterans Post Office at a ceremony with local officials, veterans and the Zapata community.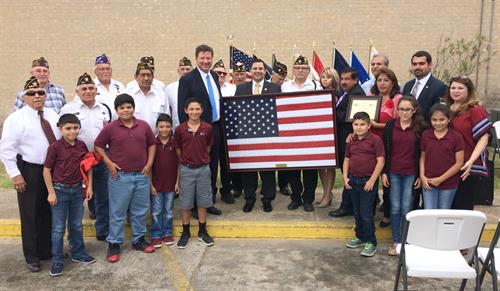 Congressman Cuellar presents a flag flown over the U.S. Capitol to the Zapata Veterans Post Office during a dedication ceremony in Zapata on Monday.
Pictured are members of the American Legion Post 486 of Zapata, A. L. Benavides Elementary School, Zapata County Judge Joe Rathmell, Congressman Henry Cuellar, Zapata County Veterans Service Officer Manuel Uribe, Zapata County Commissioner Precinct 2 Olga M. Elizondo, Zapata County Commissioner Precinct 4 Norberto Garza, Zapata County Tax Assessor-Collector Luis Lauro Gonzalez, Zapata Postmaster Tina Ramirez and Zapata County Commissioner Precinct 1 Jose Paco Mendoza.
In December 2016, President Obama signed H.R. 5591, a bill Congressman Cuellar authored to rename the post office located at 810 North U.S. Highway 83 in Zapata, Texas, as the "Zapata Veterans Post Office." The bill has previously passed in both the House and Senate. A press conference will be held in Zapata at a future date.
"Zapata has many proud men and women who have honorably served our country. I introduced this bill to rename the post office to honor their heroism and defense of our great country," Congressman Cuellar said. "The six Treviño brothers of Zapata, all World War II veterans, are a great example of Zapata's brave veterans. Teodoro, Leopoldo, Antonio, Anselmo, Filberto Jr., and Jose Manuel Treviño performed many acts of bravery, including taking down enemy plans and protecting soldiers by using their own bodies as shields.
"My mother was born in Zapata, and having a long history of serving our country is one of the many reasons why we're proud to call Zapata home. I thank Zapata County Judge Joe Rathmell for and the Veterans Services Office in Zapata for their tirelessly work to provide support to our local veterans."
In September, Rep. Cuellar spoke in favor of H.R. 5591. View video here:
https://youtu.be/9IbFLfT4n6o