Press Release
Rep. Cuellar Announces Four Federal Grants Totaling $5.5 Million to S.C.A.N
Funds will be used to provide effective treatment and prevention services for substance abuse, HIV/AIDS and traumatic events
Congressman Henry Cuellar (D-TX-28) today announced four grants totaling approximately $5.5 million from the U.S. Department of Health and Human Services (HHS) Substance Abuse and Mental Health Services Administration (SAMHSA) to Serving Children and Adults in Need, Inc. (SCAN) that will be used to provide effective treatment and prevention services in the areas of substance abuse, HIV/AIDS, and treatment for children, adolescents and families that have gone through traumatic events.
"SCAN continues its tremendous service to our community by providing prevention services for at-risk populations and treatment for those who are currently battling substance abuse," Congressman Cuellar said. "I believe in SCAN's mission to give every person a chance to take control of their lives and become a productive member of society. Through the great leadership and hard work of everyone at SCAN, we have seen great results in Webb County. Today's funds are an investment in the well-being of our citizens and gives hope for so many families in our community.
The four SAMHSA grants awarded to SCAN are broken up into four projects.
The first grant will implement the Mujeres Sanas en la Frontera (Healthy Women on the Border) Program which will provide specialized mental health services and substance abuse treatment for women and their partners who are living with or at risk for HIV/AIDS. This project will be funded at $500,000 per year for three years for a total of $1,500,000.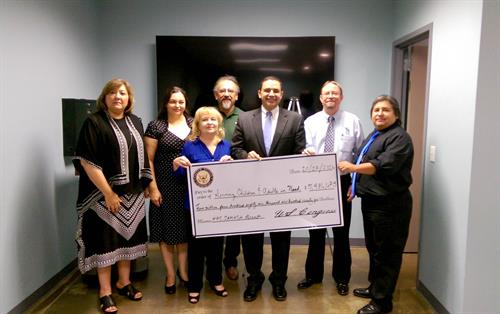 Congressman Cuellar presents a check for almost $5.5 million to Serving Children and Adults in Need (SCAN) Inc. on Monday. Pictured from left to right are Dr. Gabriela Perez, Program Director of Mujeres Sanas en La Frontera; Dr. Susan Rivera, Program Director of the Border Traumatic Stress Response Center; Isela Dabdoub, CEO of SCAN; Luis E. Flores, Executive Vice President; Congressman Henry Cuellar; Dr. Christopher Craddock, Vice President; and Enrique Manrique, Program Director of Technology-Assisted Care.

The second grant will fund the Futuros Con Promesa (Futures with Promise) Program which will focus on providing substance abuse and HIV prevention strategies to at-risk youth and young adults 13 to 24 years of age. This project will be funded at $208,283 for the first year and $234,598 the remaining four years for a total of $1,146,675.
The third grant will allow SCAN to implement its Technology Assisted Border Expansion and Enhancement Project (TA-BEEP) to expand and enhance substance abuse treatment services for adolescents who live in rural and underserved areas of Webb County through the use of Web-based services such tablets and smart phones, and behavioral health electronic applications that will allow SCAN to recruit clients in remote areas, communicate with them and other clients, and track and manage their health to ensure that services are available where and when clients need them. This project will be funded $280,000 per year for three years for a total of $840,000.
The last grant will reestablish the Border Traumatic Stress Response Center which will increase access to effective trauma-focused treatment for children, adolescents, and their families who experience traumatic events. The center will also collaborate with the National Child Traumatic Stress Network on research and provide other healthcare providers in the community with the latest information and training for effective trauma-focused treatment. The project is funded at 400,000 per year for five years for a total of $2,000,000.
Together, the four grants total a federal investment of $5,486,675.
"These grants will fill important services gaps in Webb County," said Luis E. Flores, Executive Vice President of SCAN. "For instance, SCAN will be able to provide therapy for children and teens who have experienced all types of traumatic events and help caregivers support their healing. The funding will also allow SCAN to continue providing comprehensive substance abuse and mental health services for adult women who are at risk of contracting HIV and viral Hepatitis. Another project that is new to SCAN will help retain in treatment those clients struggling with substance use who lack transportation or live in remote areas of Webb County by allowing them to receive their counseling through their smart phones or tablets. Lastly, we will also be able to ensure that young men and women who are at risk of using substances or contracting HIV are able to detect their serostatus, develop the skills to prevent contracting HIV and developing problems with addiction. We are very excited about these four projects."