Press Release
National Health Leaders Recognize U.S. Rep. Henry Cuellar For Leadership in Healthcare Innovation
The Healthcare Leadership Council (HLC), a coalition of leaders of the nation's premier health care companies and organizations, has honored U.S. Representative Henry Cuellar as a "Champion of Healthcare Innovation" at an award ceremony in Washington, D.C.
The award presentation took place at the Council's annual Healthcare Innovations Expo on Capitol Hill. The day-long event is dedicated to showcasing new developments in health care technologies, treatments and practices. This year's event featured, among other displays, emerging cancer therapies, virtual reality technologies to assist veterans with post-combat stress challenges, and uses of health data sharing to combat opioid abuse and addiction.
"We're on the verge of a remarkable era in American healthcare. Genomic and biologic research, improved data analytics, and advanced mobile technologies are enabling people to live longer, healthier lives," said HLC President Mary R. Grealy. "To continue this exciting transformation, we need visionary leadership and sound policymaking. We honored Representative Cuellar for providing important advocacy and leadership for patients and consumers."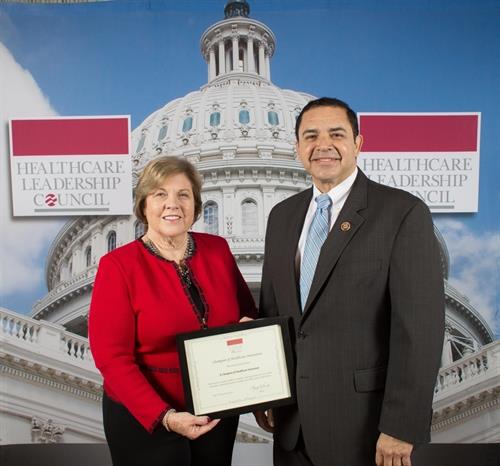 Healthcare Leadership Council President Mary R. Grealy (left) presents Congressman Cuellar with the Champion of Healthcare Innovation award in Washington, D.C., May 12.