Press Release
Congressman Cuellar Speaks on Benefits of Liquefied Natural Gas Exports
Strong proponent of energy exports addresses growth potential in LNG market
WASHINGTON, DC, April 28, 2016
|
Riley Brands
(202-226-0507)
Today Congressman Henry Cuellar (D-TX-28) served as honorary co-chair of and addressed LNG Allies' Transatlantic Energy Dialogue on Capitol Hill in Washington. LNG Allies is a nonprofit whose mission is to promote U.S. liquefied natural gas (LNG) exports and enhance the energy security of America's allies. The event was also attended by Congressman Joe Barton (R-TX-6), another event co-chair; Congressman Kevin Cramer (R-ND-At Large); His Excellency Petr Gandalovič, ambassador to the United States from the Czech Republic; Fred Hutchison, executive director of LNG Allies; and Martin J. Durbin, executive director for market development of the American Petroleum Institute. Congressmen Cuellar and Barton worked together to repeal the 40-year-old crude oil export ban late last year.
In his remarks, Congressman Cuellar stressed the benefits of LNG exports, the regulations currently in place that U.S. energy companies must abide by, recent legislative progress toward expediting certain LNG exports, and next steps to increase the flow of U.S. LNG across the globe. At the heart of the discussion was the U.S. Department of Energy's current policy on LNG exports to countries with which the United States has an existing free trade agreement (FTA partners) and those with which it does not (non-FTA partners). The Department of Energy automatically accepts LNG applications bound for FTA partners as being within the public interest. However, the process can take upwards of 200 days, or seven months, for non-FTA partners, places like Europe or Asia.

"There are numerous benefits to increasing and expediting LNG exports for Texas and the country as a whole, be they economic, geopolitical, environmental or national security-related," Congressman Cuellar said. "We have a rich supply of natural gas here in the U.S., and allowing U.S. energy companies to export their product more quickly will strengthen our allies abroad and bolster our economy here at home. The Department of Energy's current practice of taking, on average, more than seven months to review applications to export LNG to non-FTA partners is costly and time-consuming. That is why both the House and Senate have taken up measures that would require the Department of Energy to expedite the permitting process, specifically for LNG exports to non-FTA countries. The Texas Legislature even passed a resolution calling on Congress to speed up the process.

"I have long been a proponent of the U.S. and Texas energy sectors," Congressman Cuellar continued. "Late last year, I worked with Congressman Barton to repeal the costly crude oil export ban, and before that, I signed on as an original co-sponsor of H.R. 351, the LNG Permitting Certainty and Transparency Act, which would require the Department of Energy to make a determination on LNG export applications within 30 days. Just yesterday, the U.S. House Armed Services Committee voted to include language to facilitate the shipment of U.S. LNG to Europe and other markets in its review of the 2016 National Defense Authorization Act, which authorizes expenditures for the U.S. Department of Defense. Clearly, the momentum is there to accelerate LNG exports and move the Texas and U.S. economies forward."

Click
here
for a fact sheet on LNG exports.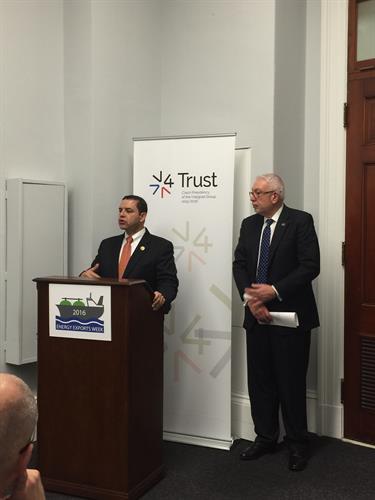 Congressman Cuellar speaks on the benefits of liquefied natural gas exports on Capitol Hill Thursday morning. With him is Fred Hutchison, executive director of LNG Allies, which organized the event.