Press Release
Congressman Cuellar Presents High Achieving Award to Laredo Olive Garden Manager
Today, Congressman Henry Cuellar (D-TX28) presented a high achievement award to Laredo Olive Garden manager, Jonathan Alamilla, for his success in managing the Laredo location. The Diamond Club award recognizes the top five percent of restaurant leaders from more than 1,500 locations across the country.
"As a former small business owner, I understand the challenges faced by local businesses and the importance of issues like lower taxes, healthcare, food safety, nutrition, and employment," said Congressman Cuellar. "I want to congratulate Jonathan Alamilla for the determination, hard work, and resilience that have clearly made him such a success. We need more leaders like Jonathan who can inspire their employees and lead their team to success."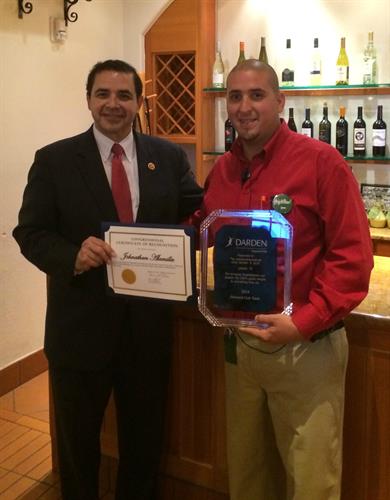 Congressman Cuellar presents a Congressional Certificate of Recognition to Laredo Olive Garden manager, Jonathan Alamilla, who received the Darden Restaurant Diamond Award for the second year in a row.
Jonathan Alamilla is a native of Laredo who has worked in the restaurant business since he was 16. Mr. Alamilla started off as a cook at Olive Garden when it first opened and worked his way up through many roles in the restaurant. In his two years as general manager, he has led his restaurant to win the Diamond Award every year.