Press Release
Rep. Cuellar Named Legislator of the Year by Texas Rehab Action Network
The Texas Rehab Action Network (TRAN) has awarded Congressman Henry Cuellar (D-TX28) "Legislator of the Year" in recognition of his assistance to and support of public rehabilitation effort.
TRAN, a voluntary group with approximately 800 members made up of professionals from the field and members of the business community, met for their annual conference on Oct. 2 in Frisco, Texas, where they announced Congressman Cuellar as Legislator of the Year. Congressman Cuellar has met with TRAN to discuss the Public Vocational Legalization program funded by Congress through the Rehabilitative Services Administration within the Department of Education.
His congressional office in San Antonio partnered recently with the Division of Blind Services so that, Jose Rangel, a student majoring in political science at the University of Texas at San Antonio (UTSA), could complete his college internship hours with the University of Texas at San Antonio. Rangel chose to intern with Congressman Cuellar's office to gain knowledge in policymaking and services provided to constituents.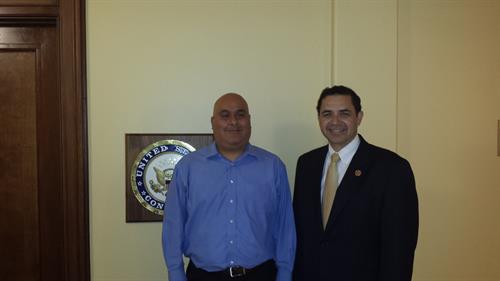 UTSA political science major Jose Rangel interned at Congressman Cuellar's San Antonio District Office this past summer.
"The Texas Rehab Action Network does important work to level the playing field for persons with disabilities," said Congressman Cuellar. "Persons with disabilities contribute greatly to our workforce and I strongly believe that everyone should be able to participate equally in the business community. I thank TRAN for this recognition."
"We recognize Congressman Cuellar in is his leadership demonstration with his own office by offering internships to persons with disabilities. This summer, he provided an internship for an individual who was blind and partnered with the Department of Assisted and Rehabilitative Services to assure his needs were taken care of. Additionally, we appreciate Congressman Cuellar's intention to include regulation of federal contractors to set a seven percent goal for hiring people with disabilities," said TRAN Board Member Terry Smith. "He has been an advocate in encouraging the hiring of people with disabilities into the workforce and believes in the value they can offer in both competiveness and effectiveness in the workforce."