Press Release
Rep. Cuellar Hosts Business Roundtable with U.S. Trade Representative Froman and San Antonio Chamber of Commerce
Today, Congressman Henry Cuellar (D-TX28) hosted a business roundtable discussion with United States Trade Representative, Ambassador Michael Froman in conjunction with the San Antonio Chamber of Commerce. This event brought together a group of business leaders, trade associations, and policymakers from the San Antonio area to discuss the U.S. trade agenda. San Antonio Mayor Ivy Taylor was also in attendance at the discussion.
"In South Texas, we know that trade is the lifeblood of our economy, supporting thousands of jobs and millions of dollars in economic impact. In 2013 U.S. goods and services exports supported an estimated 11.3 million jobs," said Congressman Cuellar. "Today's event was an excellent opportunity for San Antonio businesses to discuss ways to expand trade opportunities for American businesses with the Administration's top trade official. I thank the San Antonio Chamber of Commerce and all the local businesses that made today's roundtable possible."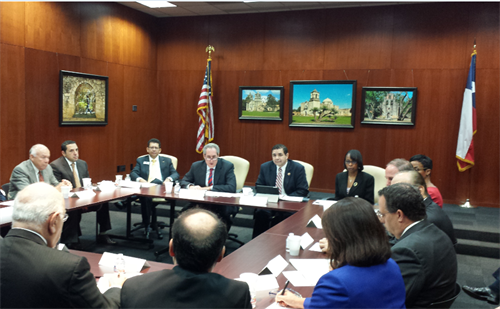 Congressman Cuellar joins United States Trade Representative Michael Froman at the San Antonio Chamber of Commerce for a roundtable on trade opportunities for San Antonio area businesses. San Antonio Mayor Ivy Taylor was also in attendance.
"San Antonio has a reputation for being a leader in international trade and therefore supports the efforts of Ambassador Froman in his vision for the nation. Our city has nine formal relationships with international 'Sister Cities' and is one of the nation's leading trade partners with Canada and Mexico. We are the proud birthplace of NAFTA, and we continue to focus on trade as a vital part of our economic success. Our diverse international community finds it natural to seek ever more openings for our businesses to partner in trade, which makes this visit from the USTR Ambassador an honor and opportunity to remain a leader for the nation." – Richard Perez, President and CEO, San Antonio Chamber of Commerce.
Ambassador Froman, a member of the Cabinet, is the Administration's lead trade negotiator, and is responsible for developing U.S. trade and investment policy. Present at the roundtable were representatives from H-E-B Grocery Company, Kiolbassa Provision Company, Union Pacific Railroad, the Border Trade Alliance, Toyota, City of San Antonio Economic Development Corporation, Port of San Antonio, LR Global, Brooks City Base, San Antonio Airport, Texas A&M International University, Bexar County, Free Trade Alliance San Antonio, CH2M Hill, the Turquoise Council, and the Asociación de Empresarios Mexicanos.