Congressional Report

Dear Friends,

Please take a moment to read my latest update from Washington and Texas Congressional District 28. You can stay connected by signing up for my weekly email here.

Meeting in D.C. to Discuss I-69 Project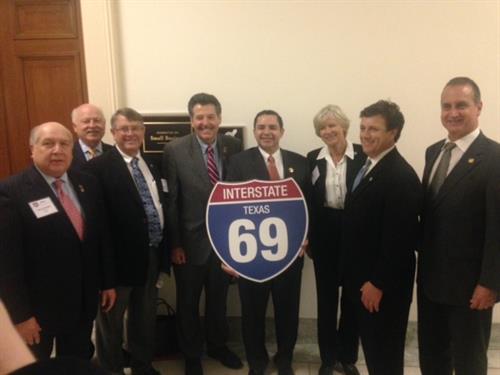 On April 22, I met with state and federal officials to discuss the Interstate 69 project. This corridor would relieve freight and truck traffic in my district. Pictured above from left to right are: Gerry Schwebel from International Bank of Commerce; Larry Meyers, President of Meyers & Associates, Inc.; Laredo Mayor Pete Saenz; myself; Judy Hawley, Chair of the I-69 Statewide Advisory Committee; Jeff Austin III, Commissioner of the Texas Transportation Commission; and Rep. Mario Diaz-Balart, Chairman of the Subcommittee on Transportation, Housing, and Urban Development Appropriation.
Meeting with Honduran President Hernández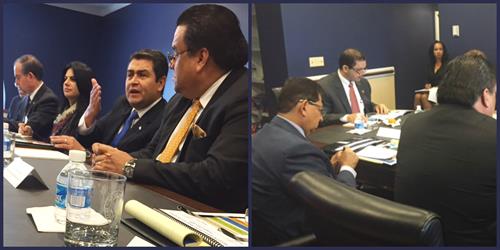 On April 22 I met with the President Juan Orlando Hernández of Honduras during an appropriations meeting with the State and Foreign Operations Subcommittee.

Laredo student accepted into West Point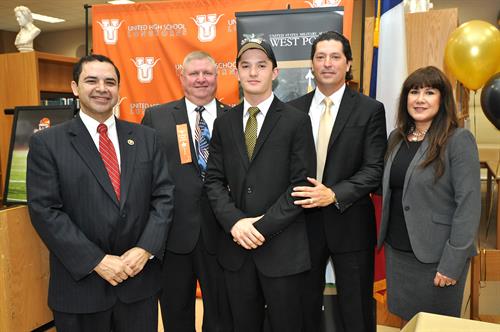 On April 24, together with officials from United Independent School District and the community, I announced that high school senior Isidro Alaniz, Jr. of Laredo has been accepted to the U.S. Military Academy at West Point. Pictured above from left to right are myself; Capt. C.J. Burgin, State Coordinator for the U.S. Military Academy at West Point; Isidro Alaniz, Jr. and his parents Isidro and Elia P. Alaniz.

Every year, I nominate deserving students to U.S. service academies. It is a job I take very seriously. I recently nominated United High School senior Isidro Alaniz, Jr., of Laredo, to the U.S. Military Academy at West Point, New York. He has been accepted and will attend. Click here to read more.


If you are a resident in my district and interested in applying to a U.S. service academy, the application for the class of 2019 is now my website. Please click here to access the application.

2015 Congressional Art Contest Winner Announced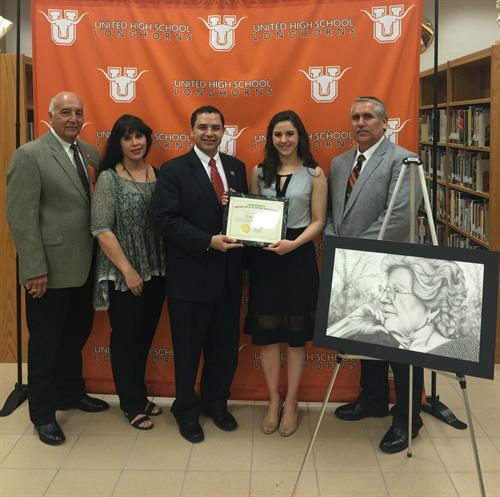 On April 24 I announced United High School senior Erika Escamilla of Laredo as the winner of the 2015 Congressional Art Competition for Texas Congressional District 28. Escamilla will fly to Washington in June for an awards ceremony and tour the Capitol where her artwork will be displayed. Pictured above from left to right are United I.S.D. Superintendent Roberto J. Santos, United High art teacher Laura R. Salido, myself, Erika Escamilla and her mother, Erika Elizondo. Click here to read more.
Passing Out Library of Congress Books to Children in Mirando City

On April 28, my outreach coordinator for Webb, Zapata and La Salle Counties, Michael Buentello, and my constituent service representative, Sylvia Segovia, passed out over 120 children's books from the Library of Congress at the Ernesto J. Salinas Memorial Community Center during the Día del Niño (Day of the Child) festivities in Mirando City.


Meeting with Customs and Border Protections and Legislative Offices in the Rio Grande Valley
On April 22 my southern district outreach coordinator, Nichole Hernandez, met with the RGV Border Patrol Sector and staffers from all local Rio Grande Valley legislators' offices to discuss protocol and contingency plans for different Customs and Border Protection tours and visits requests.
Internships
Find out how to apply for an internship with my office either in the district or in D.C.
here.


TX28 Federal Agency Tips
U.S. Food & Drug Administration - The Nutrition Facts Label: Look for It and Use It!

This video from the United States Drug and Food Administration shows where to locate key information on the Nutrition Facts Label found on packaged foods and beverages. Suitable for kids and adults alike, it offers a quick overview of calories, serving size/servings per container, and nutrients to help consumers make healthful choices when comparing foods.


Sincerely,
Henry Cuellar

The House of Representatives is in session next week

CONNECT



Rep. Cuellar In the News
4/27/15, Laredo Morning Times: Accepted to West Point
4/26/15, McAllen Monitor: COMMENTARY: Living on the border during immigration surge — a mayor's perspective
4/26/15, Financial Times: Divided Democrats make a stand on trade
4/25/15, Texas Tribune: Pacific Trade Deal Scrambles Texas Delegation
4/24/25, KGNS: Rep. Cuellar names winner of 2015 Congressional Art Competition
4/23/15, El Heraldo: Presidente de Honduras pide en EEUU aprobar fondos a congresistas
4/23/15, KGNS: Bipartisan bill to end crude oil export ban gains new supporters
4/22/15, La Prensa de Honduras: Senadores conocen detalles del Plan para la Prosperidad
Neighborhood Office Hours

Tuesday, May 5
th
Selma Stage Stop Visitor Center
9374 Valhalla
9:00am - 10:00am
Selma, TX

Live Oak City Hall
8001 Shin Oak Dr.

Universal City - Public Works Conference Room
265 Kitty Hawk Rd.
10:30am - 11:30am
Universal City, TX

Falcon Community Center
Third at Ramireno
9:15am - 10:15am
Falcon, TX

Zapata County Courthouse
200 E. 7th Ave
11:00am - 12:00pm
Zapata, TX

Mission City Hall
1201 E. 8th Street
9:00am - 10:00am
Mission, TX

Palmhurst City Hall
4417 North Shary Road
11:30am - 12:30am
Palmhurst, TX

Palmview Multi Purpose Ctr
406 West Veterans Blvd.
10:15am - 11:15am
Palmview, TX
Thursday, May 7th
Pleasanton City Hall
108 2nd Street
10:00am - 11:30am
Pleasanton, TX

Charlotte City Maint Bldg 11 Bruce Place
2:30pm - 3:30pm
Charlotte, TX

Jourdanton County Courthouse
1 Courthouse Circle
12:30pm - 2:00pm
Jourdanton, TX

Open to Laredo

Sullivan City
Fire Dept Meeting Room
500 Cenizo
9:30am - 10:30am
Sullivan City, TX

Penitas City Hall
FM 1427
1:00pm - 2:00pm
Penitas, TX

La Joya Senior Citizens Center
925 Lee Street
11:00am - 12:00pm
La Joya, TX
Have a question about neighborhood office hours? Call my toll free number at 877-780-0028