Congressional Report

Dear Friends,

Please take a moment to read my latest update from Washington and Texas Congressional District 28. You can stay connected by signing up for my weekly email here.

Rep. Cuellar Receives Award for Support of National Parks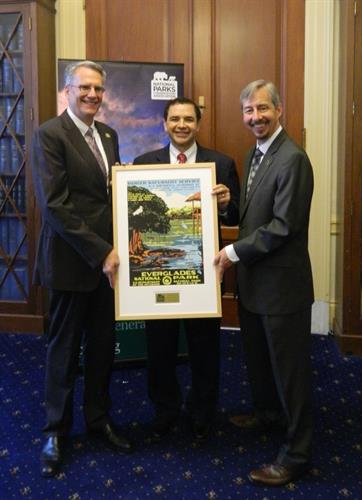 On July 15, the National Parks Conservation Association awarded me with the Friend of the National Parks Award for my votes in congress to help support our national parks. Click here to read more about my votes.
Meeting with Texas Corn Producers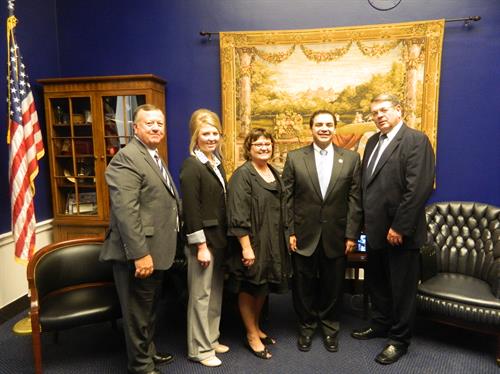 On July 14, I met with representatives from Texas Corn Producers at my office in Washington to talk about agricultural issues affecting ‪Texas‬.
San Antonio Student Chosen to Attend 2015 Congress of Future Science and Technology Leaders

Earlier this month, my outreach coordinator for Bexar County, Pete Arguello, met with Jared Taylor, a sophomore at the School of Science & Technology of San Antonio, and presented him with a Congressional Certificate of Recognition due to him being selected to attend the 2015 Congress of Future Science and Technology Leaders in Boston, Mass.

Meeting with Boys and Girls Club Members in Laredo


On July 16, my constituent service representative, Sylvia Segovia, met with representatives at the Benavides Boys and Girls Club of Laredo to discuss what services my office offers to constituents and to see how we can further help members of the community.



Meeting with the Census Bureau in the Rio Grande Valley


On July 14, my staff in Mission met with representatives from the U.S. Census Bureau to discuss new Census resources available to better assist constituents in District 28. From left to right are Outreach Coordinator Narda Terrones, Pauline Nune from the Census Bureau, Outreach Coordinator Nichole Hernandez and Tomas Encarnacion from the Census.



Constituent Highlight: Gary Wilke


Gary Wilke contacted my San Antonio District Office recently because he was having trouble with a Department of Veterans Affairs claim. After reviewing his case, my office was able to help Mr. Wilke get a decision regarding his claim that allowed him to get disability compensation.



Intern Spotlight:


Alejandra Morin - Mission District Office


Rio Grande City native Alejandra Andrea Morin is a senior at the University of Texas Pan American studying psychology with a minor in political science and communications. She decided to intern with my office because she wanted to get an inside experience of how Congress works.

Read more about Alejandra and other interns in my office here.

Find out how to apply for an internship with my office either in the district or in D.C. here.

TX28 Tips
U.S. Consumer Product Safety Commission - Safe Sleep for Babies: Learn How




Sincerely,
Henry Cuellar

The House is in session next week!

CONNECT



Rep. Cuellar
In the News
7/15/15, KETV: WH moves lock down Dem votes on Iran deal
7/15/15, KGNS: Congressman Cuellar looking to assist with Carrizo cane removal from border
7/15/15, KRGV: Mexican National now a Prime Suspect for a Double-Murder
7/15/15, The Packer: Funds to fight citrus greening added to bill
7/14/15, WOAI: Local Lawmakers Call for a Texas Prison Cell for El Chapo
7/13/15, KGNS: What does El Chapo's escape mean for border cities?
7/12/15, Shale Plays Media: Texas Rep: Don't sleep on Mexico's energy reforms
7/10/15, The New American: Support to Lift Crude Oil Export Ban About to Overwhelm Obama
7/10/15, Mission Progress Times: Cuellar helps secure $50 million to assist Texas citrus industry
Neighborhood Office Hours


Tuesday, July 21st
Campbellton/Callihan
(call for appointment)
9:00am - 10:00am

Christine City Office
102 S. 10th Street
1:30pm - 2:30pm
Christine, TX

McMullen County Courthosue Commissioners Court Rm
SH 16 @ Elm Street
10:30am - 11:30am
Tilden, TX

Adkins
(call for appointment)
10:30am - 11:30am
Adkins, TX

Bruni Community Center
303 12th Street
9:00am - 10:00am
Bruni, TX

Mirando City Quad City Community Center
917 N. Main Street
12:30pm - 1:30pm
Mirando, TX

Oilton Elementary School Library
300 DeSpain Street
10:30am - 11:30am
Oilton, TX

Thursday, July 23rd

Poteet City Hall
474 Avenue H
10:00am - 11:00am
Poteet, TX

Lytle City Hall
14916 Main
12:00pm - 1:00pm
Lytle, TX


Have a question about neighborhood office hours? Call my toll free number at 877-780-0028