Congressional Report

Dear Friends,

Please take a moment to read my latest update from Washington and Texas Congressional District 28. You can stay connected by signing up for my weekly email here.
Nominating District 28 Students Into Military Academies


On March 30, I spoke with San Antonio Christian School student Isaiah Meuchelboeck, son of Peter and Lottie Meuchelboeck, regarding his recent acceptance into the United States Military Academy at West Point. Nominating students from my district to military service academies is a responsibility I take very seriously and I look forward to seeing Isaiah succeed in his future endeavors.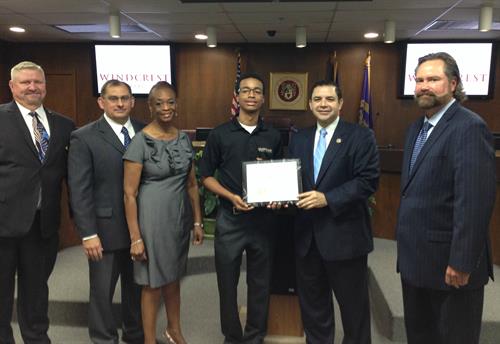 In the photo above, I am presenting a Congressional Certificate of Recognition to Isaiah together with his parents and city leaders from his hometown of Windcrest. Pictured from left to right

C.J. Burgin, West Point Admissions State Coordinator for Texas,

Peter Meuchelboeck, Lottie Meuchelboeck, Isaiah Meuchelboeck, myself and Windcrest Mayor Alan Baxter.

Touring the IDEA Public Schools Walzem Campus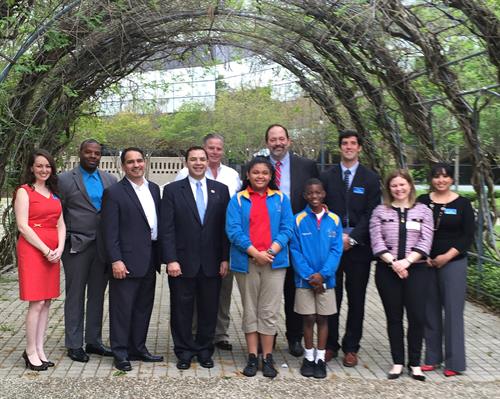 On March 30, I toured the IDEA Public Schools Walzem Campus to meet with local students and to discuss education initiatives and other education issues with school representatives.

Meeting with Small Business Owners at the Governor's Small Business Forum in La Vernia
On March 20, my outreach coordinator for Bexar County, Gilbert Lafuente, attended the Governor's Small Business Forum in La Vernia to speak to small business owners about growth and opportunities in our district. Pictured above from left to right are Gilbert Lafuente and Ben Garza of the Small Business Administration of Pleasanton.


Discussing Community Issues with the Laredo Next Generation Rotary Club
On March 19, my outreach coordinator for Webb, La Salle and Zapata Counties, Michael Buentello, met with the Laredo Next Generation Rotary Club to discuss current federal and municipal projects within the Laredo community. He also presented Carlos Villarreal with a congressional recognition for having served as city manager of Laredo for eight years.
Discussing Healthcare in the Rio Grande Valley
On March 25, my southern district outreach coordinator, Nichole Hernandez, met with representatives from Ambetter Superior Healthplan to discuss health care for District 28 residents. From left to right are Joe Medrano, Nichole Hernandez, Gabriel Arguello and Dora Correa.


Intern Spotlight

Alec Aguilar of San Antonio is an intern at my San Antonio District Office and currently a senior majoring in sociology at the University of Texas at San Antonio.

He decided to intern with my office to assist veterans with their issues and concerns. Alec hopes to work for the Department of Homeland Security in the near future.

Read more about Alec and other interns in my office
here.
Find out how to apply for an internship with my office either in the district or in D.C.
here.


TX28 Federal Agency Tips


IRS - When Will I Get My Refund?

This video from the Internal Revenue Service explains how to track the status of your federal income tax refund once you've filed your taxes.


Sincerely,
Henry Cuellar

The House of Representatives is in recess next week

CONNECT



Rep. Cuellar In the News
3/27/15, Laredo Morning Times: 34 percent not insured
3/27/15, Univision 43 Dallas: Insisten en 'blindar' la frontera de Texas
3/26/15, KGNS: House passes Medicare Access and CHIP Reauthorization Act, includes provision of Rep. Cuellar
3/26/15, 20 Minutos: Piden facilitar gasto en infraestuctura para frontera sur de EUA
Neighborhood Office Hours

Tuesday, April 7th
Selma Stage Stop Visitor Center
9374 Valhalla
9:00am - 10:00am
Selma, TX

Universal City - Public Works Conference Room
265 Kitty Hawk Rd.
10:30am - 11:30am
Universal City, TX

Live Oak City Hall
8001 Shin Oak Dr.
1:00pm - 2:00pm
Live Oak, TX

Falcon Community Center
Third at Ramireno
9:15am - 10:15am
Falcon, TX

Zapata County Courthouse
200 E. 7th Ave.
11:00am - 12:00pm
Zapata, TX

Justice of the Peace Pct. 2 Office
1103 Hwy 83
1:15pm - 2:00pm
San Ygnacio, TX

Mission City Hall
1201 E. 8th Street
9:00am - 10:00am
Mission, TX

Palmview Multi Purpose Ctr
406 West Veterans Blvd.
10:15am - 11:15am
Palmview, TX

Palmhurst City Hall
4417 North Shary Road
11:30am - 12:30am
Palmhurst, TX
Thursday, April 9th
​St. Hedwig City Hall
13065 FM 1346
9:00am - 10:00am
St. Hedwig, TX

Sutherland Springs
(call for appointment)
10:30am - 11:30am
Sutherland Springs, TX

La Vernia City Hall
102 E. Chihuahua
1:00pm - 2:00pm
La Vernia, TX

El Cenizo City Hall
507 Cadena St.
9:30am - 10:30am
El Cenizo, TX

Rio Bravo City Hall
1701 Centeno Ln
11:00am - 12:00pm
Rio Bravo, TX

Starr County Warehouse
Bldg. Pct 4
FM 755 (La Gloria)
10:00am - 11:00am
San Isidro, TX

Starr County Self Help Center
10 Mayorga Street
11:30am - 12:30pm
Rio Grande City, TX
(La Casita)

Have a question about neighborhood office hours? Call my toll free number at 877-780-0028