Congressional Report

Dear Friends,

Please take a moment to read my latest update from Washington and Texas Congressional District 28. You can stay connected by signing up for my weekly email here.
Meeting with the City of Laredo in D.C.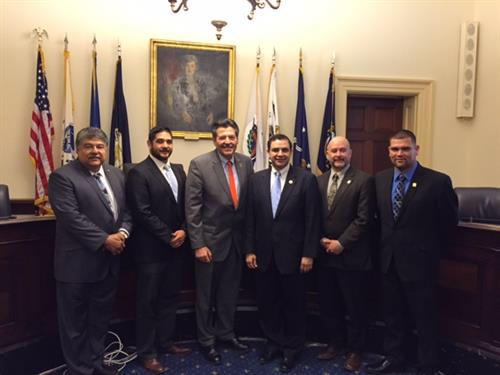 On March 4th I met with leaders from the City of Laredo during their annual trip to Washington where we discussed the development of the Laredo area and issues concerning border communities.

Starr County State of the County Address


Last week, my Outreach Coordinator Narda Terrones attended the State of the County address in Starr County to discuss issues concerning my constituents. She is pictured above with County Judge Eloy Vera.

Texas Members of Congress Meet with Laredo Delegation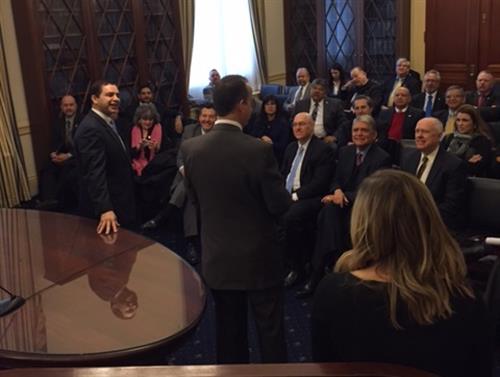 On March 5th, I brought members of Congress from Texas and around the country, like Rep. Diaz-Balart from Florida pictured with me above, together with leaders from the City of Laredo to discuss important issues facing the city.
Last week, leaders from Laredo including Mayor Pete Saenz and the Laredo City Council came to D.C. to discuss important issues, ongoing projects, and to receive a legislative update from me on the latest in Washington that affects the city. I was happy to bring Congressmen Joaquin Castro, Will Hurd, Beto O'Rourke, and Mario Diaz-Balart to the meeting to give updates of their own and hear directly from city of Laredo leaders about what is happening in TX28.
STEM Exhibit and Career Fair in Laredo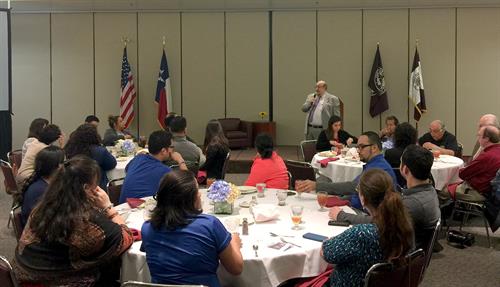 My office hosted the 2015 STEM Alliance in coordination with Texas A&M International University.

The STEM event lasted from Wednesday, March 4 to Saturday, March 7th and was designed to introduce middle and high school students from all school districts in Webb County to exciting fields in Science, Technology, Mathematics and Engineering (STEM). Students and educators alike where also able to listen to two keynote speakers from Google and NASA.


Meeting with City Manager and Police Chief of Elemendorf
On March 10th, Gilbert Lafuente, my Outreach Coordinator for Atascosa, Bexar, McMullen, and Wilson counties, met with the Elmendorf city manager, Cody Bailey, and the new police chief for the city's police department, Marco Pena, to discuss Elmendorf's city needs.
Discussing Rio Grande Valley Needs with Karl Rove and James Carville
On Feb. 27, my southern district outreach coordinator, Nichole Hernandez, attended a coffee discussion with former Senior Advisor and Deputy Chief of Staff during the George W. Bush Administration, Karl Rove, (left) and former Campaign Manager and Democratic Strategist for the Bill Clinton Administration, James Carville, (right), in Edinburg to listen in on the past, present and future needs for both the Rio Grande Valley and our country.
Intern Spotlight

Maci Hurley is an intern at my San Antonio office and is currently a working towards her masters degree in public administration with a certificate in nonprofit leadership and management at the University of Texas at San Antonio.

Maci decided to intern with my office in order to gain a better understanding on the inter-workings of U.S. government and what happens on a daily basis in a congressional office.

She plans to complete her M.P.A. and begin a career as a public servant or in the nonprofit sector.

Read more about Maci and other interns in my office
here.
Find out how to apply for an internship with my office either in the district or in D.C.
here.


TX28 Federal Agency Tips


Tips for Preventing Identity Theft
This video from the Federal Trade Commission provides some tips on how to deal with the problem of identity theft.



Sincerely,
Henry Cuellar

The House of Representatives is in session next week

CONNECT



Rep. Cuellar In the News


3/9/15, Laredo Morning Times: Bill aids border agent training
3/8/15, Texas Tribune: Many along Texas border still live without clean, safe water
3/6/15, La Prensa de San Antonio: La frontera y la seguridad nacional
3/4/15, KGNS: House passes Cuellar's initiative to ensure professionalism, respect at border

3/4/15, Laredo Morning Times: Officials discuss issues in DC

3/3/15, Laredo Morning Times: Astronaut to visit TAMIU this week

3/2/15, McAllen Monitor: COMMENTARY: Strengthening US ties with Mexico and Central America

2/27/15, Tiempo Honduras: Embajador de Honduras en EEUU recibe reconocimiento en Texas
Neighborhood Office Hours

Tuesday, March 17
Campbellton/Callihan
(call for appointment)
9:00am - 10:00am

McMullen County Courthouse, Commissioners Court Room
SH 16 @ Elm Street
10:30am - 11:30am
Tilden, TX

Christine City Office
102 S. 10th St.
1:30pm - 2:30pm
Christine, TX

Windcrest City Hall
8601 Midcrown
2:30pm - 3:30pm
Windcrest, TX


Thursday, March 19
Converse City Hall
403 Seguin
9:00am - 10:00am
Converse, TX


China Grove
(call for appointment)
10:30am - 11:30 am
China Grove, TX



Have a question about neighborhood office hours? Call my toll free number at 877-780-0028