Congressional Report

Dear Friends,

Please take a moment to read my latest update from Washington and Texas Congressional District 28. You can stay connected by signing up for my weekly email here.
The Affordable Care Act 5 Years Later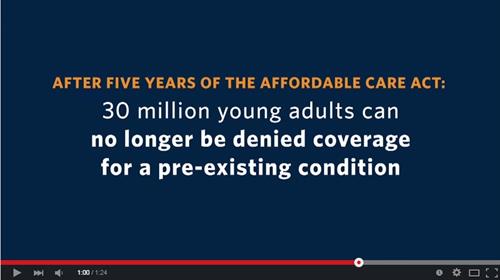 Click on the image above to s

ee how the

Affordable Care Act has helped health care in the United S

tates since it was passed into law 5 years ago

.

This video from the White House
shows how the Affordable Care Act has improved aspects of health care for all Americans. Five years after the ACA was signed into law, Americans with pre-existing conditions can no longer be denied coverage, Americans no longer have lifetime or annual limits on their health coverage, and the uninsured rate for young Americans is at it's lowest point since 1997. The ACA is working to make sure health care is accessible to all Americans.

Speaking About Conservation at the International Conservation Caucus Foundation in Washington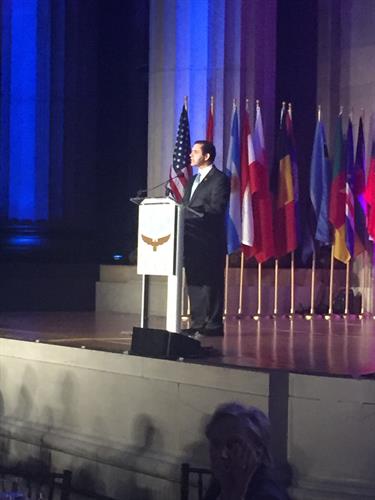 On March 19, I spoke to members of the U.S. Congressional International Conservation Caucus Foundation (ICCF) in Washington on the subject of international conservation and also presented the ICCF Conservation Leadership in Business Award to International Paper for their legacy of conservation and leadership in sustainable use of renewable natural resources.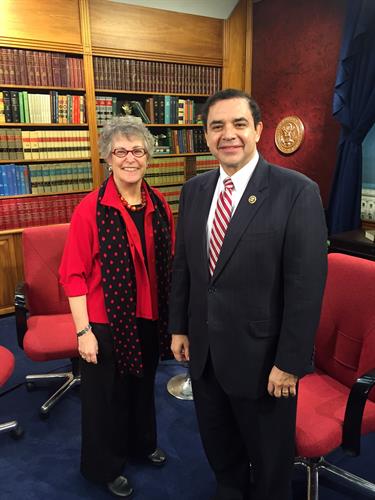 On March 18, I sat down with Deputy Undersecretary of the Department of Education Jamienne Studley (pictured above) to discuss higher education for constituents in my district. You can click here view our complete conversation as well updates from my work in Washington in my Capitol Report for the month of March.

Meeting with San Antonio Housing Authority in D.C.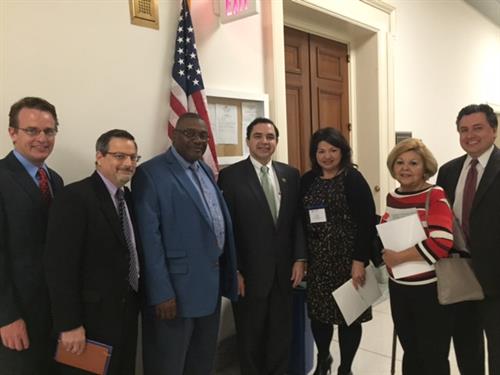 On March 17 in Washington, I met with representatives from the San Antonio Housing Authority to discuss housing issues facing

residents in the San Antonio area

.
Meeting with New Police Chief in Rio Bravo

On March 20, my outreach coordinator for Webb, La Salle and Zapata Counties, Michael Buentello, met with Rio Bravo's new police chief, Juan Davila, to discuss funding opportunities and ways in which my office can better provide assistance to community leaders and residents.


Discussing Health Care in the Rio Grande Valley with the Department of Health & Human Services
On March 17, my southern district outreach coordinator, Nichole Hernandez, attended a health care coalition meeting to discuss updates with Region VI Department of Health and Human Services Director Marjorie Petty and her staff. Pictured above are all three Valley Congressional Offices, Enroll America and the Assister Teams that provided public services during the Heath Care Enrollment Period.
Intern Spotlight

San Antonio native James Sosa is an intern at my San Antonio District Offi

ce and is a graduate of the University of Texas at Austin with degrees in government and history.

James pursued an internship with my office because he wanted to delve more into the world of local and federal politics. After his internship, James plans to apply to law school and study international law and foreign policy.

Read more about James and other interns in my office
here.
Find out how to apply for an internship with my office either in the district or in D.C.
here.


TX28 Federal Agency Tips


Opening a My Social Security Account Online

This video from the Social Security Administration guides you through the process of opening a My Social Security Account online which you can use to view a record of your earnings, the Social Security taxes you have paid and an estimate of your future benefits.


Sincerely,
Henry Cuellar

The House of Representatives is in recess next week

CONNECT



Rep. Cuellar In the News


3/23/15, Laredo Morning Times: Mayor: DC trip is vital
3/18/15, NY Post: Secret Service wants to build $8M fake White House for training
3/17/15, El Financiero: PRIDE: Trato justo para los visitantes que llegan por Texas
Neighborhood Office Hours

Thursday, April 2nd
Pleasanton City Hall
108 2nd Street
10:00am - 11:30am
Pleasanton, TX


Jourdanton
County Courthouse
1 Courthouse Circle
12:30pm - 2:00pm
Jourdanton, TX


Charlotte City Maint Bldg
Bldg 11 Bruce Place
2:30pm - 3:30pm
Charlotte, TX

Open to Laredo

Fire Dept. Meeting Room
500 Cenizo 9:30am - 10:30am
Sullivan City, TX

La Joya Senior Citizens Center
925 Lee Street
11:00am - 12:00pm
La Joya, TX

Penitas City Hall
FM 1427
1:00pm - 2:00pm
Penitas, TX
Have a question about neighborhood office hours? Call my toll free number at 877-780-0028