Congressional Report

Dear Friends,

Please take a moment to read my latest update from Washington and Texas Congressional District 28. You can stay connected by signing up for my weekly email here.

Working to Lift the Crude Oil Ban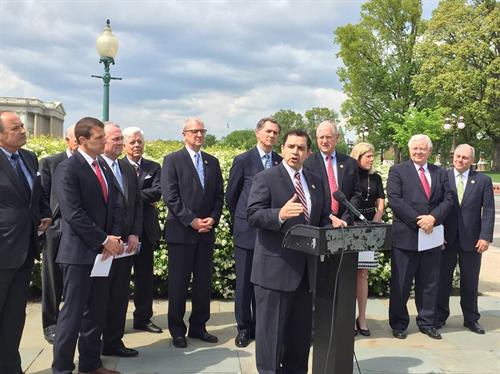 On April 30th, I spoke at a press conference in Washington, D.C. to voice my support of HR 702, which is a bipartisan piece of legislation that would lift the crude oil ban, and allow the U.S. to benefit from a global marketplace. The lift of the ban would mean hundreds of thousands of jobs--many of which would be in Texas.

Meeting with Rio Grande Valley Coalition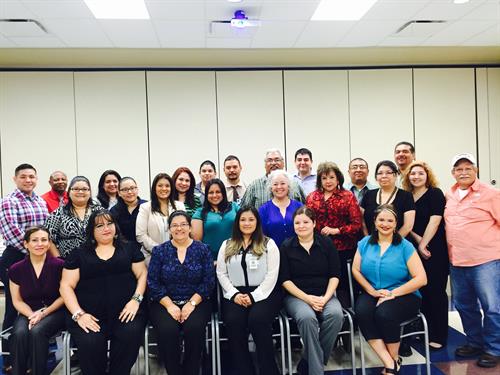 On May 4, my southern district outreach coordinator Nichole Hernandez met with the Rio Grande Valley Coalition to discuss a valley-wide initiative to help our Veterans in the best way possible by networking with various agencies which are willing to altruistically guide and serve them.

City of McAllen's International Airport Expansion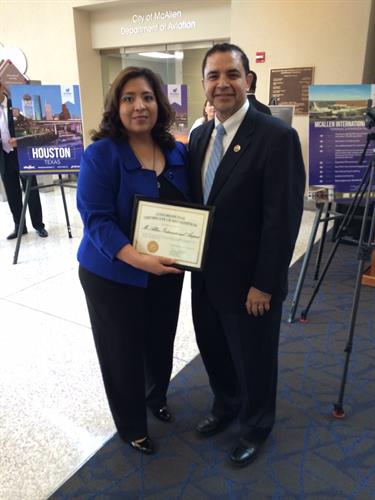 On May 5th, I spoke at the McAllen International Airport's expansion event to announce the expansion of the airport due in part to funding from the federal government. Pictured above, is me giving a certificate of recognition to McAllen Aviation Director Elizabeth Suarez.

Internships
Find out how to apply for an internship with my office either in the district or in D.C.
here.


TX28 Tips

May is American Stroke Month, a time for us all to educate ourselves and increase awareness about the number one cause of cause of preventable disability, the second leading cause of dementia, and the fifth leading killer in the nation.

Strokes are largely preventable and treatable, we just have to know the signs. Check out this website from the American Heart Association that explains the warning signs and symptoms of a stroke.



Sincerely,
Henry Cuellar

The House of Representatives is in session next week

CONNECT



Rep. Cuellar In the News
5/1/15: Houston Chronicle: Pressure builds for oil exports to Mexico
4/30/15, Dallas Morning News: Rep. Barton gets boost from House leadership on lifting crude oil export ban
5/1/15, Energy Guardian: Texas Rep. Cuellar confident more Democrats to support oil exports
4/30/15, Reuters: Push to axe U.S. crude export ban strengthens in House: lawmakers
Neighborhood Office Hours


Tuesday, April 14th
Elmendorf City Hall
203 Bexar Ave
9:30am - 10:30am
Elmendorf, TX

Floresville City Hall
1120 D Street
10:30am - 12:00pm
Floresville, TX

La Salle County Offices
Court House Square
1:00pm - 2:30pm
Cotulla, TX

Encinal City Hall
107 N. Tejas
3:00 pm - 4:00pm
Encinal, TX

City Hall Conf. Room
2 1/2 Miles South
Farm Rd. 2360
8:00am - 9:00am
La Grulla, TX

Escobares City Hall
4851 East Hwy 83
1:30pm - 2:30pm
Escobares, TX

Rio Grande City
City Hall
101 Washington Street
10:00am - 11:30am
Rio Grande City, TX

Roma Community Center
502 6th Street
3:00pm - 4:00pm
Roma, TX

Thursday, April 16th
​Converse City Hall
403 Seguin
9:00am - 10:00am
Converse, TX

China Grove
(call for appointment)
10:30am - 11:30am
China Grove, TX

Open to San Antonio
Have a question about neighborhood office hours? Call my toll free number at 877-780-0028