Congressional Report

Dear Friends,

Please take a moment to read my latest update from Washington and Texas Congressional District 28. You can stay connected by signing up for my weekly email here.

Laredo Organizations Who Helped with Border Humanitarian Crisis Now Eligible for Reimbursement by FEMA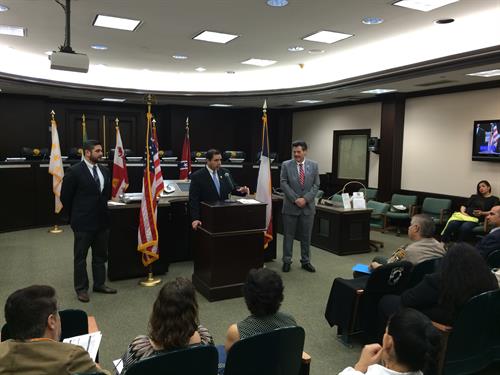 Pictured above from left to right are City of Laredo District V Councilman Roque Vela, myself and Mayor of Laredo Pete Saenz during a press conference at City Hall to announce reimbursement eligibility to organizations who helped with the humanitarian crisis in 2013 and 2014.



April 10, I announced that government and non-profit organizations in Laredo who helped with the humanitarian crisis at the border in 2013 and 2014 are now eligible for financial reimbursement from the Federal Emergency Management Agency (FEMA) due to an addition I included in the FY2015 Department of Homeland Security funding bill.

As a life-long resident of Laredo, I know all too well that communities along the border are responsible for dealing with a lot of important and expensive challenges like providing humanitarian relief to children and families who have come to our country. I am happy to report that these organizations will now have the ability to apply and be reimbursed for many of their expenses.

Read more about this announcement here.

Meeting with Customs and Border Protection in Laredo to Discuss PRIDE Initiative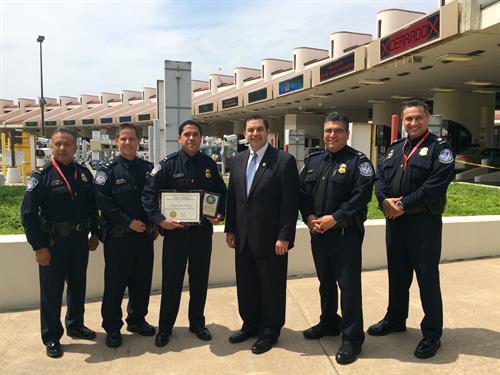 On April 10, I met with Customs and Border Protection (CBP) Port Director Joseph Misenhelter and other CBP officers at the Laredo Port of Entry to discuss the ongoing PRIDE Initiative that is designed to improve traveler and officer interaction at our southern ports of entry. I also presented CBP officer Reynaldo Perez (center left) with a congressional certificate of recognition for his great service at the Laredo Port of Entry.

Meeting with American Humane Society in D.C.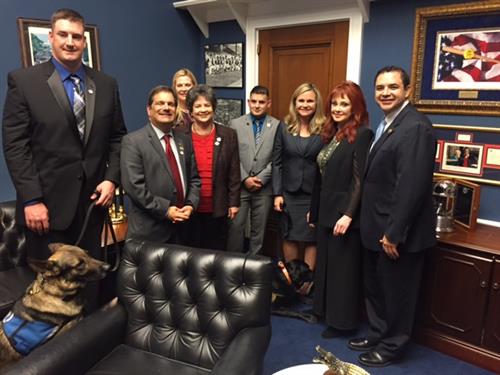 On April 15, in Washington, I met with Naomi Judd, Congressman Gus Bilirakis, Robin Ganzert and other representatives from the American Humane Society to discuss initiatives with military service dogs.
Neighborhood Office Hours at St. Hedwig
On April 9, my outreach coordinator for Bexar County, Gilbert Lafuente, met with St. Hedwig City Councilman Walter Wyrich (pictured above at left) during a Neighborhood Office Hours visit with the community to discuss city developments and how my office can help with ongoing projects. Mr. Lafuente also provided Councilman Wyrich with a flag flown over the Capitol for his help during our community meetings.
Meeting with U.S.C.I.S. and City of Penitas
On March 27, my southern district outreach coordinator, Nichole Hernandez, met with representatives from the U.S. Customs and Immigration Services (U.S.C.I.S.) to discuss immigration-related questions and issues regarding my constituents in Starr County.


Internships
Find out how to apply for an internship with my office either in the district or in D.C.
here.


TX28 Federal Agency Tips


FEMA App - Helping Your Family Weather the Storm



This video from the Federal Emergency Management Agency (FEMA) shows you how to stay updated on severe weather with a new FEMA app for your smartphone. The app also provides a customizable checklist of emergency supplies, maps of open shelters and Disaster Recovery Centers, and tips on how to survive natural and man-made disasters. The FEMA app also offers a "Disaster Reporter" feature, where users can upload and share photos of disaster damage.



Sincerely,
Henry Cuellar

The House of Representatives is in session next week

CONNECT



Rep. Cuellar In the News
4/14/15, Periodico Enlace: Border Cities and Counties Will Now Be Eligible for FEMA Grants
4/12/15, El Lider Informativo: El Lider Informativo): Reembolsará EU a sus fronteras gastos generados por deportaciones
4/12/15, Rio Grande Guardian: Cuellar: U.S. Needs to Make Greater Investment in Central America
4/13/15, El Manana de Nuevo Laredo: Reconocen a empleado del mes
4/11/15, Laredo Morning Times: $47M for Border Area, Communities Can Apply for Funds
4/12/15, McAllen Monitor: Editorial: More U.S. Immigration Judges Needed
4/10/15, Laredo Morning Times: Entities Offered FEMA Help
4/8/15, La Prensa: Reimbursement for those affected by last year's humanitarian crisis at the border
Neighborhood Office Hours

Tuesday, April 21st
Campbellton/Callihan
(call for appointment)
9:00am - 10:00am
St. Hedwig, TX

Christine City Office
102 S. 10th St.
1:30pm - 2:30pm
Christine, TX

McMullen County Courthouse, Commissioners Court Rm
SH 16 @ Elm Street
10:30am - 11:30
Tilden, TX

Windcrest City Hall
8601 Midcrown
2:30pm - 3:30pm
Windcrest, TX

Adkins (call for appointment)
10:30am - 11:30am
Adkins, TX

Bruni Community Center
303 12th Street
9:00am - 10:00am
Bruni, TX

Mirando City Quad City
Community Center
917 N. Main Street
12:30pm - 1:30pm
Mirando, TX

Oilton Elementary School Library
300 DeSpain St.
10:30am - 11:30am
Oilton, TX
Have a question about neighborhood office hours? Call my toll free number at 877-780-0028