Congressional Report

Dear Friends,

Please take a moment to read my latest update from Washington and Texas Congressional District 28. You can stay connected by signing up for my weekly email here.

Announcement of Reimbursement Opportunity for Communities Impacted by Immigration Crisis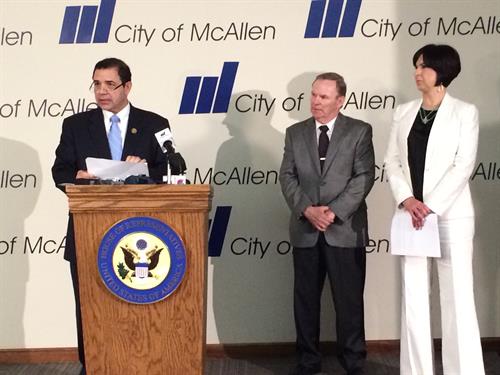 Pictured above from left to right are Congressman Cuellar, Mayor of McAllen Jim Darling and Ana Maria Garcia from Senator John Cornyn's office. The group was together to announce the new grant border communities are eligiable for in McAllen this week.



April 7, I announced that border communities affected by the humanitarian crisis that developed in 2013 and 2014 as a result of an influx of unaccompanied minors crossing the border into the United States will be eligible for financial reimbursement from the Federal Emergency Management Agency (FEMA).

This is due to language I included in the FY2015 Department of Homeland Security funding bill which adds a provision that makes costs of providing humanitarian relief to unaccompanied alien children and to alien adults and their minor children eligible for reimbursement under certain Homeland Security grants to Southwest border recipients for fiscal years 2013 and 2014.

If awarded grant money, law enforcement, non-profits, religious, governmental and/or other community partners who incurred unexpected costs due to the surge will be reimbursed of costs related to providing humanitarian relief to unaccompanied children and families, including costs for food, water, hygiene products, medicine, medical supplies and temporary housing, as well as costs for transportation to and from temporary housing or to permanent housing.

Read more about this announcement here.

Benefits of Doing Business in Colombia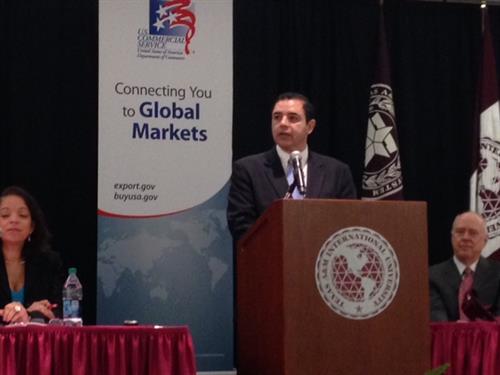 On April 7, I spoke on trade legislation and the importance of international business at the Doing Business in Colombia Seminar at Texas A&M International University (TAMIU). The seminar explained how to do business with Colombia and featured representatives from the U.S. Commercial Service, the U.S. Department of Commerce, the U.S. Embassy in Bogota, the Small Business Administration, TAMIU, UTSA – International Trade Center, the City of Laredo, the Port of Corpus Christi and others.
Announcement of Affiliation Agreement Between TAMIU and Assembly of Friends of Azerbaijan (AFAZ)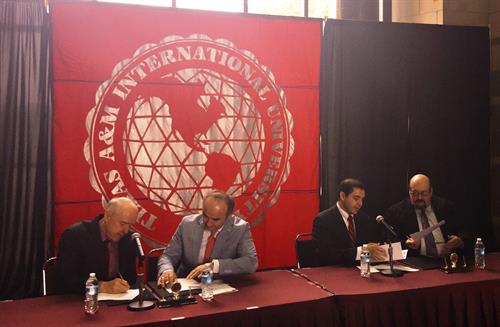 On April 6, I spoke on the importance of fostering international relations and training our youth for the workforce during the announcement of a new agreement between Texas A&M International University (TAMIU) and the Assembly of Friends of Azerbaijan (AFAZ). The agreement, announced by TAMIU President Dr. Ray M. Keck III and Kemal Oksuz of AFAZ, will allow the two institutions to collaborate on research, sponsorship of conferences, symposia exchanges of faculty and students and education materials related to the international oil and gas industry.
Meeting with USCIS in Starr County
On Friday, March 27 my Southern District Outreach Coordinator Nichole Hernandez met with representatives from the U.S. Customs and Immigration Services (U.S.C.I.S.) to discuss immigration-related questions and issues in Starr County.

FSA Offers Assistance to Eligible Farmers in Disaster Counties
Secretary of Agriculture Thomas J. Vilsack has has designated several Texas counties as disaster counties due to drought. Within our district, these disaster counties include Atascosa, Bexar, La Salle, McMullen and Wilson. Farm operators in these counties are eligible to be considereed for certain assistance from the Farm Service Agency (FSA), including FSA emergency loans, provided eligibility requirements are met.

Click here for information and Disaster Assistance Programs form the FSA. Local FSA offices can provide affected farmers with further information.


Internships
Find out how to apply for an internship with my office either in the district or in D.C.
here.


TX28 Federal Agency Tips


Federal Trade Commission - Hijacked Computer: What to Do?

This video from the Federal Trade Commission explains what to do if your computer has been hacked or infected with a virus.


Sincerely,
Henry Cuellar

The House of Representatives is in session next week

CONNECT



Rep. Cuellar In the News
4/8/15, KGBT: Government could reimburse organizations affected by border surge
4/8/15, McAllen Monitor: EDITORIAL: Federal humanitarian funds for border, RGV at long last
4/7/15, KRGV: Entities May Be Reimbursed for Unexpected Costs Due to Surge
4/7/15, KGNS: Cuellar announces reimbursement opportunity for those affected by humanitarian crisis
4/7/15, KFXV: Federal Funds Allocated to Border Communities Following Humanitarian Crisis
4/7/15, McAllen Monitor: McAllen eligible to apply for reimbursement for immigrant effort
4/7/15, San Antonio Express-News: RGV communities eligible for federal humanitarian reimbursement
4/7/15, Valley Town Crier: FEMA Grants now available for entities that aided in humanitarian crisis
4/6/15, Laredo Morning Times: Local seminar to focus on trade with Colombia
4/6/15, KGNS: Rep. Cuellar announces affiliation agreement between TAMIU, AFAZ
3/29/15, McAllen Monitor: Bill to expedite produce over border faces concerns in committee
3/28/15, Laredo Morning Times: 34 percent not insured
Neighborhood Office Hours

Tuesday, April 14th
Elmendorf City Hall
203 Bexar Ave
9:30am - 10:30am
Elmendorf, TX

Floresville City Hall
1120 D Street
10:30am - 12:00pm
Floresville, TX

La Salle County Offices
Court House Square
1:00pm - 2:30pm
Cotulla, TX

Encinal City Hall
107 N. Tejas
3:00 pm - 4:00pm
Encinal, TX

City Hall Conf. Room
2 1/2 Miles South
Farm Rd. 2360
8:00am - 9:00am
La Grulla, TX

Escobares City Hall
4851 East Hwy 83
1:30pm - 2:30pm
Escobares, TX

Rio Grande City
City Hall
101 Washington Street
10:00am - 11:30am
Rio Grande City, TX

Roma Community Center
502 6th Street
3:00pm - 4:00pm
Roma, TX

Thursday, April 16th
​Converse City Hall
403 Seguin
9:00am - 10:00am
Converse, TX

China Grove
(call for appointment)
10:30am - 11:30am
China Grove, TX

Open to San Antonio

Have a question about neighborhood office hours? Call my toll free number at 877-780-0028