Congressional Report

Dear Friends,

Please take a moment to read my latest update from Washington and Texas Congressional District 28. You can stay connected by signing up for my weekly email here.

Unveiling a New Water Well in La Vernia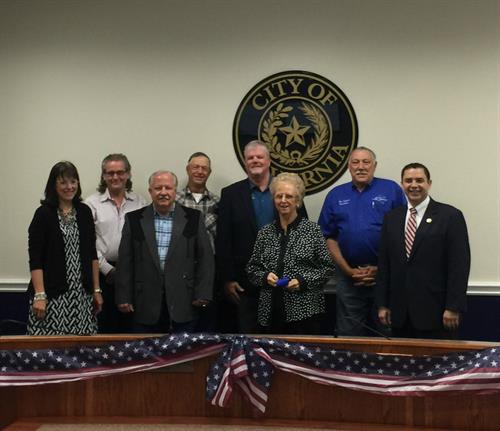 On April 17, together with city officials, I announced the completion of a new water well in La Vernia. Pictured above from left to right are Council Member Jennifer Moczygemba, Council Member Randy Leonard, former La Vernia mayor Harold Schott, former council member John Ricter, Mayor Robert Gregory, Mayor Pro Tem Marie Gerlich, Council Member Eloi Cormier and myself.

Last Friday, I met with city officials in La Vernia, Texas, to unveil a new water well that will provide clean drinking water for current and future residents. In 2010, I included language in the Interior and Environment Appropriations Bill, which directed the Environmental Protection Agency (EPA) to provide $500,000 in federal funding for the new water well in La Vernia that will ensure the prosperity and growth of this vibrant community.

Giving a Legislative Update on Tax Reform to New York Life in San Antonio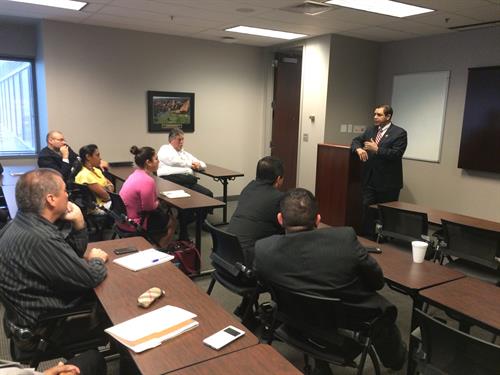 On April 17, I provided a legislative update on healthcare and tax reform to employees at New York Life Insurance Company in San Antonio.
TAMIU Opens KLRN Uplink Studio



On April 16, my outreach coordinator for Webb, La Salle and Zapata Counties, Michael Buentello (center), met with Texas A&M International University (TAMIU) President Ray Keck (left) and KLRN President and CEO Arthur Rojas Emerson (right) to discuss our shared commitment to expanding and improving higher education during the official opening of the KLRN studio at the university. Expansion of this helps

The new studio will provide opportunities for the university's communication program, the ability to work collaboratively with KLRN Public Television of South Texas and provide Laredo content to other media outlets on demand through a previously unavailable uplink capacity.



Meeting with New Port Director of Port of Rio Grande City
On April 17, my southern district outreach coordinator, Nichole Hernandez, met with David John Gonzalez, new Port Director for the Port of Rio Grande City to discuss how our offices can strengthen partnerships and communication at the U.S. Customs and Border Protection Change of Command Ceremony. As the Port Director for the Port of Rio Grande City, which includes the Los Ebanos Texas International Ferry Crossing, Gonzalez will be overseeing the management of the port's budget, commercial traffic, passenger vehicles, special interest aliens, export laws, including Labor Employee Relations and other programs.
Internships
Find out how to apply for an internship with my office either in the district or in D.C.
here.


TX28 Federal Agency Tips
HUD - Fair Housing Is Your Right

In this video from the Department of Housing and Urban Development (HUD), we see how the members of this family took action against discrimination by contacting HUD and standing up for their fair housing rights. Now they have the apartment they always wanted.


Sincerely,
Henry Cuellar

The House of Representatives is in session next week

CONNECT



Rep. Cuellar In the News
4/20/15, Fox News Power Play: Cuellar on border surge (video)
4/19/15, McAllen Monitor: COMMENTARY: FEMA reimbursements for humanitarian aid coming
4/17/15, McAllen Monitor: Hidalgo mayor emphasizes city's recent economic development in video
4/17/15, The Street: Focus Is On The Next Big Things At 95th Annual AACC Convention
4/17/15, KGNS: Congressman Cuellar lauds introduction of TPA Bill
Neighborhood Office Hours

Tuesday, April 28th
Poteet City Hall
474 Avenue H
10:00am - 11:00am
Poteet, TX

Lytle City Hall
14916 Main
12:00pm - 1:00pm
Lytle, TX
Have a question about neighborhood office hours? Call my toll free number at 877-780-0028