Congressional Report

Dear Friends,

I hope you take time this Independence Day to honor the sacrifices and vision of our forefathers in the founding of our country. Please take a moment to read my latest update from Washington and Texas Congressional District 28. You can stay connected by signing up for my weekly email here.

Rep. Cuellar Announces $250,000 EDA Grant to Laredo Development Foundation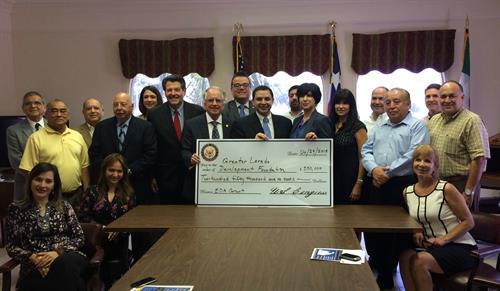 On June 29, I announced a $250,000 grant from the U.S. Economic Development Administration to the Greater Laredo Development Foundation that will be used to finance their new International Business Assistance Center which will promote international ‪trade‬ in Laredo. Click here to read more.
Unveiling Two New Parks in Laredo
On June 19, my Outreach Coordinator for Webb, La Salle and Zapata Counties, Michael Buentello, participated in the unveiling of the Poderosa Toddler Park and the Magnolia Corner Park with Laredo City Councilman Roque Vela and Deputy City Manager Cynthia Collazo. Both parks were funded through the U.S. Department of Housing and Urban Development Community Development Block Grant Program.


Discussing Veterans Needs with General Land Office Commissioner George P. Bush

On June 27, my Southern District Outreach Coordinator, Nichole Hernandez, met with George P. Bush, Commissioner of the General Land Board of Texas, at the Alfredo Gonzalez Veterans Nursing Home in the Rio Grande Valley to discuss Valley veterans needs in regards to the Veterans Land Board.

Constituent Highlight: Aaron Calderon

In December 2014, Aaron Calderon came to my Laredo District Office seeking assistance with the renewal of the Deferred Action for Childhood Arrivals (DACA). Without his renewal, he risked maintaining his work status. My office worked with the appropriate federal agencies to help him with this process and in April, Mr. Calderon was granted a renewal for two years.

Intern Spotlight:


Albert M. Saenz III - San Antonio District Office


Albert M. Saenz III is currently interning in my San Antonio District Office. Albert is a Floresville native and a junior communication's major at Texas A&M University.

He decided to pursue an internship in my office because he wanted to gain experience with serving the constitutents of Texas Congressional District 28. He plans to finish his degree and hopefully work for the San Antonio Spurs soon after.

Read more about Albert and other interns in my office here.

Find out how to apply for an internship with my office either in the district or in D.C. here.

TX28 Tips
Federal Trade Commission - Car Title Loans




Sincerely,
Henry Cuellar

The House is in session next week!

CONNECT



Rep. Cuellar
In the News
6/30/15, Laredo Morning Times: Fed Funds awarded to LDF
6/29/15, KGNS: Supreme Court rules independent commissions can draw district lines
6/29, KGNS: Laredo Development Foundation receives grant for International Business Assistance Center
6/26/15, Business Conexion: Iniciativa Pride: Por un mejor trato en puertos fronterizos
6/26/15, El Periodico USA: Reconocen herosimo de nueve agented de la Patrulla Fronteriza
6/26/15, Laredo Morning Times: $62 million in fixes eyed for bridges
6/25/15, HOY Tamaulipas: Invertirán 62 mdd en modernización del puente Juárez-Lincoln de Laredo, Texas
6/25/15, Laredo Morning Times: International bridge to undergo renovations this summer
6/25/16, KGNS: Cuellar announces multi-million dollar renovation project for Juarez-Lincoln International Bridge
6/23/15, KNVO: Asistió Henry Cuellar a evento para la Patrulla Fronteriza
6/23/15, KFXV: Valley Congressman Honors Border Patrol Agents
Neighborhood Office Hours


Tuesday, July 7th
St. Hedwig City Hall
13065 FM 1346
9:00am - 10:00am
St. Hedwig, TX

La Vernia City Hall
102 E. Chihuahua
1:00pm - 2:00pm
La Vernia, TX

Sutherland Springs
(call for appointment)
10:30am - 11:30am
Sutherland Springs, TX

La Salle County Offices
(every other month)
Court House Square
1:00pm - 2:30pm
Cotulla, TX

Encinal City Hall
107 N. Tejas
3:00pm - 4:00pm
Encinal, TX

Starr County Warehouse Bldg. Pct 4
FM 755 (La Gloria)
10:00am - 11:00am
San Isidro, TX

Starr County Self Help Center
10 Mayorga Street
11:30am-12:30pm
Rio Grande City, TX
(La Casita)

Thursday, July 9th

Selma Stage Stop Visitor Center
9374 Valhalla
9:30am - 10:00am
Selma, TX

Live Oak City Hall
8001 Shin Oak Dr.
1:00pm - 2:00pm
Live Oak, TX

Universal City - Public Works Conference Room
265 Kitty Hawk Rd.
10:30am - 11:30am
Universal City, TX

Falcon Community Center
Third at Ramireno
9:15am - 10:15am
Falcon, TX

Justice of the Peace Pct. 2 Office
1103 Hwy 83
1:15pm - 2:00pm
San Ygnacio, TX

Zapata County Courthouse
200 E. 7th Ave
11:00am - 12:00pm
Zapata, TX

Mission City Hall
1201 E. 8th Street
9:00am - 10:00am
Mission, TX

Palmview Multi Purpose Center
406 West Veterans Blvd
10:15am - 11:15am
Palmview, TX

Palmhurst City Hall
4417 North Shary Road
11:30am - 12:30am
Palmhurst, TX

Have a question about neighborhood office hours? Call my toll free number at 877-780-0028