Congressional Report

Dear Friends,

Please take a moment to read my latest update from Washington and Texas Congressional District 28. You can stay connected by signing up for my weekly email here.

Congressman Cuellar Speaks to Graduating Seniors On the Importance of Continuing Higher Education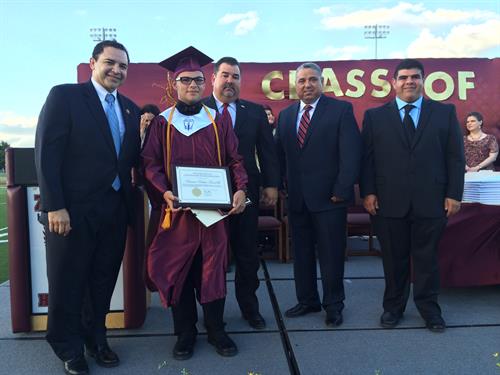 On June 5, I addressed the Zapata High School graduating Class of 2015 on the importance of continuing ‪higher education ‬ and working for success. I also presented a Congressional Certificate of Recognition to Zapata High graduating senior, Ramiro Torres III (pictured above), who has excelled in school and who has had perfect attendance during all 12 years of school.

Launching the Caucus for the Humane Bond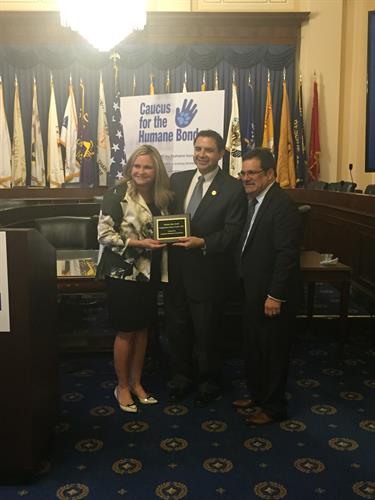 On June 3, I helped launch the Congressional Caucus for the Humane Bond in Washington, D.C. This bipartisan caucus is devoted to bringing a common-sense, scientific and rational dialogue to the issues surrounding the physical, emotional and even medical connections between humans and animals. In the photo above, I am pictured with Robin Ganzert, president and CEO of the American Humane Association, and fellow Member Rep. Gus Bilirakis during the launch.
Meeting with Northeast ISD to Discuss Higher Education Goals for Students
On June 8, my outreach coordinator for Bexar County, Pete Arguello, met with Roosevelt High School and Northeast Independent School District representatives to discuss how our offices can coordinate to encourage students to reach higher education, particularly in the STEM fields. Pete also provided teacher Bill Sturgis with a congressional certificate of recognition for having taught 45 years and playing an important role in the creation of the Roosevelt High School Engineering and Technologies Academy.

Pictured above from left to right are Northeast ISD Superintendent Brian Gottardy, Bill Sturgis, Pete Arguello and Roosevelt High School Principal Melvin Echard.

Discussing Crime Fighting Initiatives with ATF and Webb County Sheriff's Office


On June 2, , my constituent service representative for Webb County, Michael Buentello, and my district press secretary, Rafael Benavides, met with agents from the Bureau of Alcohol, Tobacco, Firearms and Explosives (ATF) and the Webb County Sheriff's Office to discuss how our offices can work together to combat violent crime in Webb County.



Meeting with VA Texas Valley Coastal Bend


On June 3, my southern district outreach coordinator, Nichole Hernandez, met with the Department of Veterans Affairs Management Advisory Council in McAllen on Wednesday where she received updates on various programs and services offered through the VA Texas Valley Coastal Bend Health System.

Pictured from left to right are VA Texas Valley Coastal Bend Public Affairs Officer Hugo Martinez, Nichole Hernandez and Director Robert Walton.



Intern Spotlight:


Brenda Loera - Laredo District Office


Brenda Loera is a junior studying political science at Texas A&M International University and a summer intern in my Laredo District Office.

She decided to pursue an internship in my office because she wanted to get the experience of working in a congressional office to help prepare her for a political science career. She enjoys reading, writing and the outdoors.

Read more about Brenda and other interns in my office here.

Find out how to apply for an internship with my office either in the district or in D.C. here.

TX28 Tips
USDA Food Safety - Keep your Family Food-Safe for all your Summer Celebrations



Sincerely,
Henry Cuellar

The House is in session next week!

CONNECT



Rep. Cuellar In the News
6/9/15, KLDO: Congresista Cuellar Reacciona Ante Disparos a Helicóptero
6/9/15, San Antonio Express-News: Cuellar: shot fired at Border Protection helicopter struck pilot's vest
6/9/15, Texas Tribune: Mexico Loosening Rules for Armed U.S. Agents
6/9/15, KGNS: Cuellar speaks on helicopter incident
6/9/15, The Hill: Dem rep says vulnerable lawmakers shouldn't fear trade vote
6/9/15, Periodico Enlace: Cuellar Receives Award From Medical Community
6/7/15, McAllen Monitor: Trade deal squeezes Texas congressional Democrats
6/5/15, The Hill: Celebs, lawmakers launch animal caucus
6/5/15, Texas Tribune: Trade Deal Squeezes Texas Congressional Democrats
6/4/15, American Humane Association: American Humane Association Applauds New Congressional Caucus to Make a More Humane World for People and Animals
6/3/15, The Hill: Lawmakers work to create a more humane world
6/2/15, SPD Noticias: Destacan capacidad de Roberta Jacobson
Neighborhood Office Hours


Tuesday, June 16th
Campbelton/Calihan
(call for appointment)
9:00am - 10:00am

Christine City Office
102 S. 10th Street
1:30pm - 2:30pm
Christine, TX

McMullen County Courthouse Commissioner's Court Room
SH 16 at Elm Street
10:30am - 11:30am
Tilden, TX

Windcrest City Hall
8601 Midcrown
2:30pm - 3:30pm
Windcrest, TX

Adkins
(call for appointment)
10:30am - 11:30am
Adkins, TX

Bruni Community Center
303 12th Street
9:00am - 10:00am
Bruni, TX

Mirando City Quad City Community Center
917 N. Main Street
12:30pm - 1:30 p.m.
Mirando, TX

Oilton Elementary School Library
300 DeSpain St.
10:30am - 11:30am
Oilton, TX

Thursday, June 18th

Converse City Hall
403 Seguin
9:00am - 10:00am
Converse, TX

China Grove
(call for appointment)
10:30am - 11:30am
China Grove, TX

Open to San Antonio

Have a question about neighborhood office hours? Call my toll free number at 877-780-0028