Congressional Report

Dear Friends,

Please take a moment to read my latest update from Washington and Texas Congressional District 28. You can stay connected by signing up for my weekly email here.

Laredo Middle School Students Tour Washington, D.C.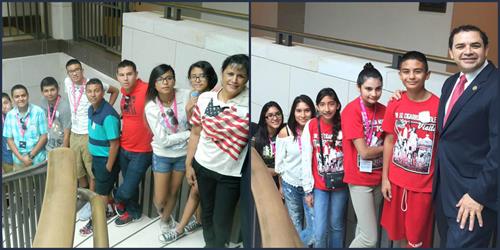 Last week I met with students from United Middle School and Cigarroa Middle School who traveled from Laredo, Texas, to Washington, D.C., to tour our nation's capital and to get an inside look at how our country's political system works.

Discussing Legal Community Partnerships for Bexar County Residents

Earlier this month, my outreach coordinator for Bexar County, Pete Arguello, met with Archbishop Gustavo Garcia-Siller at a Catholic Charities event to discuss the Legal Lifelines Initiative, a partnership between the legal community and Catholic Charities to provide various services to the greater San Antonio community.

Meeting with McAllen Mayor Jim Darling


My Southern District Outreach Coordinator, Nichole Hernandez, recently met with McAllen Mayor Jim Darling to discuss outreach opportunities for constituents in the Rio Grande Valley.



Constituent Highlight: Sarabia Family
Idalia Sarabia contacted my Mission District Office last month to request assistance for her son, Monico Sarabia, Jr.

Due to a disability, Monico receives social security income payments. However, the Social Security Administration had recently reduced his payments and would stop them completely by the end of June. He was also told that he would no longer receive Medicaid, which pays for his therapy sessions.

My constituent services representative spoke to the Social Security Administration in Mission in regards to Monico's case and noticed a discrepancy in his file. The correction restored his full social security and Medicaid benefits effective immediately.

Intern Spotlight:


Antonio Rodriguez - Mission District Office




San Juan, Texas, native Antonio Rodriguez is a senior studying political science at the University of Texas - Rio Grande Valley (UTRGV). He decided to pursue and internship with my office because he wanted to learn more about the day-to-day procedures of a congressional office and how to assist constituents. He plans to attend law school after graduation.


Read more about Antonio and other interns in my office here.

Find out how to apply for an internship with my office either in the district or in D.C. here.

TX28 Tips
Food & Drug Administration - Being Fooled by Empty Diet Promises




Sincerely,
Henry Cuellar

The House is in session next week!

CONNECT



Rep. Cuellar
In the News
7/21/15, Enlace: Bill Ensures Transparency at Family Unit Detention Centers and Border Crossings
7/21/15, Enlace: Cuellar Honored for Support of National Parks
7/21/15, KGNS: Congressman Henry Cuellar calling for better treatment at detention centers
7/19/15, McAllen Monitor: EDITORIAL: Transparency of our border
7/17/15, El Manana de Nuevo Laredo: Proponen cámaras para los inspectores (Cameras proposed for inspectors)
7/16/15, WOWT: Testing body cameras on border control agents
7/16/15, KXOF: Operation Stone Garden Controversy
7/16/15, KGNS: Rep. Henry Cuellar ensures transparency of CBP and ICE with FY16 DHS Appropriations Bill
Neighborhood Office Hours


Tuesday, July 28th
Poteet City Hall
474 Avenue H
10:00am - 11:00am
Poteet, TX

Lytle City Hall
14916 Main
12:00pm - 1:00pm
Lytle, TX


Have a question about neighborhood office hours? Call my toll free number at 877-780-0028