Congressional Report

Dear Friends,

Please take a moment to read my latest update from Washington and Texas Congressional District 28. You can stay connected by signing up for my weekly email here.

Meeting with the Families of War Heroes in Zapata on Memorial Day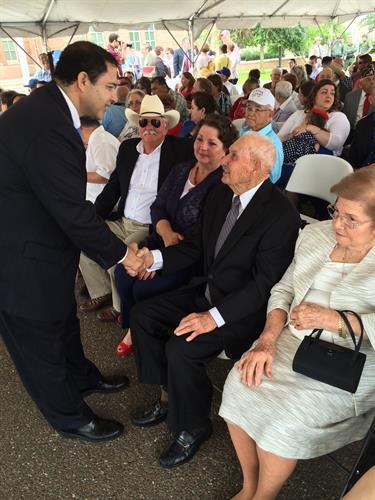 On May 25, I attended a Memorial Day Ceremony in Zapata, where I presented six flags flown over the U.S. Capitol to the families of the six Treviño brothers of Zapata, and the only remaining brother, Leopoldo Trevino (pictured above), who all honorably served in World War II. Read more here.

Speaking at STEM Day in San Antonio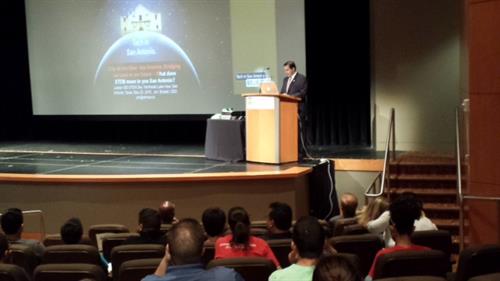 On May 23, I spoke to students, parents and the public on the importance of Science, Technology, Engineering and Mathematics (STEM) fields and higher education at Northeast Lakeview College in San Antonio.

Meeting with Bruni City Representatives


On May 23, my outreach coordinator for Webb, La Salle and Zapata Counties, Michael Buentello, met with Nelda Inocencio, Associate Director of the Bruni Community Center, and constituents in the Bruni area to discuss ways in which our offices can work together on upcoming projects.



Meeting with Veterans and Their Families in Mission
On May 25, my Southern District Outreach Coordinator, Narda Terrones, attended a Memorial Day Service in Mission, Texas, where she discussed with Rio Grande Valley veterans the services my office provides for them.

TX28 Tips
FEMA - Disaster Dodgers: Severe Weather


Severe weather can happen in an instant.

In this video from the Federal Emergency Management Agency (FEMA)

,

the Disaster Dodgers explain what precautions you can take to stay safe during severe weather.



Sincerely,
Henry Cuellar

The House is in session next week!

CONNECT



Rep. Cuellar In the News
5/25/15, KGNS: Rep. Cuellar honors family of veteran brothers in Zapata
5/25/15, KGNS: LISD Class of 2015 to receive diplomas this June
5/21/15, KRGV: City Prepares for Border Surge
5/21/15, Valley Morning Star: Hidalgo County ready for immigration spike, but officials don't expect it
5/20/15, Hola Ciudad: Embajadores del Triángulo Norte de Centroamérica se reúnen con congresistas EE.UU.
5/19/15, KGNS: Rep. Henry Cuellar Works to have Freight Corridors Start at Land Ports of Entry
Neighborhood Office Hours


Tuesday, June 2nd
Selma Stage Stop Visitor Center
9374 Valhalla
9:00am - 10:00am
Selma, TX

Live Oak City Hall
8001 Shin Oak Dr.
1:00pm - 2:00pm
Live Oak, TX

Universal City - Public Works Conference Room
265 Kitty Hawk Rd.
10:30am - 11:30am
Universal City, TX

Falcon Community Center
Third at Ramireno
9:15am - 10:15am
Falcon, TX

Justice of the Peace Pct. 2 Office
1103 Hwy 83
1:15pm - 2:00pm
San Ygnacio, TX

Zapata County Courthouse
200 E. 7th Ave.
11:00am - 12:00pm
Zapata, TX

Mission City Hall
1201 E. 8th Street
9:00am - 10:00am
Mission, TX

Palmhurst City Hall
4417 North Shary Road
11:30am - 12:30am
Palmhurst, TX

Palmview Multi Purpose Ctr
406 West Veterans Blvd.
10:15am - 11:15am
Palmview, TX

Thursday, June 4th

Pleasanton City Hall
108 2nd Street
10:00am - 11:30am
Pleasanton, TX

Charlotte City Maint Bldg
11 Bruce Place
Charlotte, TX

Jourdanton County Courthouse
1 Courthouse Circle
12:30pm - 2:00pm
Jourdanton, TX

Open to Laredo

Fire Dept Meeting Room
500 Cenizo
9:30am - 10:30am
Sullivan City, TX

Penitas City Hall
FM 1427
1:00pm - 2:00pm
Penitas, TX

La Joya Senior Citizens Center
925 Lee Street
11:00am - 12:00pm
La Joya, TX

Have a question about neighborhood office hours? Call my toll free number at 877-780-0028