Congressional Report

Dear Friends,

Please take a moment to read my latest update from Washington and Texas Congressional District 28. You can stay connected by signing up for my weekly email here.

Rep. Henry Cuellar Receives Award from Texas Medical Community for Helping Texas Patients and Doctors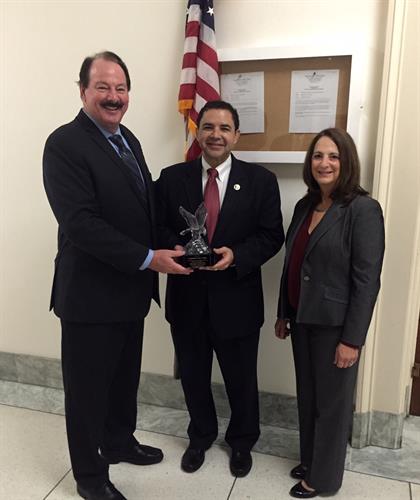 On June 2, I was awarded the Soaring Eagle Award from the Texas Alliance For Patient Access, the Texas Medical Liability Trust and the Texas Medical Association for working to fix the broken Sustainable Growth Rate system and getting the first legislation that provides medical liability protections for physicians passed through Congress.

Meeting with Laredo Leaders to Discuss International Bridge Projects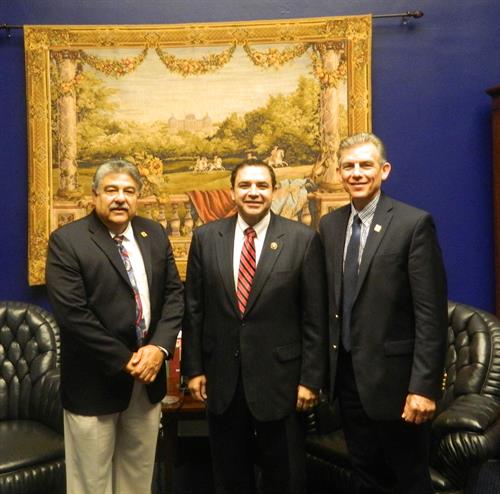 On May 21 in D.C.

,

I met with Laredo City Manager Jesus Olivares (left) and Laredo Bridge Manager Mario Maldonado, Jr. (right) to discuss special projects to improve transportation at the international bridges in Laredo
Meeting with Rio Grande Valley Leaders to Discuss Federal Funding Projects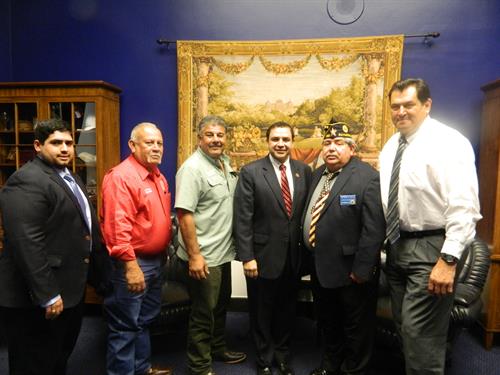 On May 21, I met with Willacy County leaders to discuss federal funding for projects in the Rio Grande Valley. From left to right are Legislative Asst. Jasey Cardenas from the Office of Rep. Filemon Vela (D-TX34), Willacy County Commissioner Pct. 2 Oscar De Luna, Willacy County Commissioner Pct. 4 Eduardo Gonzales, myself, Raymondville Justice of the Peace George Solis and Raymondville City Manager Eleazar "Yogi" Garcia, Jr.
Meeting with Zapata County Sheriff's Office to Discuss New Initiatives


On June 2, My outreach coordinator for Webb, Zapata and La Salle Counties, Michael Buentello, met with Joe Pena from the Zapata County Sheriff's Office to discuss the new Colonias Initiative to reduce crime and other projects concerning Zapata residents.



Meeting with McMullen County Sheriff to Discuss Outreach Initiatives
On May 19, my outreach coordinator for McMullen County, Gilbert Lafuente, met with McMullen County Sheriff Emmett Shelton to discuss outreach initiatives in the community. Mr. Lafuente also presented a congressional certificate of recognition to Sheriff Shelton for having been the first sheriff in McMullen County to graduate from the National Sheriffs' Institute in Aurora, Colorado.

TX28 Tips
Federal Trade Commission - Hacked E-mail: What to Do



Sincerely,
Henry Cuellar

The House is in session next week!

CONNECT



Rep. Cuellar In the News
6/1/15, La Prensa de San Antonio: SA to Monterrey Passenger Rail Project
5/
28/15, Big Bend Now: Presidio, Presidio County, Ojinaga officials grease wheels in DC for bridge expansion project
5/27/15, Wilson County News: World Trade group sides against U.S. cattlemen
5/27/15, San Antonio Current: Legislature Could Kill Proposal For SA-Monterrey Rail
5/27/15, Periodico Enlace RGV: New Bill Would Help Reduce Immigration Backlogs
5/26/15, Judson I.S.D.: JISD's STEM Day Success At NLC
5/26/15, El Financiero: La Reforma Energetica en los EU despues de 40 anos
5/25/15, KGNS: Rep. Cuellar honors family of veteran brothers in Zapata
Neighborhood Office Hours


Tuesday, June 9th
Elmendorf City Hall
203 Bexar Ave
9:30am - 10:00am
Elmendorf, TX

Floresville City Hall
1120 D Street
10:30am - 12:00pm
Floresville, TX

La Salle County Offices
(every other month)
Court House Square
1:00pm - 2:30pm
Cotulla, TX

Encinal City Hall
107 N. Tejas
3:00pm - 4:00pm
Encinal, TX

City Hall Conf. Room
2 1/2 Miles South
Farm Rd. 2360
8:00am - 9:00am
La Grulla, TX

Escobares City Hall
4851 East Hwy 83
1:30pm - 2:30pm
Escobares, TX

Rio Grande City City Hall
101 Washington Street
10:00am - 11:30am
Rio Grande City, TX

Roma Community Center
502 6th Street
3:00pm - 4:00pm
Roma, TX

Thursday, June 11th

St. Hedwig City Hall
13065 FM 1346
9:00am - 10:00am
St. Hedwig, TX

La Vernia City Hall
102 E. Chihuahua
1:00pm - 2:00pm
La Vernia, TX

Sutherland Springs
(call for appointment)
10:30am - 11:30am
Sutherland Springs, TX

El Cenizo City Hall
507 Cadena St.
9:30am - 10:30am
El Cenizo, TX

Rio Bravo City Hall
1701 Centeno Ln.
11:00am - 12:00pm
Rio Bravo, TX

Starr County Warehouse Bldg. Pct. 4
FM 755 (La Gloria)
10:00am - 11:00am
San Isidro, TX

Starr County Self Help Center
10 Mayorga Street
11:30am - 12:30pm
Rio Grande City, TX
(La Casita)

Have a question about neighborhood office hours? Call my toll free number at 877-780-0028