Congressional Report

Dear Friends,

Please take a moment to read my latest update from this week in Washington and Texas Congressional District 28. You can stay connected by signing up for my weekly email here.
Health Coverage Deadline is Feb. 15


Remember that the deadline to enroll in health coverage is tomorrow, Sunday, Feb. 15. You can enroll by visiting HealthCare.gov.

The population in my district suffers from disproportionate rates of heart disease, diabetes and cancer, among other chronic diseases.

Yet, despite these facts, the percentage of insured people in South Texas remains surprisingly low.

Having insurance not only caps the amount you will have to pay for any medical service or procedure, it makes life-saving services within the reach of the people who most need it.

Read my complete column on the importance of healthcare that was recently published in the Laredo Morning Times here.


Congressional Hispanic Leadership Institute (CHLI) Meeting in Washington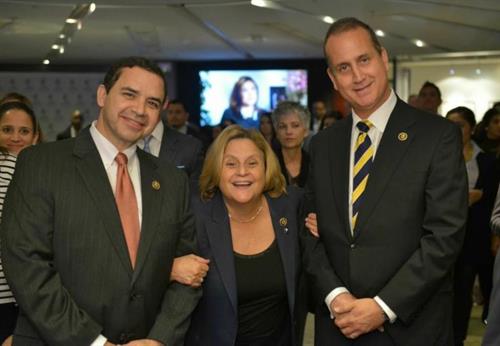 It was great to meet with Congresswoman Ileana Ros-Lehtinen (R-FL27) and Congressman Mario Diaz-Balart (R-FL25) at a meeting with the Congressional Hispanic Leadership Institute (CHLI) in Washington last month where I spoke about education, energy, commerce and working with our fellow members in Congress.

Windcrest Student Accepted into U.S. Military Academy at West Point
​
On Tuesday I announced and congratulated Windcrest resident and San Antonio Christian School student Isaiah Meuchelboeck, son of Peter and Lottie Meuchelboeck, on his recent acceptance to the United States Military Academy at West Point.

Nominating students from the 28th District of Texas to military service academies is a responsibility I take very seriously.

Isaiah's exemplary test scores and his outstanding nomination application made him an ideal candidate, and one I trust will make the 28th Congressional District of Texas proud as he serves our nation. I'm grateful for Isaiah's commitment to our country and look forward to following his career.

Read more about Isaiah and his acceptance here.
Meeting with the City of San Antonio in D.C.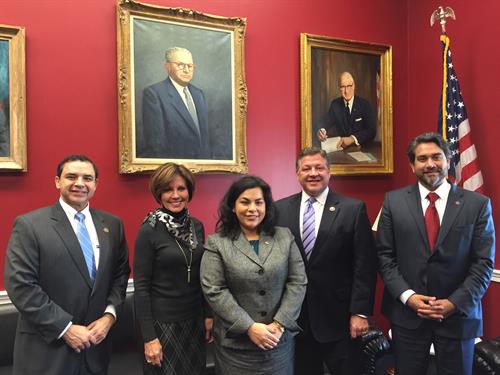 I met with representatives from the City of San Antonio during their annual SA to DC trip where we discussed Federal Aviation Administration (FAA) re-authorization and the Public-Private-Partnership initiatives for the City of San Antonio. From left to right are myself, City Manager Sheryl Sculley, District 3 Councilwoman Rebecca Viagran, District 1 Councilman Roberto Trevino and Transportation & Infrastructure Committee Chairman Bill Shuster.

Meeting with City of La Grulla and USDA
My Southern District Outreach Coordinator, Nichole Hernandez, met with the U.S. Department of Agriculture (USDA) and City of La Grulla last Tuesday to discuss the status for a new city water plant and coordinate on available programs for local home construction and renovations.

From left to right are Roel Gomez from USDA-Rural Development, Nichole Hernandez, La Grulla City Secretary Amy Bush La Grulla and La Grulla Mayor Pedro Flores.
TX28 Federal Agency Tips

IRS Forms & Publications
Don't forget file your federal tax return for 2015. Click here to view which forms you need to file your 2015 federal tax return.

Enroll in Health Coverage by Feb. 15


This video from the Department of Health and Human Services shows how healthcare plans in the Marketplace have helped everday people by allowing them to get the medical care they need without having to obtain thousands of dollars of debt.

The deadline to sign up for health coverage is tomorrow, Sunday, Feb. 15. Visit HealthCare.gov to enroll in a plan today.


Intern Spotlight


Lilia Abecassis is an intern at my Washington, D.C., office and is a freshman at the University of Maryland where she is currently pursuing a dual-degree in Government/Politics and Art History

She chose to intern with my office to see how our political system works firsthand. She hopes to pursue a future career in corporate law.



Read more about Lilia and other interns in my office

here.

Find out how to apply for an internship with my office either in the district or in D.C. here.


Sincerely,
Henry Cuellar

The House of Representatives is in recess next week

CONNECT



Rep. Cuellar In the News
2/6/15, KRGV: Congressmen Urge Action on Border Security
2/5/15, Pleasanton Express: Rep. Cuellar sworn into 114th Congress
2/5/15, Brownsville Herald (Associated Press): Pope Francis to address Congress
2/4/15, KGNS: Henry Cuellar works to set performance measures, improve customer service across federal agencies
2/3/15, Periodico Enlace: Cuellar wants gov. to stop paying billions to dead people
2/1/15, La Prensa de San Antonio: More military jobs and families will soon come to S.A.
Neighborhood Office Hours
Tuesday, February 17
​Campbellton/Callihan
(call for appointment)
9:00am - 10:00am

McMullen County Courthouse
Commissioners Court Rm.
SH 16 @ Elm Street
10:30am - 11:30an
Tilden, TX

Christine City Office
102 S. 10th St.
1:30pm - 2:30pm
Christine, TX

Windcrest City Hall
8601 Midcrown
2:30pm - 3:30pm
Windcrest, TX

Adkins
(call for appointment)
10:30am - 11:30am
Adkins, TX

Thursday, February 19

Converse City Hall
403 Seguin
9:00am - 10:00am
Converse, TX

China Grove
(call for appointment)
10:30am - 11:30am
China Grove, TX

Bruni Community Center
303 12th Street
9:00am - 10:00am
Bruni, TX

Mirando City Quad City Community Center
917 N. Main Street
12:30pm - 1:30 pm
Mirando, TX

Oilton Elementary School Library
300 DeSpain St.
10:30am - 11:30am
Oilton, TX

Starr County Warehouse Bldg. Pct 4
FM 755 (La Gloria) 10:00am - 11:00am
San Isidro, TX

Starr County Self Help Center
10 Mayorga Street
11:30am - 12:30pm
Rio Grande City, TX
(La Casita)

Have a question about neighborhood office hours? Call my toll free number at 877-780-0028