Congressional Report

Dear friends,

Please take a moment to read my latest update from Washington and Texas Congressional District 28.

In this week's congressional report, you will see that I recently met with students from my district in Washington and also hosted a live video conference on cybersecurity for constituents throughout my district. My district offices also met with several agencies and community representatives to discuss ways in which we can better serve our communities. You'll also find an intern spotlight from one of my summer interns in D.C., Ivana Khaledi, and some safe bicycling tips from the U.S. Department of Transportation.

You can stay connected by signing up for my weekly email here.

Meeting with Trautmann Middle School Students in Washington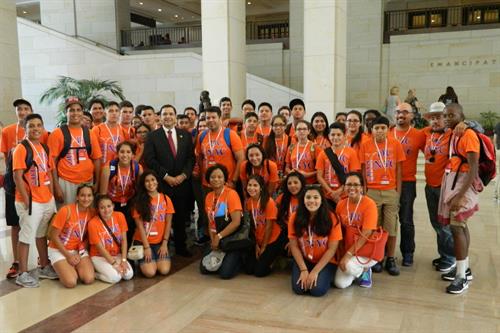 Last week, I met with students from Trautmann Middle School in Laredo during a U.S. Capitol tour in Washington, D.C.
Cybersecurity Video Conference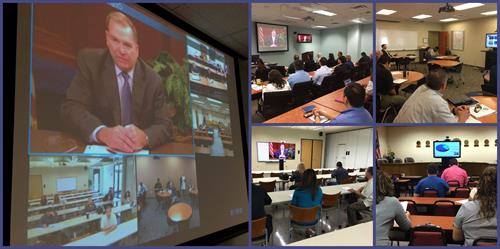 On July 29, I hosted a cyber-security video conference throughout my district in order to provide businesses, law enforcement personnel and the general public with tools and knowledge on how to protect themselves against cyber attacks.

Meeting with Department of Labor in San Antonio

On July 28, my constituent services representative, Nadia Islam (left), and my outreach coordinator for Bexar County, Pete Arguello (right), met with Lisa Reyes (center), Senior Benefits Officer for the Department of Labor, to discuss benefits information for constituents.


Meeting with the City of Poteet

On July 27, my outreach coordinator for Atascosa County, Gilbert Lafuente (right), met with Poteet City Manager Scott Moore (left), and Mayor Richard Tuttle (center), to discuss the needs of the community.

Meeting with U.S. Citizenship and Immigration Services in Laredo


On July 23, my Laredo District Office met with U.S. Citizenship and Immigration Services to discuss immigration issues affecting my constituents. From left to right are Constituent Services Representative Sylvia Segovia, U.S.C.I.S. Immigration Officers Ana Elizondo and Susana Villanueva, and District Press Secretary Rafael Benavides.



Operation Lone Star in the Rio Grande Valley
On July 28, my southern district outreach coordinator, Nichole Hernandez, met with Rio Grande City Councilman Rey Ramirez, Deputy City Manager Elisa Beas, Mayor Joel Villarreal and Councilman Hernan Garza to discuss the importance health services in the area.

Intern Spotlight:
Ivana Khaledi - Washington, D.C. Office


Ivana Khaledi, a native of Laredo and a freshman at American Heritage School, interned in my Washington, D.C., office during the summer, where she gained valuable experience and learned first-hand how our nation's government functions.


Read more about Ivana and other interns in my office here.

Find out how to apply for an internship with my office either in the district or in D.C. here.

TX28 Tips
U.S. Dept. of Transportation - Bicycle Safer Journey




Sincerely,
Henry Cuellar

The House is in recess next week.

CONNECT



Rep. Cuellar
In the News
7/29/15, KGNS: Congressman Cuellar hosts video conference on cyber security
7/29/15, McAllen Monitor: Federal grant awards more than $3M in funds to local law enforcement
7/29/15, Laredo Morning Times: Local law enforcement gets federal funds to buy equipment, pay overtime
7/28/15, KGNS: Texas congressmen introduce border infrastructure bill
7/28/15, El Manana de Reynosa: Diputados de Texas introducen legislación para mejorar infraestructura fronteriza (Congressmen from Texas introduce legislation to improve border infrastructure)
7/26/15, Brownsville Herald: Border Transparency Needed
7/25/15, Tyler Morning Telegraph: It's time to repeal the oil export ban
7/23/15, Rio Grande Guardian: Cuellar amends legislation to attract more Mexican students to U.S.
7/22/15, KGBT: Action 4 News speaks with Rep. Cuellar
Neighborhood Office Hours


Tuesday, August 4th
Selma Stage Stop Visitor Center
9374 Valhalla
9:00am - 10:00am
Selma, TX

Live Oak City Hall
8001 Shin Oak Dr.
1:00pm - 2:00pm
Live Oak, TX

Universal City - Public Works Conference Room
265 Kitty Hawk Rd.
10:30am - 11:30am
Universal City, TX

Falcon Community Center
Third at Ramireno
9:15am - 10:15am
Falcon, TX

San Ygnacio Justice of the Peace Pct. 2 Office
1103 Hwy 83
1:15pm - 2:00pm
San Ygnacio, TX

Zapata County Courthouse
200 E. 7th Ave
11:00am - 12:00pm
Zapata, TX

Mission City Hall
1201 E. 8th Street
9:00am - 10:00am
Mission, TX

Palmhurst City Hall
4417 North Shary Road
11:30am - 12:30pm
Palmhurst, TX

Palmview Multi Purpose Center
406 West Veterans Blvd.
10:15am - 11:15am
Palmview, TX

Thursday, August 6th
Pleasanton City Hall
108 2nd Street
10:00am - 11:30am
Pleasanton, TX

Charlotte City Maint Bldg
11 Bruce Place
2:30pm - 3:30pm
Charlotte, TX

Jourdanton County Courthouse
1 Courthouse Circle
12:30pm - 2:00pm
Jourdanton, TX

Open to Laredo

Sullivan City Fire Dept Meeting Room
500 Cenizo
9:30am - 10:30am
Sullivan City, TX

Penitas City Hall
FM 1427
1:00pm - 2:00pm
Penitas, TX

La Joya Senior Citizens Center
925 Lee Street
11:00am - 12:00pm
La Joya, TX

Have a question about neighborhood office hours? Call my toll free number at 877-780-0028